Crock Pot Corn on the Cob
Crock Pot Corn on the Cob is a great side dish for any occasion. With only a few minutes of prep, you will have fresh corn for your family or any summer time cookout.
Summer is full of all kinds of fun activities, sporting events, swimming, camping, and cookouts.  Corn is served a lot during the summer months and cooking corn is one of my favorite things to cook. Fresh corn is the best, but frozen corn can be just as good.
My crock pot gets a lot of use during the summer months. Why should you heat up your kitchen when it's so hot outside? Yes, there are several ways to cook corn–you could throw it on the grill, or boil it in a pot of water- and they would be great–but this way is really effortless.  Seriously, using your crock pot is easy and handy. Just plug in your crock pot, add your corn, and in 4-6 hours you will have a delicious side dish.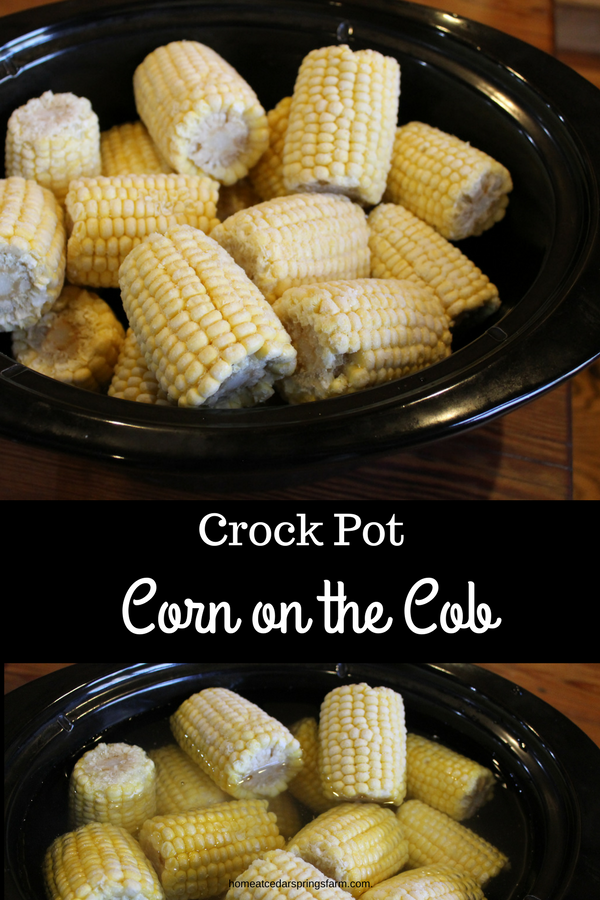 Sweet corn and/or field corn are both great in the crock pot. We have planted both in our garden, but we mostly plant field corn. This corn can be harvested for us to eat during the summer months and some to can/preserve  for winter time enjoyment. We try to plant enough corn for our family as well as our farm animals to eat during the winter months. I will post a recipe later on How to Can Corn.
When I cook corn, I go ahead and fill the crock pot up with corn. Why only cook a few pieces? Left over corn is good for lunch the next day! Corn on the cob is a must have for a summer time cookout, lunch, or dinner. Go ahead and cook some up today!
Check out this Broccoli and Rice Casserole for another side dish.
Some of the links on this page are affiliate links. Home at Cedar Springs Farm may earn a commission for purchases made after clicking links on this page. Learn More.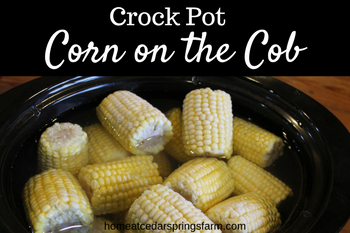 | | |
| --- | --- |
| | |
If using frozen corn, place corn in crock pot. If using fresh corn; husk corn, remove silks, cut in half, put in crock pot.

Set crock pot to high for 4 hours or low for 6 hours.

When finished cooking, remove corn. Add more butter to each piece and season with salt and pepper.