Pan Roasted Vegetables—an easy and delicious side dish for any weeknight or holiday. Just add your favorite vegetables, toss in olive oil, season with your favorite seasonings, and bake for about 45 minutes.
This recipe is so easy to customize with all of your favorite vegetables. Use fresh summer veggies in the summer; cabbage, onion, squash, carrots, okra, zucchini, and the list goes on. When fall rolls around don't hesitate to use those fresh veggies from the fall harvest; sweet potatoes, brussels sprouts, cabbage, broccoli, cauliflower and more.
Don't worry if you don't have fresh veggies, frozen veggies will work as well.
I love Pan Roasted Vegetables, and I especially love roasting them in the oven. Not only are they delicious, but they are also healthy. You can customize this recipe to please all of the people in your family. Just load up the pan with everyone's favorite and satisfy even those picky eaters.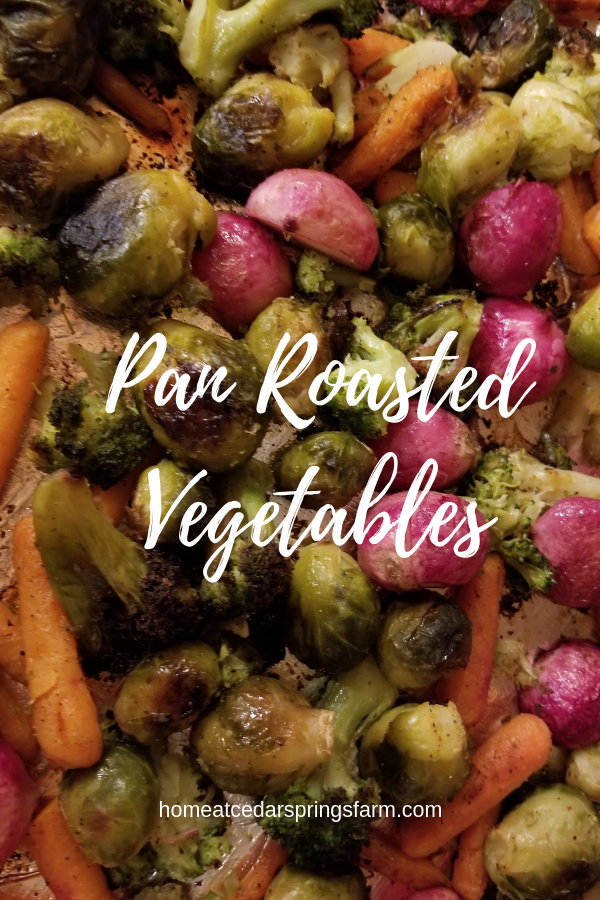 Some of the links on this page are affiliate links. Home at Cedar Springs Farm may earn a small commission for purchases made after clicking links on this page. Learn More.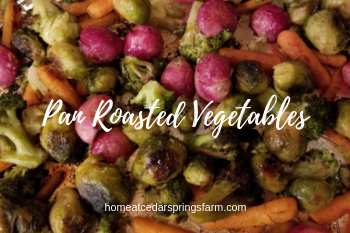 Preheat oven to 400 degrees.

If you like, line a sheet pan with foil for easy clean up.

Drizzle olive oil on veggies and toss to coat.

Sprinkle with your favorite seasonings.

Bake for about 45 minutes or until your vegetables are tender.