Tangy Vinegar Coleslaw
Crunchy cabbage coated in a slightly sweetened vinegar dressing. This slaw is packed with fresh flavors that will wake up your taste buds!
Tangy Vinegar Coleslaw- slaw mix, vinegar, oil, sugar, salt, and pepper. So easy and taste fabulous! This slaw recipe is most definitely a keeper. This goes great with everything from BBQ to fish to tailgating food. Try it, and I bet it will be a hit!
Family gatherings with my family happen at least once a month. As I have mentioned in another post, I have a large family. When we gather together, there are at least 30 of us. We all are responsible for bringing a dish or two so that the hostess will not have all of the cooking to do. This makes our gatherings more social and less work. Isn't that what gatherings are supposed to be like?
My dad was in charge of making this delicious slaw. He has been making slaw for years, and he does not make it with mayonnaise. He likes the simple and tangy vinegar and oil dressing. He made this the day before and just chilled it in the refrigerator until we met for lunch the next day. This slaw is always best if you can make it the day before.
This would unquestionably be great for your next family gathering, holiday, or tailgating event.
Try this Grape Salad or Carrot Apple Salad for your next cookout or tailgate gathering.
Some of the links on this page are affiliate links. Home at Cedar Springs Farm may earn a commission for purchases made after clicking links on this page. Learn More.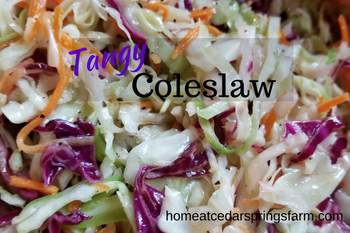 | | |
| --- | --- |
| Passive Time | 10min-overnight |
| | |
| --- | --- |
| Passive Time | 10min-overnight |
In a large bowl, whisk together oil, vinegar, sugar, salt and pepper. Whisk until sugar is dissolved.

Add slaw mix and toss until well combined.

Let stand for at least 10 minutes or refrigerate overnight. It is better if you can make a day ahead and refrigerate until you are ready to serve.