The Best Ever Carrot Cake–freshly grated carrots, pineapple, cinnamon, and nuts make for one delicious cake! This cake is topped with a cream cheese and butter frosting that is out of this world. It is requested for all of our family get togethers and there is never a piece left.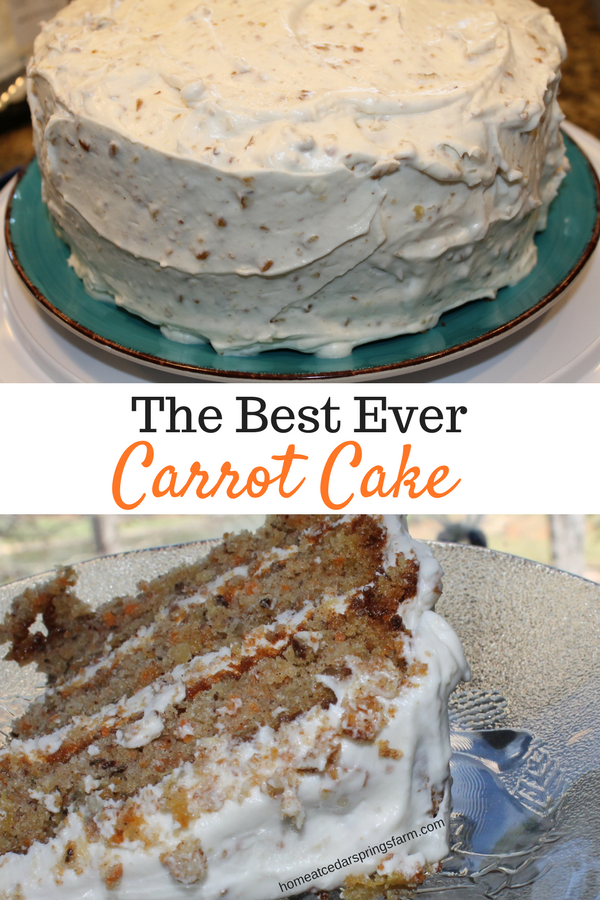 In my opinion, this is seriously The Best Ever Carrot Cake. This Carrot Cake is DELICIOUS! It is made with fresh carrots and has the most delicious cream cheese frosting. Once you try it, you will want to bake it for EVERY holiday, birthday, and get together.
I have a big family. There are 30 of us when we all gather together and we try our best to get together for every holiday and every chance in between holidays. So, with that being said, you better get in line for this cake–fast. Usually, there is not a piece of cake left! At times, I am too full from eating a big meal, that I have to hide my piece of cake for later….shhh! Don't tell!!!
This cake is easy to make and super moist. The crushed pineapple and the freshly grated carrots are responsible for the moisture in this cake.
There is no way around it… you have to use freshly grated carrots. DO NOT buy pre-grated carrots thinking this will save you some time and effort… It will make a difference. Don't be tempted!!! It only takes a few extra minutes to grate fresh carrots, especially if you have some sort of food grater. But, if you don't have a food grater —no problem— do it by hand. Look at this way–you will be getting in a pre-workout and burning a few calories "before" you indulge in this delicious cake!
Not only is this cake delicious–the frosting is The Icing On The Cake! (Sorry, I couldn't resist) This icing is beyond delicious. You will want to eat it by the spoonful. Make sure you add thick gobs of frosting between all of the layers and on top. In my opinion, more frosting is always better! This is truely out of this world!
I hope you and your family will enjoy this cake as much as my family and friends do. Maybe this cake will be requested at your next holiday gathering. Enjoy!!!
Some of the links on this page are affiliate links. Home at Cedar Springs Farm may earn a commission for purchases made after clicking links on this page. Learn More.
Products from Amazon.com
‹
›
| | |
| --- | --- |
| | |
Preheat oven to 350 degrees.

Grease and flour 3 8" round cake pans. I like to line my pans with parchment paper. (optional)

Sift all dry ingredients. Set aside.

In the bowl of a stand mixer, mix together oil, sugar, eggs-beaten after each addition until smooth and combined.

Add the dry ingredients to the wet mixture a little at a time, beating on medium speed, until well combined. Scrape down the sides of the bowl to make sure everything is combined well.

Add carrots, pineapple, and nuts. Beat on medium until just combined. You can also fold this in by hand if you like. Mix well.

Pour the batter evenly into the prepared cake pans and bake for 30-35 minutes or until a toothpick inserted in the middle comes out clean. Start checking after 30 minutes.

Remove the pans from the oven and cool on a wire rack until they have cooled completely. Level the tops of the cakes if you like. Frost.
Using a stand mixer, on medium speed, cream together cream cheese and butter until smooth.

Slowly add in the confectioners sugar until all has been added. Lower the speed on the mixer while pouring in the confectioners sugar.

Mix in the vanilla and pecans.

Frost the cake. I like a lot of frosting in between my layers and on top. It's completely up to you. Refrigerate any left over frosting and enjoy as a late night snack.