Fried Okra
Fresh Okra soaked in buttermilk, dredged in a cornmeal batter, and fried till golden brown. Crispy Southern Fried Okra is definitely a summertime treat and is served as an appetizer or side dish for many meals in the south. It's crunchy on the outside and tender on the inside. Delicious!
What is Okra?
Okra is just a fuzzy green vegetable grown in the summer. It has edible green seed pods and can be quite delicious when cooked just right.
It can be quite itchy when touching it on the plant. I always try to wear gloves when cutting it off of the stalk.
When boiled, it can be a bit slimy and is used in soups and stews as a thickener.
Many people prefer to eat it fried. It loses all "sliminess" when fried to a golden brown. I love the crunch! 🙂
Okra is rich in fiber and is full of vitamins and antioxidants.
Using Okra from the Freezer
During the summer months, I put as much fresh Okra into my freezer as I possibly can. We have a garden every year, and we always plant more than enough Okra to eat and then some for the freezer. When fresh Okra isn't available during the winter months, I always have a stash in my freezer.
Freezing Okra is very easy to do. Check out my post on How to Freeze Okra for some simple tips. You will always have a nice supply waiting for you in the freezer.
If using frozen Okra, thaw it first before soaking in the buttermilk.
Don't Have a Garden or any Okra in the Freezer?
No problem. Just visit your local grocery store and pick up a bag in the freezer section. There are some really good brands of frozen Okra that taste almost like they've been freshly picked from the garden.
You may also visit your local farmer's market during the summer and grab some fresh okra. Fresh Okra is amazing and easy to find in my area during the hot summer months. Grab extra and put some in your freezer.
Crispy Fried Okra
The trick to having Crispy fried Okra is the buttermilk and breading. The buttermilk gives it a nice thick coating before it is dunked into the cornmeal and flour mix.
Ingredients Needed for Crispy Fried Okra
okra
oil
buttermilk
flour
cornmeal
salt & pepper
cayenne pepper (optional)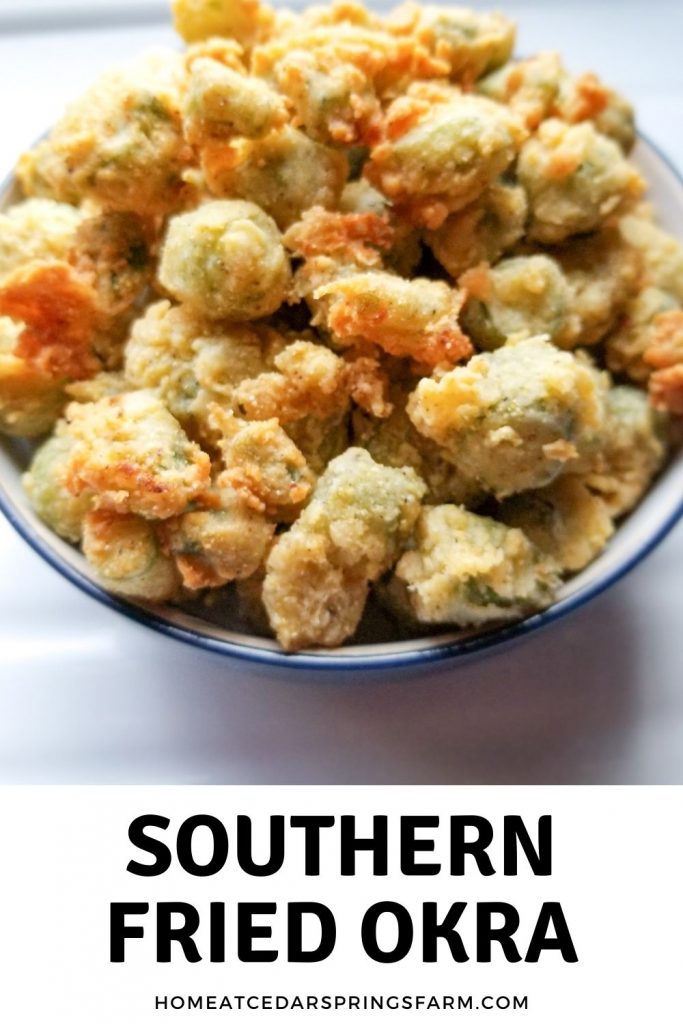 How to Cook Fried Okra
First– Prepare Okra by washing and slicing it into rounds. If you are using store-bought frozen okra, you can skip this step.
Next– Soak the okra in buttermilk. This can be a quick dip or soak for several minutes. Make sure all the pieces get a nice bath in the buttermilk.
Then-toss in the cornmeal mix. Toss well, making sure each piece is coated well.
Finally– carefully drop into the hot grease and let fry until golden brown. Drain on a paper towel-lined plate. Cool slightly and enjoy.
How to Reheat Fried Okra
Got leftovers? No problem. Reheating okra is really quite easy. Preheat oven to 350 degrees. Place okra in a single layer on a baking sheet. Heat for about 15 minutes or until hot and crispy. Let cool slightly before eating.
What to Serve with Fried Okra
Fried Okra can be served as an appetizer or a side dish. Mostly, I serve it up as a side dish.
Fried Okra goes with just about any kind of baked, broiled, grilled or fried meats.
Grilled Buffalo Chicken Tenders are chicken strips grilled and then dipped in a sweet and spicy homemade buffalo wing sauce. A side serving of Crispy Southern Fried okra is quite delicious with these tenders.
I have served a big platter of Crispy Fried Okra with a Slow Cooked Pulled Pork Sandwich many times. I have never had any complaints. 🙂
Pan Cooked Sticky Chicken is awesome served with a side of okra.
Creamy Pork Chops or Classic Meatloaf are two main dishes that would welcome okra as a side.
The choices are endless, and I like Crispy okra with just about any main dish, including pasta.
Tips for Perfect Crispy Southern Fried Okra
Soak Okra in buttermilk for a few minutes before breading.
If using frozen okra, thaw first before adding to the buttermilk.
Coat each piece of okra well with the buttermilk and breading.
Feel free to add a little heat by adding some cayenne pepper to the cornmeal mix.
Make sure oil is hot before dropping okra into the fryer.
Brown for 3-4 minutes or until all pieces are golden brown.
Stir slightly while frying to make sure the pieces are cooking evenly and not sticking together.
Drain on a paper towel-lined plate.
Dip in Ranch Dressing if so desired.
Let sit for a few minutes before popping into your mouth. Take it from me–It's HOT!
Other Traditional Southern Side Dishes and Appetizers
Fried Potatoes and Onions
Cabbage and Onions
Hashbrown Casserole
Southern Cornbread Salad
Crispy Southern Fried Okra
Crispy Southern Fried Okra is served as a side dish or appetizer in the south. It's crispy, crunchy and fried till golden brown. Delicious!
Ingredients
1

pound

okra

sliced into rounds

1/2

cup

buttermilk

1

cup

flour

1/2

cup

cornmeal

1

teaspoon

pepper

1/2

teaspoon

salt

1/8

teaspoon

cayenne pepper

optional

oil for frying
Instructions
Wash okra and cut off ends. Slice into 1/2 inch rounds.

In a small bowl, add buttermilk and okra. Allow to soak for a few minutes.

In a shallow dish, mix together flour, cornmeal, and seasonings.

In a deep fryer, preheat oil. (see notes below)

Working in batches, drain okra and transfer to the cornmeal mix, coating well.

Place okra in the hot oil and fry until golden brown. This usually takes 3-4 minutes per batch. Do not overcrowd your fryer. **Tip--You will know your oil is ready when you drop a piece of okra into the oil. If it sizzles, it's ready.

Once okra is golden brown, remove it from the fryer to a paper towel-lined plate. Add more salt if desired. Let cool for a few minutes before eating.
Notes
You will know your oil is ready when you drop a piece of okra into the oil. If it sizzles, it's ready.