8 Fabulous Looking Garden Gates
It's spring time here in Alabama and many people are itching to get outside and work in their gardens. Gardens allow you to make the outside a beautiful extension of your home with flowers and vegetables.
I believe if you are going to spend time outside working, you might as well have something pretty to look at.
A Garden Gate is a perfect touch to a garden. Gates not only provide security and privacy but can also add to the beauty of your outdoor space. Gates can be a beautiful entrance into your outdoor garden and can also be a way to showcase your flea market finds and personalize your space. A garden gate should serve as a warm welcome to you and your guest. Be sure to show some personality and creativity when looking for the perfect gate. Remember this should set the tone for your garden atmosphere.
I have found some beautiful garden gates that inspired me from simple to complex, wood or metal, paint or varnish, tall or short.
Whatever you decide, let it make a statement that reflects your style and the characteristics of you and your home.
I love the green and the arch. Looks like an entrance into a secret garden.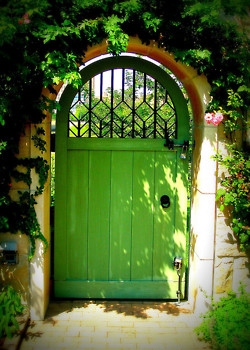 An old door gets a new use!
Get creative with your gates. Use your own style to create and design.
Creative Garden Gate Idea Gallery
I also love the look of this garden gate being used on the inside as a decorative piece.
Vintage Garden Gate
Classic wooden gate. Can't go wrong with this beauty.
The arch and wooden beams are definitely an eye catcher for this entrance into a garden.
Build a Garden
Check out here for more gate ideas.
More great ideas are found here at 17 Stylish Arbor Ideas
Some of the links on this page are affiliate links. Home at Cedar Springs Farm may earn a commission for purchases made after clicking links on this page. Learn More.