How To Clean Makeup Brushes Without Destroying Them
Makeup brushes are necessary tools we use everyday dipping, swirling, highlighting and blending, but we hardly pay them any attention. They should be cleaned weekly to remove all of the dirt, grime and bacteria caked inside the bristles of each brush.
I have a 16 year old daughter and like other 16 year old girls, she loves make up. She spends a lot of her extra money –or my extra money– on makeup. I could probably fit all of my makeup in a sandwich bag, but not her, she has a whole bag dedicated to just lipstick and another for her eye makeup. I mean, how many tubes of mascara do you really need?
And makeup brushes….. oh, the makeup brushes…
Some might tell you that the key to applying makeup would be to have good brushes. I agree, but good brushes have to be cleaned so they can perform and do their job well.
Girls (and women) put a lot of wear and tear on their makeup brushes. They are used everyday dipping, swirling, swiping, and highlighting and they can become quite dirty by the end of the week. However, and most teenagers may think this to be unnecessary, but they need to be cleaned on a regular basis (weekly) to prevent infections and also for good hygiene.
Today, I am going to share with you How To Clean Makeup Brushes Without Destroying Them. I have included the recipe we use to clean our makeup brushes. It does not take a ton of time to clean your brushes and these items are probably found in your pantry. The ingredients are not expensive and your brushes will be clean and ready to use in no time.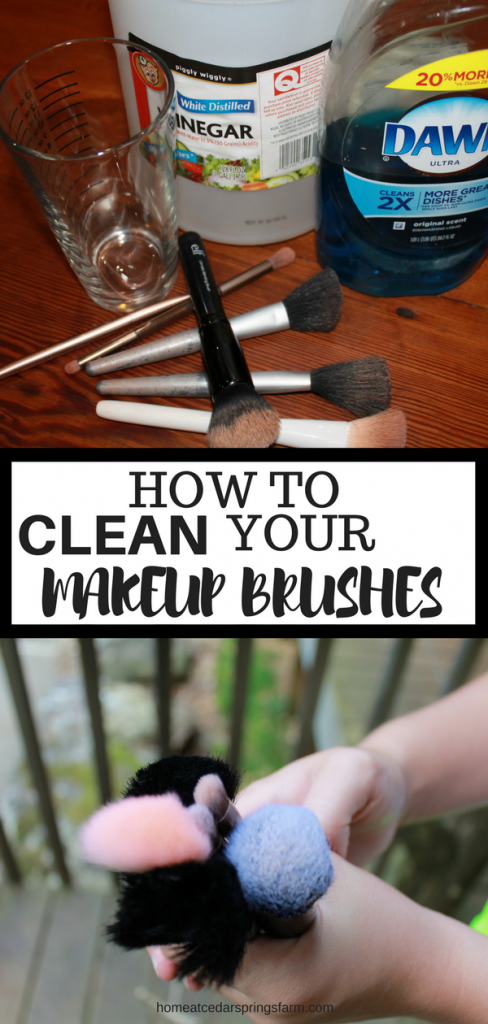 How To Clean Makeup Brushes Without Destroying Them
I like to soak our brushes in a tall glass. Just fill the glass with 1 cup of hot water. Add 1 Tablespoon of Dawn and 2 Tablespoons of white vinegar. Mix gently.
Add your brushes to the water mixture and let soak for about 5 minutes.
Gently swirl the brushes and tap them on the bottom of the glass to loosen the dirt and gunk.
Rinse the brushes under warm water and repeat if needed. We had to do this 3 times to get her brushes clean. YUCK!
To dry:
Squeeze the brushes gently with a hand towel to absorb extra moisture.
Lay them flat on the towel to air dry.
Your brushes will look good as new!
If you are looking for more money saving tips, check out this post on Tips for Saving Money. You might find a few ideas to stretch those monthly dollars.
Here are a few more Tips and Tricks for getting your house cleaned and organized. Cleaning Tips and Tricks You Need To Know.
Check out these tips on how to store your beauty products.
24 Life-Changing Ways to Store Your Beauty Products