Thanksgiving Table Decorating Ideas
The weather is getting cooler, and the leaves are beginning to turn. For me, that means Thanksgiving is around the corner. This is my favorite day of the year — lots of family –30 of us and counting, and good food. No one is counting calories, watching carbs, or dieting 🙂 and the atmosphere is relaxed.
It's hard to believe in just a few short weeks it will be Thanksgiving Day. Wow, the time really does fly. It just seems like a few short months ago; I was taking the turkey out of the oven, greeting family members, and sitting down to turkey and dressing.
Thanksgiving is a time for us to reflect and give thanks for everything and everyone in our lives. A time to think back on the year, accomplishments, happy times, and a time to count your blessings. It's a time to see family, catch up on lives, and hug everyone a little tighter.
If you are hosting the dinner this year, there will be lots for you to do–including decorating the table with an eye-catching centerpiece.
Table Centerpiece
This year I was looking to do something simple for my Thanksgiving Table Decorations. I wanted to bring in some of the fall colors, but also give it a farmhouse feel. I didn't want to spend a lot of money either on the decorations. So I began looking around the house and pulling out items I had tucked away.
I was able to find everything I needed around the house, except for a few items. I stopped by the Dollar Tree–my favorite store– and spent a total of $7 on some candles and candle holders. Within 30 minutes, I had my table decorated and ready.
I used simple items from around the house and my mother in laws dishes. Her dishes are beautiful on their own, but the centerpiece just made them stand out a little more. It turned out to be quite simple and in my opinion, very eye-catching and colorful. Just what I was going for.
Creating a centerpiece does not have to be expensive. You can use what you have at home, in your yard, or borrow from family.
Use Nature–It's Free
Acorns, Leaves, Pinecones, twigs, and basically whatever you can find–use it.
Acorns are plentiful at my house. I literally walked out of my front door and picked up more than enough for my vases. They make great fillers for containers. If you are feeling crafty, paint them.
Leaves are everywhere. They are falling off of the trees with each breeze that blows. The colors are gorgeous! If you don't have access to "free" leaves, they sell them at the Dollar Tree by the pack. You will have more than enough to complete your centerpiece.
Pinecones are also falling. I did have plenty to choose from but decided not to use them at this time. Maybe I will use them later for another decoration.
Twigs are another filler item that can be used in flower arrangements or centerpieces to give character and to add charm. You can always place twigs, branches with colored leaves, and acorns in a vase and make a simple fall arrangement. Get creative.
Need Some Inspiration?
If you are looking for some inspiration for this year's Thanksgiving Table Decorations, you have stopped at the right place. I have put together a round-up of 8 Thanksgiving Table Decorating Ideas. Hopefully, some of these will inspire you to create the "best looking table" of the season.
Thanksgiving Table Ideas and Centerpieces
The first Thanksgiving Table Idea is from my home. I used items such as leaves, twigs, and acorns to make this arrangement for my table. Use what you have, what is free, and borrow if needed.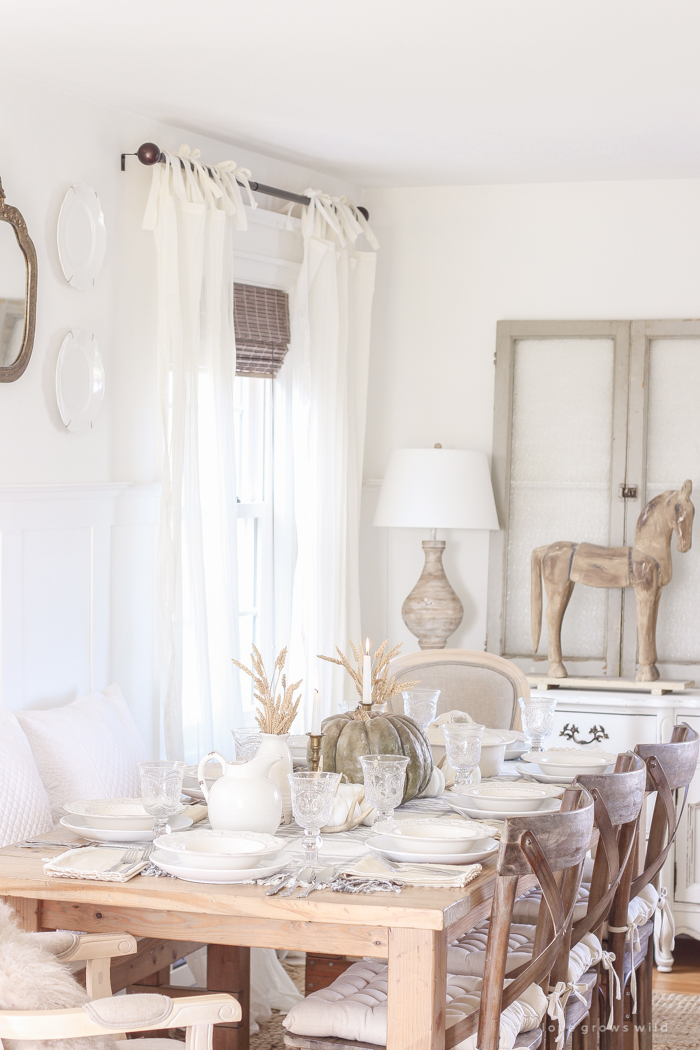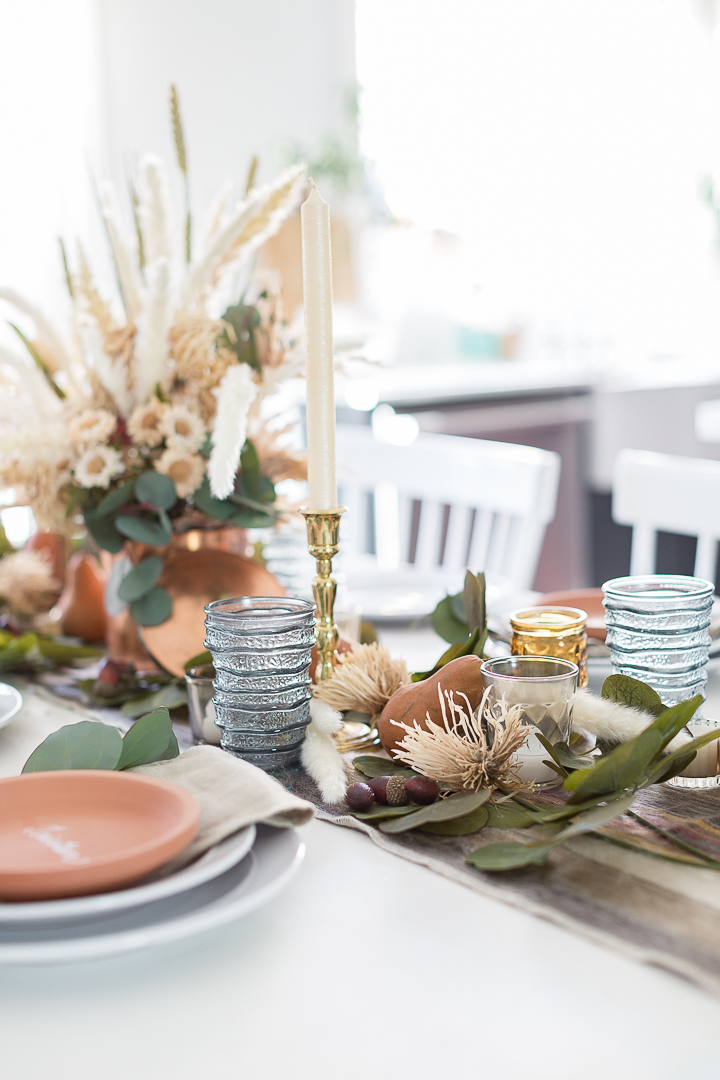 Whether you have an unlimited budget or no budget at all, anyone can create a table centerpiece that will surely "WOW" your guest.
Enjoy your Holidays!
Be sure to check out my Chicken and Dressing Recipe and my Sweet Potato Casserole for Thanksgiving Day!
Some of the links on this page are affiliate links. Home at Cedar Springs Farm may earn a small commission for purchases made after clicking links on this page. Learn More.
Some really cute Target finds for the season!