Southern Style Chicken and Dressing
Chicken, cornbread, cream of mushroom soup, milk, eggs, onion, and butter all come together to make this a delicious pan of Cornbread Chicken and Dressing. This has been served in our house for over 30 years and I plan to serve it for 30 more.
Recipe Origin
Southern Style Chicken and Dressing was my mother in laws chicken and dressing recipe. She made this dressing every Thanksgiving and Christmas. She was known for her dressing and it was always fabulous. I have been eating this dressing for the past 32 years; my husband even longer.
After she passed, I took over and began to make her dressing. I use her recipe and always follow it step by step. It is not difficult at all and it always turns out to be a delicious pan of dressing.
This dressing is not your boxed dressing by any means. This dressing is made from scratch and it begins with homemade cornbread. If you prep everything the day before, you can prepare this dressing in no time.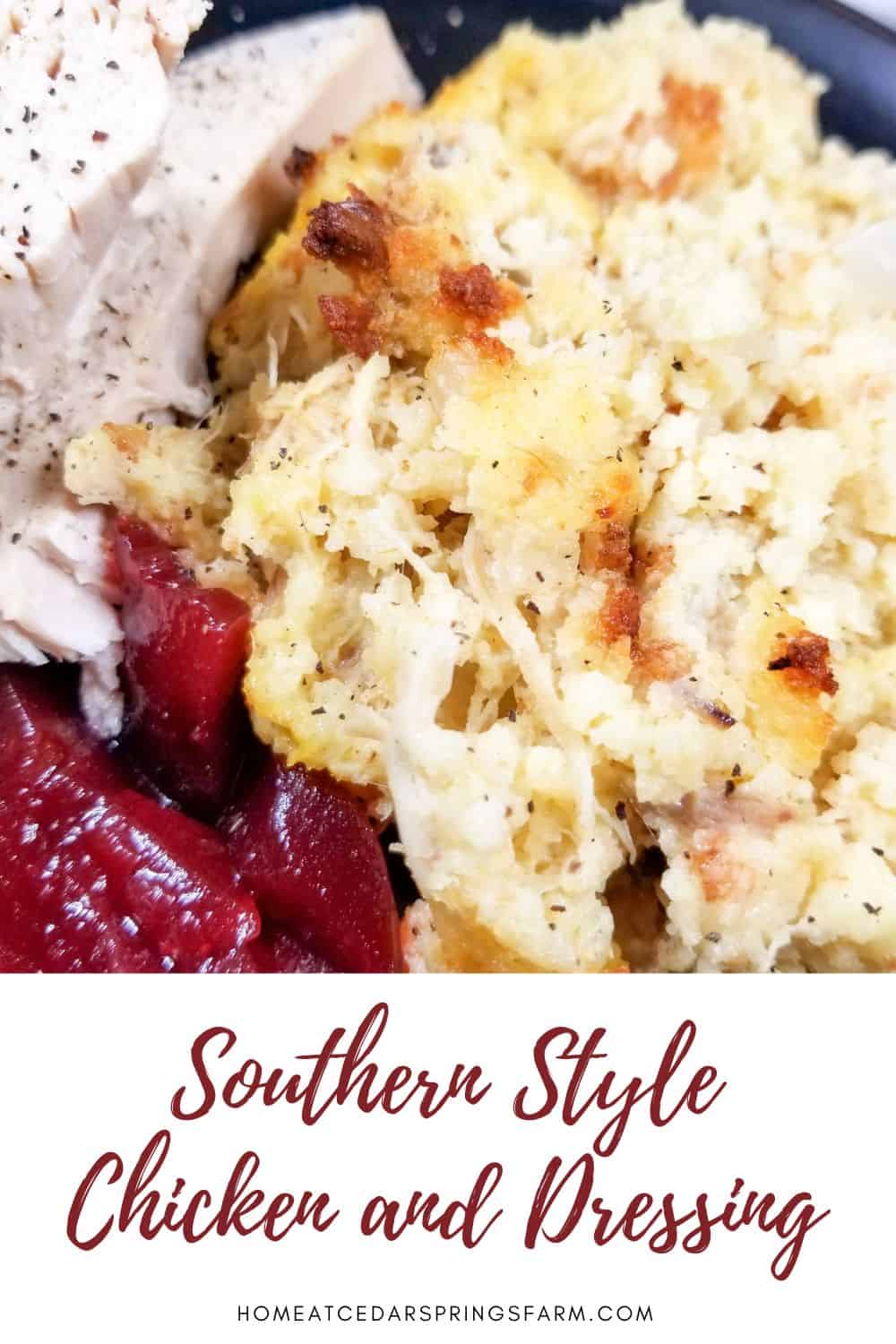 Why Chicken and Dressing is Fabulous
Without a doubt, everyone loves this dressing, and they always go back for seconds. 🙂 It makes me wonder—why do I only cook this dressing during the holidays?? This dressing should be served on all special occasions—at least according to my husband. 🙂
Delicious– This dressing always shows up on the table during the holiday season. It's rare for there to be any leftovers after dinner. But, of course, I have 32 people in my family! 🙂
Prep everything the day before– By prepping all of the ingredients early, it makes it fast and easy to pull together.
Feeds a crowd— This makes a large pan of dressing. This will easily feed a crowd for the holidays.
Be sure to try my Candied Sweet Potatoes for a delicious side dish.
Ingredients Needed for Cornbread Dressing with Chicken
Cornbread:
egg, cornmeal, buttermilk, oil
Dressing:
chicken, onion, butter, cream of mushroom soup, eggs, milk, cornbread, chicken broth.
How to Make Southern Style Chicken and Dressing from Scratch
For complete instructions, see the recipe card below.
Prep all of the ingredients- bake the cornbread, boil/chop the chicken, chop the onion, reserve the broth. If you are doing this in advance, place in storage bags and refrigerate.
Mix all ingredients.
Bake.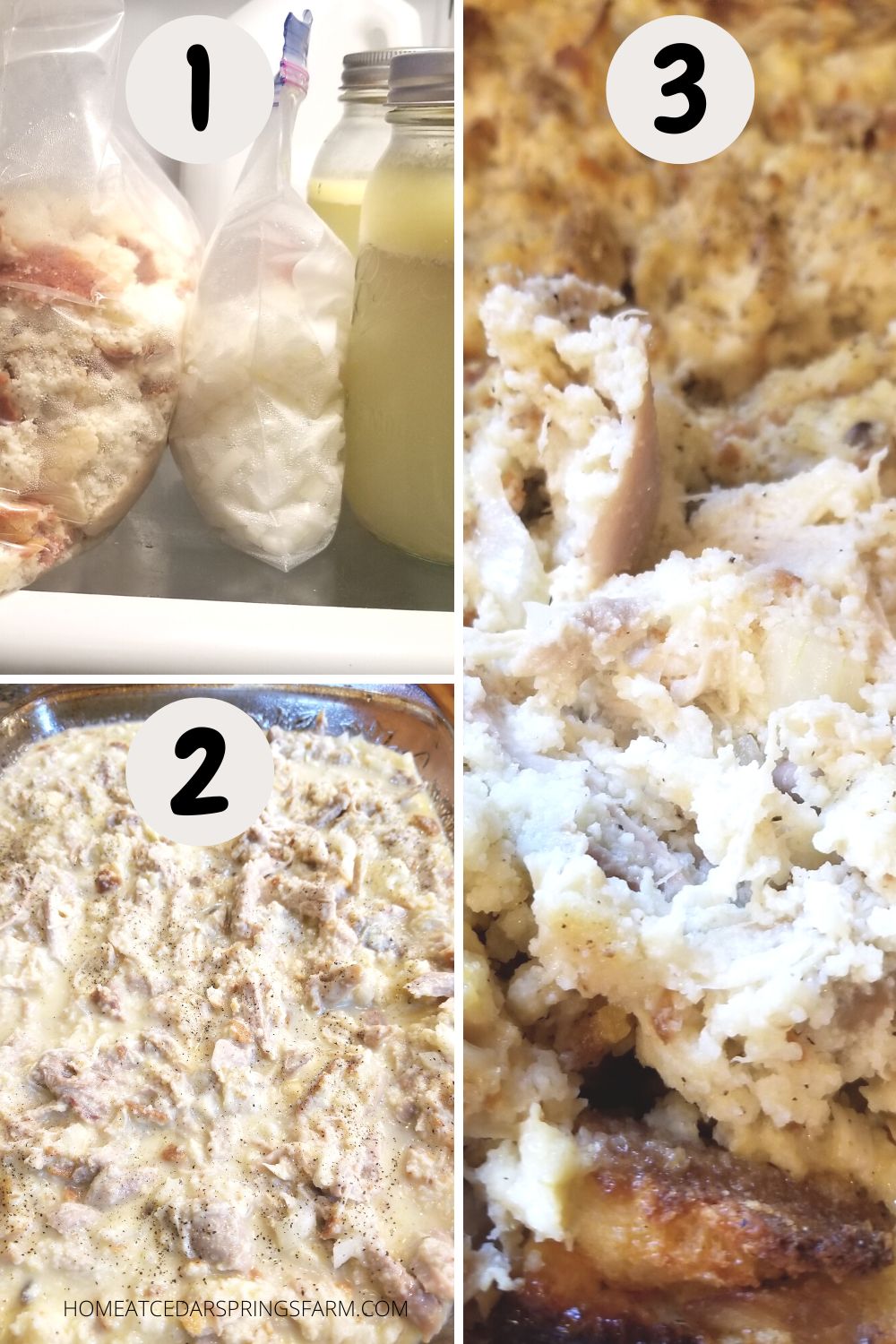 This Southern Chicken and Dressing is the best recipe by far. I always make a huge dish during the holidays and there is never any left. Although, I usually serve it during Thanksgiving and Christmas, it's also great for Sunday dinners or any occasion.
What Type of Chicken Should I Use for Chicken and Dressing?
Any chicken will work for this recipe. I like to use a mix of chicken breast and chicken thighs. Feel free to use a whole chicken for this dressing. Boneless chicken works also and saves time from removing the meat from the bone. If you like, a rotisserie chicken will also do a nice job and will cut down on the cooking a bit.
Can I Prepare Cornbread Dressing in Advance?
Absolutely. The more you can prep in advance, the better. I like to prepare everything the day before and place it all together in the refrigerator. This makes the dressing super easy to grab, mix, and bake the next day.
For a great twist on a Pumpkin Pie, be sure to check out my No-Bake Pumpkin Pie recipe. It's light, fluffy, creamy, and delicious. Comes together in minutes and is family approved.
Tips for Making Southern Style Chicken and Dressing
*Prepare everything at least a day before baking the dressing. This includes cooking and chopping the chicken, baking and crumbling the cornbread, chopping the onion, pouring and refrigerating the broth.
*Use a rotisserie chicken to cut down on time. You will need a good broth for the dressing if you use a bought and cooked chicken.
*Store everything together in the refrigerator to make gathering ingredients fast and easy.
*Refrigerate or freeze leftovers in an airtight container. This will keep for up to 3 days in the refrigerator and up to 3 months in the freezer.
Can I Freeze Southern Style Chicken and Dressing?
Yes. Wrap any leftovers in plastic wrap and place in a zip-top bag. This will keep in the freezer for at least 3 months. To reheat, thaw in the refrigerator. Place in a 350-degree oven and heat for about 20-30 minutes or until hot all the way through.
No Thanksgiving or Christmas is complete unless there is Green Bean Casserole, Roasted Turkey, or Cranberry Sauce on the table. All homemade and easy to make.
More Southern Side Dishes to Serve With Chicken and Dressing
Check out 23 Southern Side Dishes to serve for Thanksgiving for more side dish options. There is something for everyone at the table.
Southern Fried Okra
Grilled Corn on the Cob
Deviled Eggs
Sweet Potato Casserole
Carrot Apple Salad
If you are looking for a special cake or pie, my Carrot Cake is amazing and my Sweet Potato Pie is out of this world. They always goes fast!
For more Thanksgiving Side Dishes, be sure to check out this post.
Needing a Centerpiece for your table. I have an easy way to decorate your table. Thanksgiving Table Decorating Ideas will inspire you and wow your guests.
Take the stress out of your day with 10 Thanksgiving Hacks to make your day stress free.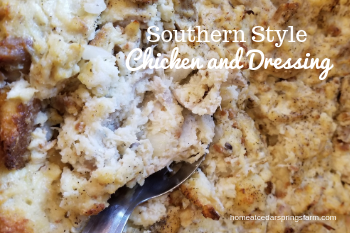 Southern Style Chicken and Dressing
A delicious Cornbread Dressing that has been served in our home for the past 30 years. This dressing will feed a crowd and will have everyone coming back for seconds.
Ingredients
Cornbread
1

egg

beaten

2

cups

cornmeal

1 1/2

cups

buttermilk

1/4

cup

oil
Chicken and Dressing
1

package (about10)

chicken thighs

or 1 package of chicken breast (about 6) Boil, skin, debone, chop.

1

large

onion

chopped

1

stick

butter, melted

1

can 10.5 oz

cream of mushroom soup

6

Eggs

beaten

1 1/2

cups

milk

cornbread

2

quarts

chicken broth
Instructions
Cornbread
Preheat oven to 425 degrees. Grease a cast iron skillet or baking pan with oil and place in the oven to heat. Meanwhile, mix up the cornbread batter. Beat egg in a medium bowl. Add cornmeal mix, buttermilk, and oil. Stir well. Pour batter into heated skillet and place back in the oven. Cook for about 25 minutes or until golden brown on the top. Remove from the oven and turn out onto a plate to cool. You will need to make 2 pans of cornbread. Set Aside.
Chicken and Dressing
While the cornbread is baking, boil the chicken.

Boil 1 package chicken thighs (about 10) or 1 package of chicken breast (about 6) until tender. Cool, skin, debone and chop. Save broth.

Crumble cornbread in a large pan or bowl. I use 2 bowls because there is so much to mix up.

Add: 1 large chopped onion, 1 stick melted butter, 1 can cream of mushroom soup, 6 beaten eggs, 1 1/2 cups milk, chopped chicken. Pour enough broth to make the mixture thin. You don't want it too soupy, but you do want it thin. I usually use close to 2 quarts.

Salt and Pepper to taste.

Pour into 1 or 2 casserole dishes and bake at 450 degrees until brown on top, about 45 min to 1 hour. If you are cooking this in one pan, it may take up to an hour. Just keep a check on it and when the top begins to brown remove from the oven and allow to sit about 10-15 minutes before serving.