Easy Rice Dressing Recipe (A Holiday Favorite)
Indulge in savory flavors and creamy textures with this Easy Rice Dressing Recipe. It's a holiday favorite that captures the hearts and souls of Southern Cuisine. A versatile side dish that's crowd-pleasing and will add a touch of comfort to your table.
Rice dishes make an appearance at our dinner table regularly. Baked Pork Chops and Rice, Chicken and Rice, Creamy Mushroom Rice, and Red Beans and Rice are a few of our favorites. Rice serves as the perfect base for creating many loved dishes. Rice dressing is another dish full of flavors and textures and a cherished tradition passed down through the generations.
My mother passed this recipe to me, and it was passed to her from her mother-in-law. This rice dressing always shows up during the holiday, especially Thanksgiving. If turkey is on the menu, this dressing is on the table. Rice dressing is not just for the holidays. It's easy enough to be served year-round for Sunday dinner and goes great with grilled chicken, hamburger steak, or fried pork chops.
Cranberry Stuffing, Chicken and Dressing, and Cranberry Sauce are favorite dishes that always show up on our holiday table. This dressing is no exception. My mom makes this every year and brings it for dinner for our family. There is something about tradition that brings warmth and comfort to the table.
Why Should I Make Traditional Rice Dressing
Serving Easy Southern Rice Dressing adds a delightful twist and simplifies holiday preparations, all while creating memories with your loved ones. This dish offers warmth and tradition to your holiday table, making this a crowd-pleasing addition with a touch of Southern comfort. This would be an incredible dish for your Thanksgiving table.
Flavorful: This is an excellent alternative to the usual side dishes served during the holidays. The savory flavors, along with the aromatic vegetables, add a delightful twist to your holiday table.
Traditional: This dressing is traditional in our family. It always shows up on Thanksgiving, especially when a turkey is served. The roasted turkey broth is used in our rice dressing for added flavor.
Southern Comfort: This dish brings a taste of the South to your Thanksgiving table.
Vegetarian-Friendly: This is a beautiful meatless option, making it a choice for all. When using vegetable broth, this is a lovely side for vegetarians.
The Difference Between Rice Dressing and Dirty Rice
Rice Dressing and Dirty Rice are both Southern loved dishes. They do share similarities, but they also have differences. This rice dressing is different because it does not contain ground meats, chicken gizzards, or livers. So whether you call it cajun dirty rice, cajun rice dressing, or just rice dressing, they all contain rice and have some of the same seasonings.
Rice Dressing is primarily made with long grain rice as the base. The dressing mix is usually long-grain white rice and sauteed vegetables such as onions and celery. The rice dressing could sometimes include various types of meats but doesn't rely on them as the dirty rice does. This dressing is milder with balanced flavors and a mix of rice and potatoes.
Dirty Rice gets its name for the "dirty" appearance by adding ground beef or chicken livers. The meat gives this dish a hearty and rich flavor, which differs from the rice dressing. Dirty rice tends to be a bit more spicier than rice dressing.
Ingredients Needed for Rice Dressing
See the printable recipe card below for a list of ingredients and amounts.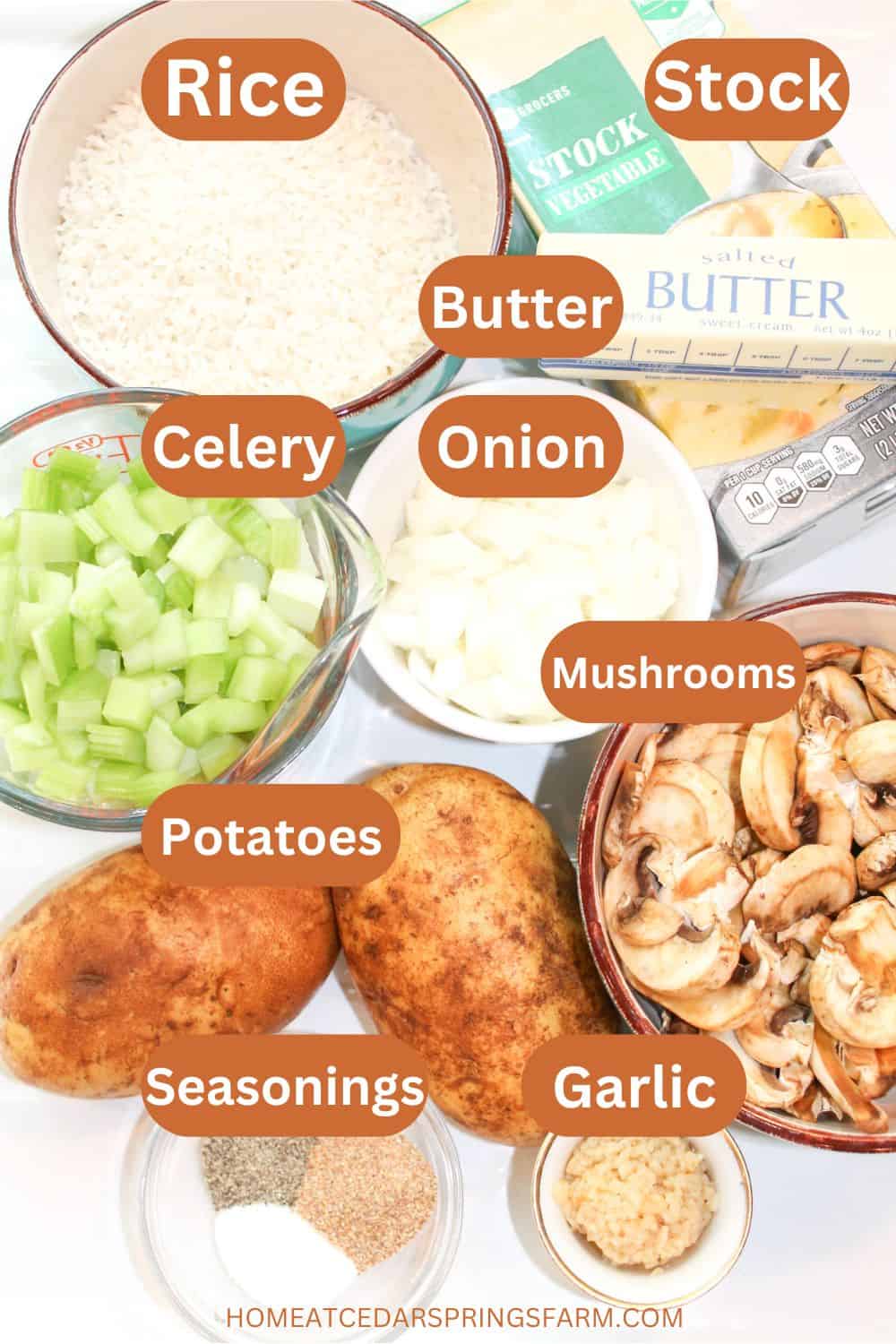 Vegetable Broth – Broth serves as a base for this dressing. For added flavor, you can use vegetable broth for a vegetarian dish or turkey, chicken, or beef broth/stock.
Long-Grain White Rice – This is one of the main ingredients in this dish and forms the base. This is not instant rice. You should follow the package directions, substituting the water for broth.
Potatoes – I use two Russet potatoes thickly diced, which enhances the texture. 
Onion – An aromatic element that brings flavor to the dressing. Any yellow or white chopped onion will work nicely.
Celery – Celery adds a slight crunch and mild flavors to the dish. It is often used in dressing recipes.
Butter – Butter is used to saute the vegetables and add richness to the dish. It adds a creamy texture to the rice and potatoes.
Mushrooms – Mushrooms add a meaty texture to the rice dressing.
Garlic – Garlic infused with the rice mixture creates a fantastic aroma and flavor.
Garlic Powder Seasoning – An additional layer of garlic flavor.
Salt & Black Pepper – Seasonings for taste. Adjust to your liking.
How to Make The Best Rice Dressing
Rice dressing is the perfect side dish for any time of the year. It usually shows up during the holidays more, but it is simple enough for a weeknight meal or Sunday dinner.
For the full recipe and complete list of detailed instructions, see the printable recipe card below.
Cook rice according to package directions. Substitute the water for broth. In a separate pot, boil potatoes until tender.
Saute vegetables and stir in seasonings.
Mix all ingredients.
Pour into a greased baking dish and bake.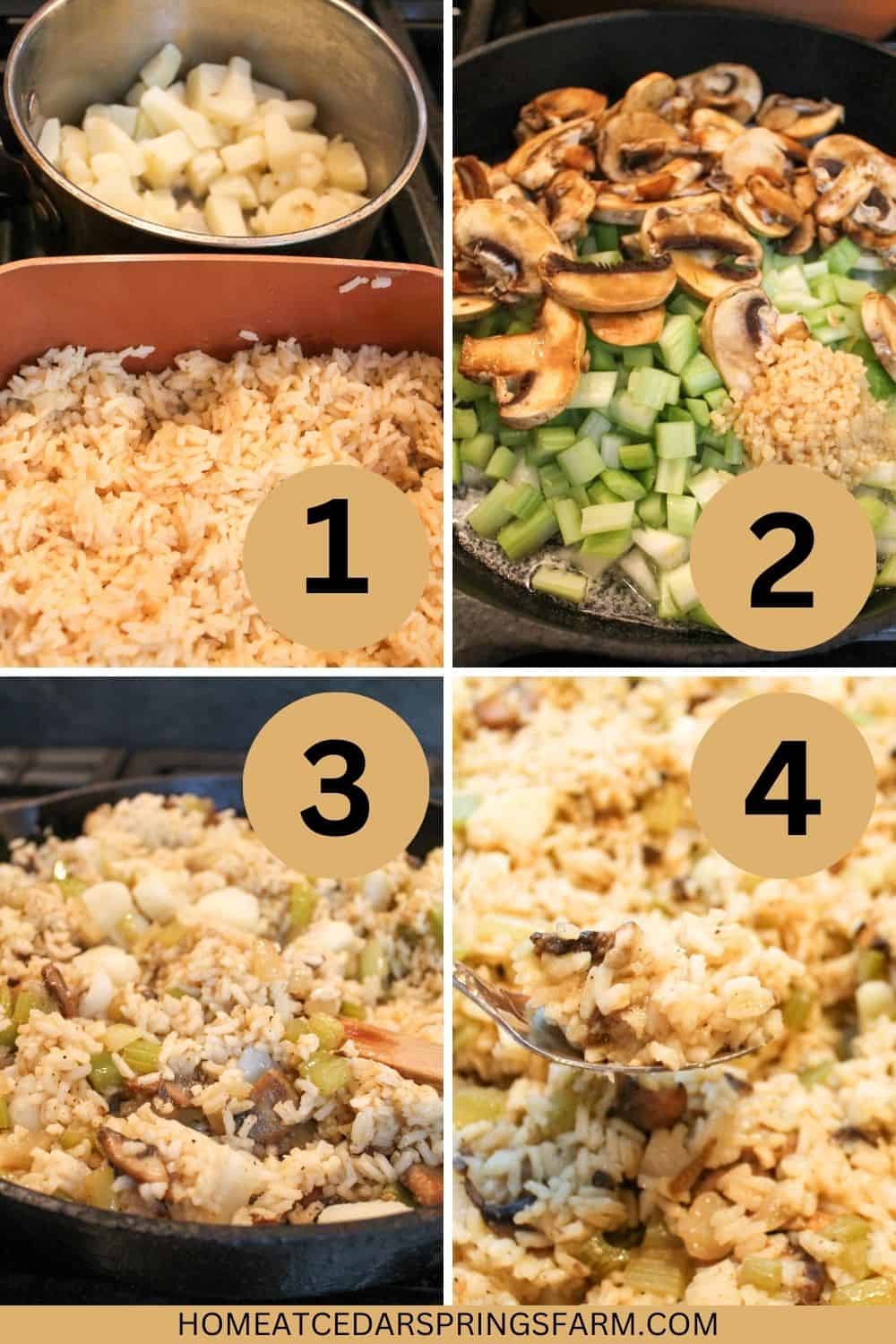 Substitutions for Vegetable Stock
Chicken or turkey stock are excellent alternatives if you want to substitute for vegetable stock. If you bake a turkey, use the juices to flavor your rice for the dressing. The juice from the turkey has tons of flavor and will make a tremendous difference in the taste of the rice. This is my number one way to make this dressing at Thanksgiving. But, during the year, when turkey is not on the menu, vegetable or chicken stock is used for this recipe.
Chicken Stock and Turkey Stock both complement the flavors of the rice dressing, giving it an excellent taste.
Substitutions and Add-Ins for Seasoned Rice Stuffing
My mom and I mostly use the broth from a freshly roasted turkey. I use chicken broth instead if I make this during the year other than the holidays.
Rice dressing is versatile and can be tailored to your taste. If you are looking for a Classic Southern dish, this one is sure to please.
Use long-grain rice, which cooks up fluffy and is ideal for rice dressing.
Saute the chopped vegetables in a large skillet over medium heat to enhance the flavors.
Don't be shy with seasonings. Mix up the seasonings if desired, and add some cajun seasonings or onion powder.
Customize the proteins. Add ground sausage, diced chicken, ground beef, chicken livers/gizzards.
This makes a full casserole dish perfect for a crowd or leftovers.
Swap it up a bit and use a wild rice blend.
Mushrooms are optional, but they add a meaty texture to the dish.
Feel free to mix in some olive oil for additional flavor. My grandmother added this to her dish to keep the rice from sticking.
Add some diced green onions to the top before serving.
Add some cooked ground beef before baking to serve this as a main dish. Or combine a cooked meat mixture of chicken livers and gizzards. Some cooked ground pork adds tremendous flavor. Adding meat and cajun seasonings turns this into a tasty cajun rice dressing.
Why Is This A Great Dish For Vegetarians
Rice dressing is savory, filling, and flavorful without meat. Vegetarians can enjoy a delicious side dish for Thanksgiving or any other day. It's an excellent dish for several reasons:
Hearty and Filling: This dish with rice and potatoes is hearty and filling. It's satisfying and will keep you full.
Versatile Ingredients: The variety of ingredients in this dressing allows you to customize it to your liking. If you don't like mushrooms, leave them out. If you want green bell pepper, add some to the mix.
Leftovers: Rice dressing makes the perfect leftovers, and it's convenient and delicious the next day and several days following.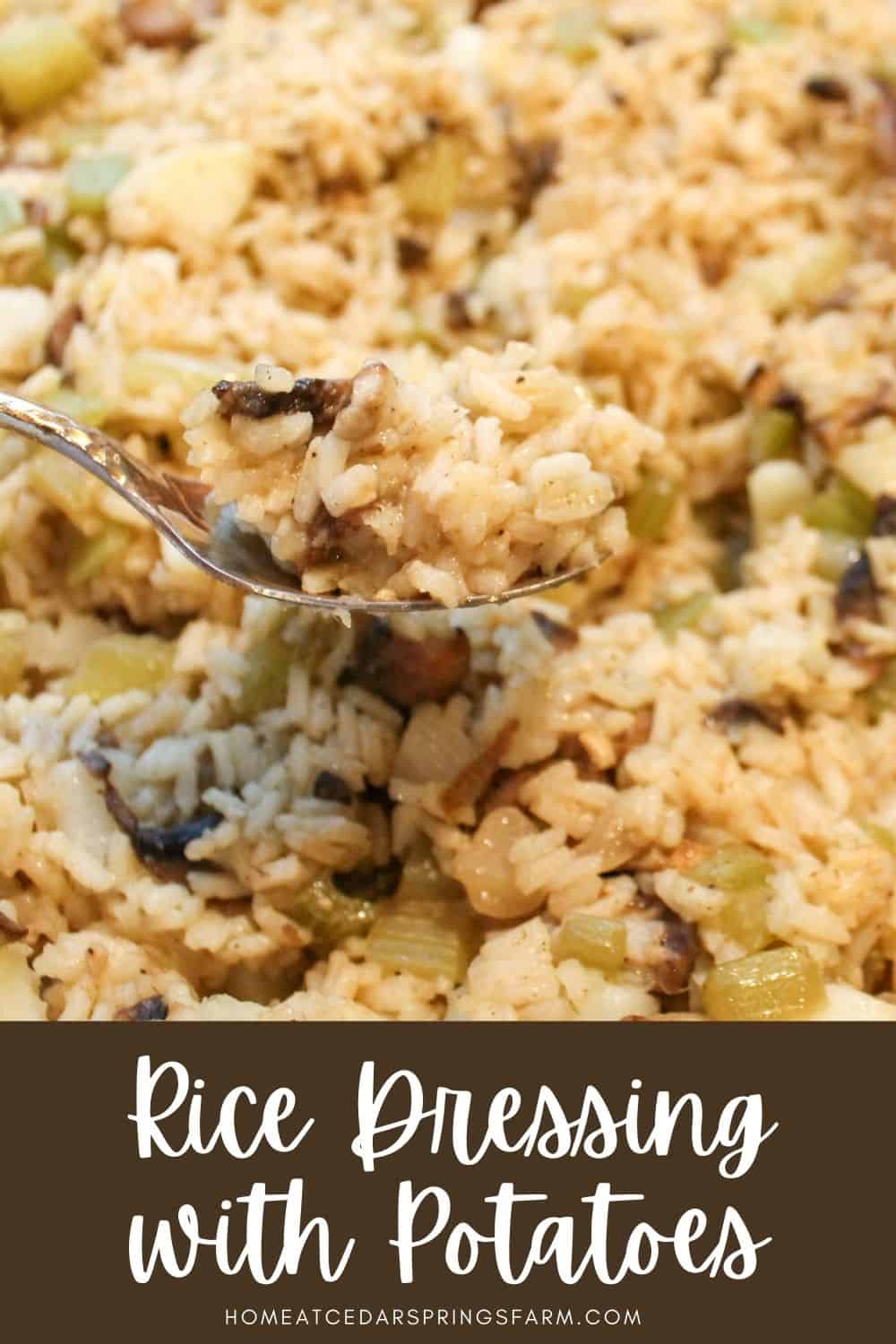 Why This is A Great Dish for The Holidays
Rice dressing is an excellent side dish for the holidays. Incorporating this dish into your holiday menu adds depth, flavor, and comfort. The combination of ingredients and seasonings brings balance to the dish. The texture is light and fluffy and pairs well with other vegetables and side dishes at the table. This dish is versatile enough to serve alongside roasted turkey, ham, or chicken and can complement many holiday traditions. Dressing can be made in advance and reheated, which is convenient for busy holidays.
How to Store Leftover Traditional Rice Stuffing
Store all leftover rice wrapped tightly in plastic wrap or airtight containers. Grabbing a ready-to-go container is perfect for work or guests who enjoy leftovers. To reheat: Place in a microwave-safe dish and heat for a minute or two until hot.
FAQs
What is Rice Dressing?
Rice Dressing is a savory Southern dish made primarily with rice, potatoes, seasonings, and vegetables.
Can Rice Dressing Be Made In Advance?
Yes, rice dressing can be made in advance and refrigerated for several days. Reheat in the oven before serving. This is the perfect easy side dish for the holidays and can free up your oven space for more delicious dishes.
What's The Difference Between Dirty Rice and Rice Dressing?
While they share similar ingredients, dirty rice and rice dressing differ. Dirty rice usually contains meat and gets its name from the "dirty" appearance of the meat and spices. Rice dressing, on the other hand, can have meats or be vegetarian.
More Holiday Favorite Dishes
Sausage Apple Cranberry Stuffing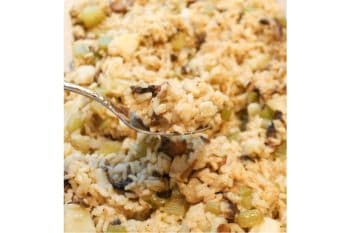 Easy Rice Dressing
Indulge in savory flavors and creamy textures with this Easy Rice Dressing Recipe. It's a holiday favorite that captures the hearts and souls of Southern Cuisine. A versatile side dish that's crowd-pleasing and will add a touch of comfort to your table.
Ingredients
4

cups

Vegetable Broth

divided, can use chicken, beef, or turkey broth

1½

cups

Long-Grain Rice

uncooked

1½

pounds

Potatoes

diced and cooked (2 medium potatoes)

1

cup

Onion

diced

2

cups

celery

chopped

½

cup

Butter

8oz.

Mushrooms

sliced

2

tablespoons

Garlic

minced

1

teaspoon each

Garlic Powder, Salt, Black Pepper
Instructions
Bring 3-1/2 cups broth to a boil in a medium saucepan. Add rice, stir, and bring back to a boil. Reduce heat to low; cover and simmer until tender, about 20 minutes. **See Recipe Notes

Boil potatoes while the rice cooks. Peel and dice potatoes into 1/2-inch cubes. Add them to a medium saucepot and cover by 2 inches with water. Boil for 10-15 minutes or until fork tender. Drain.

Meanwhile, saute onion, mushrooms, garlic, and celery in butter in a skillet over medium heat until tender. Stir in seasonings.

Stir in rice and potatoes into the mushroom mixture. Add the remaining 1/2 cup broth.

Pour into a greased 13" x 9" casserole dish. Bake, covered, at 350° for 30 minutes. Garnish with fresh parsley if desired.
Notes
Cook rice according to the time on the package directions. Substitute the water for the broth.
Chicken or turkey stock are excellent alternatives if you want to substitute for vegetable stock.