Chicken and Yellow Rice Casserole
This recipe is definitely a keeper. Chicken and Yellow Rice Casserole is big on taste and very satisfying. It's a comforting dinner that's simple to make, and pleasing to your taste buds. Chicken, yellow rice, and cream of mushroom soup. Only 3 main ingredients for this one-pot meal!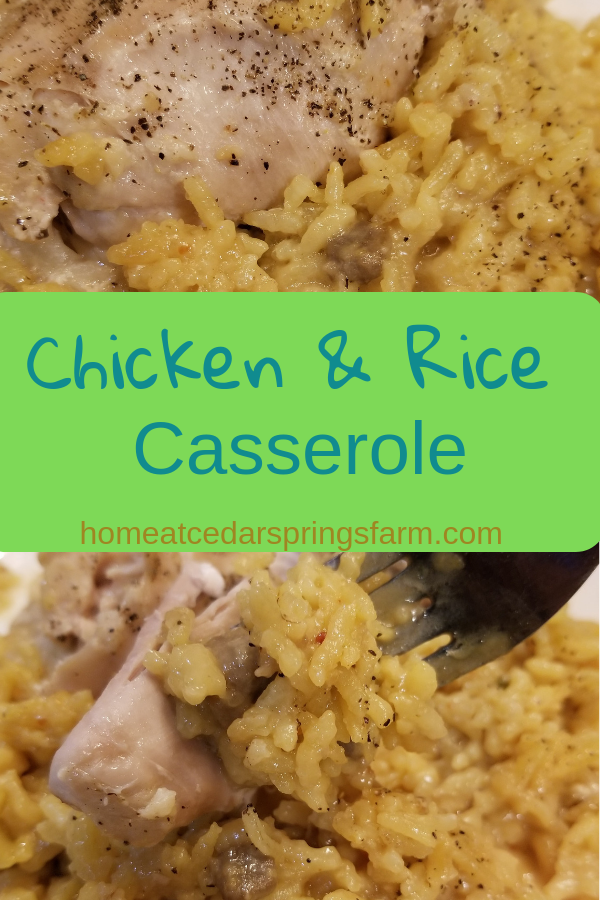 Yellow Rice is the Best
My family loves rice- yellow rice. We would much rather have the yellow than the white. (I guess you could say we are rice snobs) The yellow is so much more flavorful and savory, and if I am cooking a dish that requires rice, I always try to switch the white for the yellow. Like this rice and corn casserole!
Last night I needed a quick and easy one-pot meal. I was not in the mood to wash a bunch of pots and pans and spend a lot of time cleaning up after supper, so this was the perfect dish to make.
The chicken is tender and juicy, and the rice is loaded with flavor and has a nice creamy sauce. This dish is sure to please your family and have them going back for seconds.
I have been making this Chicken and Yellow Rice Casserole for years, so it is a tried and true recipe. If you have left-overs, they will be great the next day as well. My daughter actually carried some leftovers in her lunch box to school. She just reheated them for a few seconds and had the best lunch at the table. 🙂
What You Will Need For This Casserole
I used 2 cans of cream of mushroom soup because we like mushrooms, but feel free to use cream of celery, or cream of chicken, or just whatever you like best.
We also like chicken thighs. My family prefers dark meat and thighs usually have the best flavor. Again, use whatever chicken pieces you like the best.
Now, on to the rice. Yellow rice is the best! I know I have said this before but its true. It is packed full of flavor and spices and just quite delicious. If you are going to cook a meal with rice, it might as well taste good, right?
This casserole is easy to throw together and requires very little prep work. It comes together in 5 minutes or less and bakes on low for 1 1/2 hours. This gives you time to relax before dinner, help the kids with homework, catch up on the never-ending laundry, or just to sit and watch a movie–like that ever happens! 😉
This casserole would be perfect for weeknight dinners, potlucks, church socials, or dinner with friends or just because you love chicken and rice!
Are You Looking For More Dinner Ideas?
If you are looking for more delicious dinner ideas, be sure to try Creamy Ritz Cracker Chicken Casserole. This casserole is loaded with a lot of different flavors- cream cheese, sour cream, chicken, and cream of chicken soup. It tastes like a bite of creamy heaven. Absolutely delicious!
Chili Mac and Cheese is another family favorite. It's full of flavor and requires basic pantry items. This is requested a lot at my house.
Some of the links on this page are affiliate links. Home at Cedar Springs Farm may earn a small commission for purchases made after clicking links on this page. Learn More.
Chicken and Yellow Rice Casserole
Chicken and Yellow Rice Casserole is big on taste and very satisfying. It's a comforting dinner that's simple to make, and pleasing to your taste buds.
Ingredients
1

family pack

chicken thighs

I used 8 thighs.

1

9oz. package

yellow rice

2

10.5 oz. cans

cream of mushroom soup

1 1/3

cup

water

salt and pepper
Instructions
In a bowl, mix rice, soup, and water.

Pour rice mixture into a 13" x 9" casserole dish.

Arrange chicken on top of rice mixture.

Salt and pepper as desired.

Cover with foil. Bake at 325 degrees for 1 1/2 hours. If you are using chicken breast, you may need to add an additional 30 minutes to the time.