Easy Classic Chicken Pot Pie
Comfort food at its best. It really doesn't get much better than an Easy Classic Pot Pie. A buttery, crisp crust, loads of vegetables, a brothy gravy, and chopped chicken. A dish your whole family will love.
While there are endless pot pies to grab from the freezer section at your local grocery store, nothing compares to the taste of a homemade pot pie. After making this homemade version, you will never buy a frozen one again.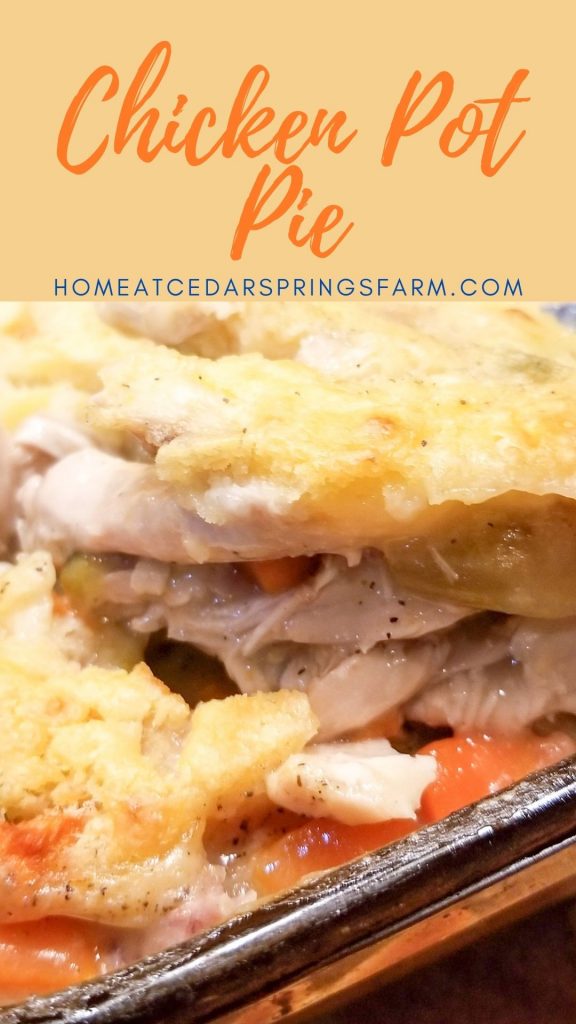 Can I Use a Rotisserie Chicken?
You bet! A rotisserie chicken would be great for this dish. Just take all of the meat off of the bones and continue with the recipe.
Can I Prepare this Pot Pie in Advance?
Yes! I like to catch chicken on sale, boil it, chop it, and freeze it. This makes preparing a casserole fast and easy. And this chicken pot pie is no exception. Prepare the chicken in advance by cooking and chopping. If you are making this dish right away, just refrigerate the chicken. If it will be a while before making this recipe, freeze it, and thaw before use.
What kind of Chicken Should I Use?
For this recipe, you can use any chicken you desire. If you like white meat, use that. I like chicken thighs, so most of my pot pies have dark meat.
Chicken tenders will also work great. Just boil, chop, and continue with the recipe.
What Kind of Broth Do I Use for Chicken Pot Pie?
There are several options for chicken broth. The grocery store has a whole section with many varieties to choose from. Please select your favorite or do as I do and make your own. For homemade chicken broth, boil your chicken and reserve your broth. I like to keep a few bags in my freezer for fast recipes.
Can I Use Other Vegetables In This Pot Pie?
Yes. If you are not a fan of mixed vegetables, use 2 cans of your favorite veggies.
Can I Substitute the Meat in this Pot Pie?
Yes. I like to use chicken, turkey, and sometimes ham. This recipe is excellent to use around the holiday season. You can use up the leftovers you might have lingering in the fridge.
How Do I Store Leftover Pot Pie?
To Refrigerate: Cover and store any leftovers in an air-tight container in the refrigerator. This pie should last for 4-5 days with no problem.
To Freeze:
Place leftovers in a freezer-safe container and wrap tightly in plastic wrap.

Freeze for up to 2 months.

Thaw and reheat in the oven for the best outcome.
Chicken Pot Pie is a comfort food I enjoy as a weeknight meal. It's warm and filling, especially on those cold winter nights. It's the perfect meal to serve your family and to use up those holiday leftovers.
For more delicious casseroles, be sure to check out the recipes below.
Creamy Ritz Cracker Chicken Casserole
Bacon Cheeseburger Tater Tot Casserole
Classic Chicken Pot Pie
Classic Chicken Pot Pie is the ultimate comfort food. It's creamy, chunky, and so delicious.
Ingredients
2

cups

chicken

cooked and chopped

2

cups

chicken broth

1

10 oz. can

cream of mushroom soup

2

15 oz. cans

mixed vegetables

corn, peas, potatoes, etc.

1/2

teaspoon

salt & pepper

1

stick

butter

melted

1

cup

milk

1

cup

self rising flour
Instructions
Boil chicken, debone, chop. Measure 2 cups and set aside.

Reserve 2 cups chicken broth.

In a large bowl, mix together chicken, broth, soup, seasonings, and mixed vegetables. 

Pour into a 9 x13 baking dish.

In a small bowl, mix together melted butter, milk, and flour. Stir well until smooth. Pour slowly and evenly over the chicken mixture.

Bake at 350 degrees for 1 hour. *The last 1-2 minutes, flip the oven to broil. DO NOT walk away. You are browning the top of the crust, and it will brown quickly. If your crust is brown enough for you--skip this step. Allow the pot pie to sit for 10 minutes for the sauce to set up. Plus, it's too hot to eat immediately anyway.
Notes
You can cook this in an 8 x 11.5 baking dish, but it will fill it to the very tip of the dish. I have done this before, and it cooked nicely, but it was full. A 9x 13 would be a better choice. 
As a tip, I would place the baking dish on a baking sheet before putting it into the oven. The baking sheet will catch all spillovers and make getting in and out of the oven easier. I would much rather clean a baking sheet than clean the bottom of my oven. Been there and done that!
Pour the milk mixture slowly and evenly over the top of the pot pie. Do not stir. This will make the crust for the pie. As it cooks, it will rise to the top.
Want to make a homemade pie crust? Check out this recipe.