Tangy Vinegar Coleslaw
Crunchy cabbage coated in a slightly sweetened vinegar dressing. Tangy Vinegar Coleslaw is delicious, tangy, slightly sweet, and super crisp. This slaw is packed with fresh flavors that will wake up your taste buds!
Tangy Vinegar Coleslaw- slaw mix, vinegar, oil, sugar, salt, and pepper. So easy and taste fabulous! This slaw recipe is most definitely a keeper. This goes great with everything from BBQ to fish to tailgating food. Try it, and I bet it will be a hit!
Tangy vinegar coleslaw is a no mayo coleslaw. This is perfect for those people who love the taste of coleslaw but don't like mayo. Don't get me wrong, I love a good coleslaw with mayonnaise, but sometimes I am in the mood for a little something different. This is when I make this Tangy Vinegar coleslaw.
What is Vinegar Coleslaw?
Vinegar slaw is just coleslaw made with vinegar and oil dressing. It's sweet and tangy and usually served as a side dish to barbecue. It goes great on top of a pulled pork sandwich.
Ingredients Needed for Tangy Vinegar Coleslaw
This is a super simple recipe using a few ingredients. Feel free to make your coleslaw from scratch by shredding cabbage and carrots. I kept it easy by using a coleslaw mix.
coleslaw mix
oil
apple cider vinegar
salt & pepper
sugar
How to Make Oil and Vinegar Dressing for Coleslaw
This couldn't get any easier. Grab a bowl and whisk oil, vinegar, sugar, salt, and pepper. Add the slaw and toss.
OR grab a Mason Jar–my favorite. Pour in the oil, vinegar, sugar, salt, and pepper. Shake until everything is mixed and the sugar is dissolved. Pour over slaw mix, and toss well.
No matter how you mix and pour, just make sure the slaw has been tossed well and covered with that delicious tangy vinegar dressing.
Can I Make this Slaw Ahead of Time?
You can mix this slaw several hours before your serve it or make it the day before. The longer it's mixed, the better. I like to mix this slaw at least a day before serving it. But, a few hours will also taste great! The flavors are awesome.
Storage Tips for the Best Coleslaw
This slaw will last 3-5 days in the refrigerator. Store in an air-tight container. The flavors are better the next day. Go ahead and double this recipe and enjoy this coleslaw every day.
My dad was in charge of making this delicious slaw. He has been making slaw for years, and he does not make it with mayonnaise. He likes the simple and tangy vinegar and oil dressing. He made this the day before and just chilled it in the refrigerator until we met for lunch the next day. This slaw is always best if you can make it the day before.
Add-ins for your Vinegar Slaw
jalapenos– just dice up a few and toss them in
bell pepper– dice and mix into the coleslaw. This will give an added crunch.
onion– sweet onion, or red (purple) onion would work as an add-in. It will add nice flavor.
A dash of celery seed.
A few red pepper flakes.
This slaw is perfect for BBQs, get-togethers, or grill-out nights. It goes great with just about anything cooked on the grill. I like to pair it with slow-cooked pulled pork, buffalo chicken tenders, Sloppy Joes, and slow-cooked ribs.
This would unquestionably be great for your next family gathering, holiday, or tailgating event.
Like cabbage? Be sure to try:
Fried Cabbage and onion
Oriental Coleslaw
Try this Grape Salad or Carrot Apple Salad for your next cookout or tailgate gathering.
For More Salads, try Classic Chicken Salad, Bacon and Broccoli Salad, and Southern Cornbread Salad.
Some of the links on this page are affiliate links. Home at Cedar Springs Farm may earn a commission for purchases made after clicking links on this page. Learn More.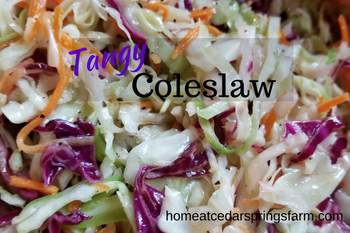 Tangy Vinegar Coleslaw
Crunchy cabbage coated in a slightly sweetened vinegar dressing. This slaw is packed with fresh flavors that will wake up your taste buds!
Ingredients
2

pounds

pre-shredded coleslaw mix

1/3

cup

Extra Virgin Olive Oil

1

cup

Apple Cider Vinegar

3/4

tablespoon

salt and pepper

2

tablespoons

sugar
Instructions
In a large bowl, whisk together oil, vinegar, sugar, salt and pepper. Whisk until sugar is dissolved.

Add slaw mix and toss until well combined.

Let stand for at least 10 minutes or refrigerate overnight. It is better if you can make a day ahead and refrigerate until you are ready to serve.