Southern BBQ Baked Beans with Bacon
A delightful side dish filled with smoky and savory flavors with these mouthwatering Southern BBQ Baked Beans with Bacon. Take ordinary Pork & Beans and infuse them with brown sugar, bbq sauce, peppers, onions, and more delectable ingredients. These are the best baked beans, perfect for a potluck, summertime cookout, or gathering.
These easy baked beans usually show up during summer but are great year-round. Just like with my Grilled Hamburgers, Pulled Pork, Coleslaw, Macaroni Salad, and Tomato Pie, these baked beans are great with any main dish you serve with them. 
No grand celebration is complete without food, and while the grilled meats often steal the show, I find myself drawn to the tasty side dishes that accompany them. The side dishes bring balance to the table and complement the main dish.
Southern BBQ Baked Beans are a staple at many backyard barbecues during the summer months. They are perfect for grilled meats such as chicken legs, hot dogs, or barbecued ribs. These baked beans combine a sweet and savory flavor, providing a comforting and tasty side dish to the cookout menu.
Why You'll Love This Recipe
BBQ Bake Beans offer mouthwatering deliciousness and versatility. This dish will impress your guest and leave their taste buds dancing for more.
Delicious: Each spoonful of southern baked beans is a delightful balance of sweet and savory.
Easy: These Southern BBQ Baked Beans with Bacon are fast, easy, and delicious. Everyone will love this dish! The simple ingredients make this dish easy to throw together.
Crowd Pleaser: Everyone will love this tasty side dish. You can double this recipe with ease if feeding a crowd.
Make Ahead: Make ahead and keep warm in a slow cooker. A great side dish perfect for summer cookouts.
Versatile: This dish works well as a side dish but could also be served as a main dish. You might also leave out the jalapenos; the flavor will still be amazing.
Ingredients for Southern Style Baked Beans
You can find the simple ingredients for this easy Southern Baked Beans Recipe in most grocery stores. This recipe has the perfect balance of sweet and savory and will also satisfy as a hearty side dish. See the printable recipe card below for a complete list of ingredients and amounts.
Pork & Beans – The main star of the show! These canned beans are found next to the baked beans in the grocery store.
Ground Beef  – A pound of ground beef adds flavor and turns this dish into a hearty side dish.
Onion – Use yellow, white, or Vidalia onions.
Green Bell Pepper – I like to use green pepper but swap it out for yellow or red if desired.
Jalapenos –  A little spice is excellent in this dish. If desired, you may leave the jalapenos out, but they add a lot of flavors. 
Chili Powder, Garlic Powder, Paprika – A few spices are needed for flavor.
Brown Sugar – Adds sweetness to the beans. Use light or dark brown sugar. 
BBQ Sauce – Use your favorite bbq sauce and brand. A tangy barbecue sauce is nice in this recipe.
Ketchup – Adds a tomato base to the beans.
Yellow Mustard – Just plain yellow mustard is needed. Swap out for brown mustard if desired.
Bacon – The top of the beans is covered with bacon pieces—pure Southern goodness.  
How To Make Southern BBQ Baked Beans with Bacon
See the detailed instructions in the recipe card below for amazing baked beans.
1. Add Pork & Beans to a bowl.
2. Cook ground beef, onions, jalapenos, and bell pepper. Add to pork & beans.
3. Stir in the remaining ingredients (except the bacon).
4. Pour into a baking dish and top with bacon pieces.
5. Bake.
​
Tips and Variations
Baked Beans with Hamburger and Bacon
There is no need to fry bacon for this recipe. It cooks in the oven on top of the beans. Many recipes call for placing slices of bacon across the top of your beans before cooking.
However, I've found that the bacon is hard to cut with a serving spoon once cooked, and only six people get the strips of bacon. How fair is that? So, I now cut my bacon into pieces and place them evenly over the top to ensure everyone gets bacon with every serving. I like to use my kitchen scissors for this job. It's quick and easy to cut the bacon. Once the beans are cooked, you will have slightly crispy bacon with each bite.
Cooked hamburger is added to the baked beans for more texture and taste. This dish could easily be served as the main dish for any meal. The heartiness of the ground beef and the bacon will satisfy a hungry person quickly.
How to Store Leftover Baked Beans
To Store Leftovers: Allow beans to cool to room temperature. Store all leftover baked beans in an airtight container in the refrigerator. These beans will keep for one week.
To Reheat Baked Beans: Place leftover beans in a microwave-safe bowl and heat until warm. They are fabulous the next day for lunch or dinner. 
These baked beans are full of flavor and satisfying. So, whether you're hosting a backyard barbecue or a casual dinner, include these classic and delicious baked beans as a delightful side dish, and watch as they become a part of your summertime cookout tradition.
What Can I Serve with BBQ Baked Beans
Fried Pork Chops – A southern pork chops and this baked beans recipe will have your guests returning for more.
Grilled hamburgers – A classic grilled hamburger recipe found at most summertime cookouts. Easy and delicious!
Grilled Chicken Legs – These are easy, and the kids love them.
Barbecue Ribs – One of my favorites. Grilled ribs or oven barbecue ribs can't be beaten.
Sloppy Joes – My family loves sloppy Joes, and this is the easiest and the best recipe, hands down.
Oven Baked Chicken Tenders – A favorite with kids and adults alike. 
More Summer Side Dishes
If you are looking for a perfect side dish, check out these recipes that are sure to please your guest or family.
Summer Drinks
Southern Sweet Tea – Classic Southern Sweet Tea is easily made with tea bags, sugar, and water. There is nothing better to quench your thirst than a tall glass of this refreshing summertime treat.
Homemade Limeade – Summertime brings heat, and this Homemade Limeade Recipe seems to quench my thirst. It's made with only 3 ingredients and comes together in minutes. Perfect for a poolside drink or pack it up for the beach. 
Easy Homemade Lemonade – A classic drink made with fresh lemons that will quench your thirst.
Strawberry Lemonade – An all time summer beverage that is easy to make and only requires simple ingredients.
Recipe FAQs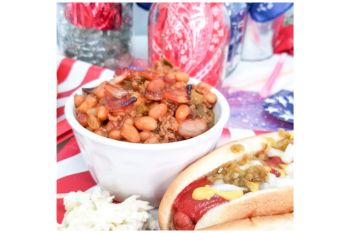 Southern BBQ Baked Beans with Bacon
A delightful side dish filled with smoky and savory flavors with these mouthwatering Southern BBQ Baked Beans with Bacon. Take ordinary Pork & Beans and infuse them with brown sugar, bbq sauce, peppers, onions, and more delectable ingredients.
Ingredients
2

(28 oz.) Cans

Pork & Beans

1

pound

Ground Beef

1

large

Onion

diced

1

Green Bell Pepper

diced

2

Jalapenos

seeded and finely diced

1

teaspoon

Chili Powder

1

teaspoon

Garlic Powder

1

teaspoon

Paprika

½

cup

Brown Sugar

Light or Dark Brown

½

cup

BBQ Sauce

½

cup

Ketchup

2

tablespoons

Yellow Mustard

6

slices

Thick Cut Bacon

cut into 1" pieces
Instructions
Preheat oven to 350 degrees.

Open the Pork & Beans and drain any liquid from the top of the can. Discard liquid. Pour beans into a large bowl and set aside.

To a large skillet, add ground beef, onions, jalapenos, and bell pepper. Cook over medium heat until the meat is no longer pink. Remove from heat. Drain grease. Add to the bowl with the Pork & Beans.

Stir in chili powder, garlic powder, paprika, brown sugar, bbq sauce, ketchup, and mustard. Mix well.

Pour baked beans into a 13" x 9" inch baking dish.

Place uncooked bacon pieces evenly on top of the beans in a single layer.

Bake uncovered for 1 hour until bacon is cooked and slightly crisp.

Let rest for 10 minutes before serving.
If you would like to check out this recipe in Lake Martin Living Magazine, click the link to read all about it.