Carrot Apple Salad
A healthy, crunchy, and flavorful Carrot Apple Salad that makes a fabulous side for any time of the year.
Carrot Apple Salad– Crunchy carrots, pineapple, tart apples, and raisins make for a delicious salad for just about any occasion. This is an easy dish to throw together with only a few ingredients and little prep work plus it is super yummy!
If you are looking for a colorful, easy, and flavorful side dish, then this is definitely the salad for you!
Enjoy this carrot salad as a snack, dessert, or even to satisfy a mid-night craving.
Why You'll Love This Carrot Salad with Pineapple
I remember when I was younger seeing this carrot salad in the grocery store deli. I never did get enough nerve up to try it. Wow, was I missing out! This stuff is AWESOME!!!
Carrot-Apple Salad is not just for the summer season, it's great year round.
A classic recipe that uses a handful of ingredients and most of them you probably have on hand.
One of the easiest and fastest fresh carrot salad to prepare.
Is fabulous when chilled for several hours or overnight.
Ingredients Needed for Carrot Salad with Apples
Carrots– Carrots are easy to find year round in your local grocery store. During the summer months, you might even find them at your local farmers market.
Crushed Pineapple– You can use canned pineapple or fresh.
Raisins– I use regular raisins for my salad, but golden raisins are also great.
Apple– Use your favorite crisp apple. I love to use a Granny Smith Apple.
Sugar– Just a little for a bit of sweetness.
Mayonnaise– This binds everything together and is so creamy.
How to Make Carrot Apple Salad with Raisins
For complete instructions, see the recipe card below.
Grate the carrots by hand or use a food processor.
In a medium bowl add grated carrots, diced apples, drained pineapple, and raisins.
In another small bowl mix together sugar and mayonnaise. Pour over carrots, apples, pineapple, and raisins. Toss gently.
Refrigerate for several hours before serving.
A Make Ahead Apple Carrot Salad
This Carrot Salad can be made in advance and refrigerated until you are ready to eat. It is coated with creamy mayonnaise to hold everything together, and it gets better the longer it sits in the refrigerator. Carrot raisin salad is truly delicious.
You can buy the carrots already grated, but it is better if you grate the carrots yourself. Hand- grated carrots are more tender and not as crunchy as the pre-grated ones.
What to Serve with this Carrot Apple Salad Recipe
This salad goes great with anything grilled, oven-baked, fried, broiled, ham, and even turkey. In my opinion, I have not found anything this salad does not go with.
Try it with a pulled pork sandwich instead of coleslaw.
Grilled Buffalo Chicken Tenders go great with this salad.
Add this as a side dish to any summertime sandwich, grilled burger, or hot dogs.
This salad goes well with just about anything! Try it the next time you grill out or have a gathering. Your friends and family will love it.
Expert Tips and Tricks
Add a tablespoon of honey to your salad to sweeten it up a bit.
I don't–but you can certainly add low-fat mayonnaise to this salad.
If you don't have time to grate your own carrots, you can buy the pre-grated carrots or matchstick carrots at the grocery store to use in this recipe.
Slice apples thin instead of dicing them for the salad. I love green apples. They add a tartness and a nice crunch to this recipe.
If you don't like raisins, add dried cranberries or leave them out. You decide.
Add some pecans or walnuts.
This is a great recipe to serve for people who don't like coleslaw. This slaw is crunchy and sweet and is perfect for those summertime grill-outs.
The next time you are looking for a unique and delicious salad, try this Carrot Apple Salad. I'm sure your guest will be pleased.
Try this Grape Salad. It is also a cool and refreshing salad as well.
Are you a coleslaw fan? Check out this link for a delicious coleslaw recipe for your next cookout.
For More Side Dishes, try these Southern Recipes
Southern Candied Sweet Potatoes
For More Delicious Salad Recipes, try: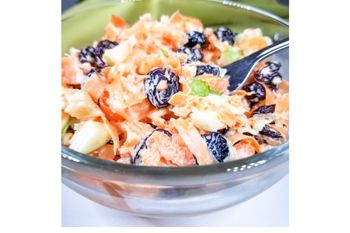 Carrot Apple Salad
Crunchy carrots, sweet apples, pineapple, and raisins make this "easy" salad perfect for any day of the week.
Ingredients
4

cups

carrots

grated

8

ounces

crushed pineapple

drained

1

cup

raisins

1

apple

your choice, diced small

2

tablespoons

sugar

3/4

cup

mayonnaise
Instructions
In a medium bowl add carrots, apple, pineapple, and raisins.

Mix together mayonnaise and sugar. Pour over carrots, apple, pineapple, and raisins. Toss to coat evenly.

Refrigerate for several hours. Enjoy!