Easy 3 Ingredient Drop Biscuits
Easy 3 Ingredient Drop Biscuits (also known as Mayonnaise Biscuits) come together fast and are made with common ingredients- self-rising flour, milk, and mayonnaise. I promise anyone can make these with success! So the next time you are at the grocery store, pick up a bag of self-rising flour and make a pan of homemade drop biscuits. It's incredible how only three ingredients form the perfect combination for some serious southern biscuits.
3 Ingredient Drop Biscuits are one of the first biscuits I learned how to make when I got married. They turned out perfect, and I have been making them ever since. There is no rolling, kneading, or cutting involved- just simple biscuits. The mayonnaise takes the place of cold butter in this recipe, so there is nothing to cut in, and everything is mixed in one bowl. Mixing this dough and getting it on the pan takes less than 5 minutes.
I also like to make my Easy Homemade Frozen Biscuits. These are different than this recipe. They are super simple to make, rolled out on a lightly floured surface and cut with a biscuit cutter.
Most recipes for classic biscuits call for heavy cream, a stick of butter, and buttermilk. But not this recipe. You won't even need a pastry cutter or even a biscuit cutter for this easy biscuit recipe.
Baking Tools:
Some of the links on this page are affiliate links. Home at Cedar Springs Farm may receive a small commission for purchases made after clicking links. There is no cost to you. See here for more information.
The only baking tools you'll need are the following: measuring cup, bowl, spoon or scoop, large baking sheet, or cast iron biscuit pan.
Why You'll Love this Easy Biscuit Recipe
These are the easiest biscuits you could make.
A crispy and crunchy outside with a soft inside.
No biscuit cutter is needed. Instead, the biscuit dough is dropped using a large spoon.
Perfect for jams, jellies, and gravies.
How to Make Self Rising Flour from All Purpose Flour
If you don't have self-rising flour, no worries. You can still make these homemade biscuits by adding a few ingredients to all-purpose flour.
Self-Rising flour contains baking powder, which helps the biscuits to rise. And salt has a binding effect for added structure and taste.
As a rule, I usually add the following to make Self-Rising Flour:
2 cups All Purpose flour
1 Tablespoon baking powder
1/2 teaspoon salt
Ingredients Needed for this Easy Drop Biscuit Recipe
This biscuit dough will be a little sticky after mixing. This is the way it should be. You are not rolling out the dough. You are dropping it by the spoonful.
Mayonnaise— Use your favorite whole-fat mayonnaise for these biscuits. I use Duke's, Bama, or Sauer's Mayonnaise.
Milk— I always use cold whole milk for this recipe.
Self-Rising Flour— I use King Arthur Flour for my biscuits. This is my favorite flour and what I always have on hand. Use the brand you prefer.
How to Make the Best Drop Biscuits
For complete instructions, see the recipe card below.
This recipe is truly an easy drop biscuits recipe. This recipe makes light and fluffy biscuits using simple ingredients.
Grease your pan using Crisco, vegetable oil, or nonstick spray. Use a parchment paper lined baking sheet if so desired.
In a large mixing bowl, combine (whole) regular milk and mayonnaise.
Add 2 cups of self-rising flour and stir until mixed.
Drop the dough evenly onto the pan with a large spoon or cookie scoop.
Bake until the tops are golden brown and the bottoms are brown and slightly crisp.
Brush the tops of the biscuits with melted butter if so desired.
How To Store Leftover Biscuits
No one likes a hard stale biscuit. I have found the best way to keep your biscuits fresh, store them in an airtight container or wrap them tightly in plastic wrap. Store them at room temperature or in the refrigerator for several days.
To Freeze Biscuits: Wrap each biscuit in plastic wrap, then place all wrapped biscuits into a large zip-top bag in the freezer.
How to Reheat Leftover Biscuits
For best results, I like to cut mine in half, add a little butter, and toast in a hot oven or air fryer. This makes them crisp and not soggy.
To Reheat Frozen Biscuits: Place frozen biscuits on a baking sheet in a 350-degree oven and bake for 15 minutes or until hot.
What is The Best Flour for the Best Mayonnaise Biscuits
Everyone has their favorite flour. I prefer King Arthur Flour. White Lily and other brands will work just fine as long as it's self-rising flour.
What To Serve with Hot Quick Biscuits
Here in the south, we eat a lot of biscuits with our meals. Biscuits show up at breakfast, lunch, and dinner. So the foods you serve with them are quite endless.
One of my favorite recipes is Old Fashioned Tomato Gravy. It's an easy recipe and also comes together fast; let's remember how tasty hot sausage gravy (or any gravy) is over hot biscuits.
Biscuits are also great served with Hamburger Steak and Gravy, Fried Pork Chops, and Southern Fried Salmon Patties. Whether you serve them with chicken, pork, or fish, these 3 ingredient biscuits are sure to be a winner in your house.
Other Toppings:
Honey Butter— Just mix a little bit of honey and melted butter and drizzle over the hot biscuits. Or slice them open and cover the insides.
Parmesan Cheese— Parmesan Cheese is one of my favorite things to add to hot buttery biscuits. This is a personal preference, but so good.
Strawberry Jam– Any of your favorite jams or jellies would be amazing on a hot buttered biscuit.
For More Bread Recipes
Check out my Banana Nut Bread, Cranberry Orange Bread, and Strawberry Rolls with Cream Cheese Glaze. These recipes are sure to please you and are extremely tasty.
If you are looking for Bread to serve as a side dish, my Jalapeno cornbread is perfect for soup night, and my Garlic Bread goes great with spaghetti.
Recipe FAQs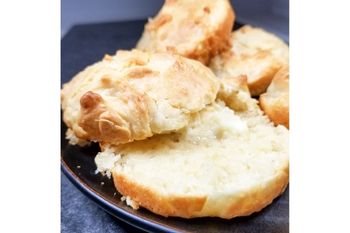 Easy 3 Ingredient Drop Biscuits
Easy 3 Ingredient Drop Biscuits (also known as Mayonnaise Biscuits) come together fast and are made with common ingredients- self-rising flour, milk, and mayonnaise. I promise anyone can make these with success!
Ingredients
½

cup

mayonnaise

1

cup

whole milk

2

cups

self-rising flour
Instructions
Grease a cast iron biscuit pan on the bottom and sides. **See notes if using a baking pan.

Preheat the oven to 400 degrees and place the prepared pan into the oven while it preheats.

In a large bowl, combine the milk and mayonnaise. Then add the flour until mixed.

Remove the hot pan from the oven. Drop the dough evenly onto the pan or in each biscuit round with a large spoon.

Place back into the oven for 20-25 minutes or until golden brown.

Brush with melted butter if desired.
Notes
**If you are using a baking pan/sheet, grease the bottom of the pan. Do not preheat the pan. Using a tablespoon, scoop an overflowing amount of dough and drop evenly on the greased baking sheet 2 inches apart. Bake for 20-25 minutes or until golden brown.