Easy Homemade Frozen Biscuits
Being from the south, bread is usually served at meal time in some kind of shape, form, or fashion. And it is not uncommon to see biscuits being served for breakfast, lunch, and dinner. People in the south like their bread!
We enjoy biscuits a lot at our house. These Easy Homemade Frozen Biscuits have never failed me and I have been using this recipe and making biscuits for years.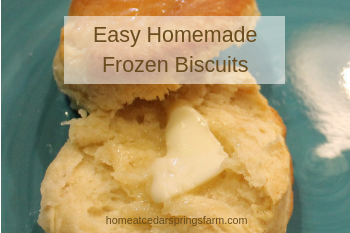 I am NOT a fan of canned biscuits. You know those precut, pull-apart, perfectly smooth, pieces of dough that are squished into a tube and called biscuits. Yeah, those things! I hope after trying this recipe, you will not buy another can of biscuits. I hope you will make these and taste for yourself the difference.
These are super simple biscuits to make. Just mix, roll out, cut, bake or freeze. Please take note of my very expensive biscuit cutter. Yes, its a glass!
You can simply pull some biscuits out of your freezer and impress your family with homemade biscuits any day of the week. The best part, you will know exactly what ingredients are in your biscuits.
These biscuits can be enjoyed anytime during the day- not just for breakfast. Although, you can't go wrong with a bacon biscuit first thing in the morning or a biscuit just slathered with sausage gravy, or a biscuit with honey and butter….. You get the point!
Biscuits are also great for supper (or dinner) with some fried chicken. Yes, I am a huge fan of fried chicken, but that's  another story.  Try them with a bowl of soup, roast beef, gravy, fried pork chops, ham, or any other food that you would normally serve with bread.
This recipe is super easy and you probably already have the ingredients in your pantry and fridge. It's just 5 ingredients!
All Purpose Flour
Baking Powder
Salt
Shortening
Milk
It is very traditional and straightforward. Just mix, roll out, cut, then either bake or freeze.
Enjoy!
The links below are affiliate links. Home at Cedar Springs Farm may earn a commission for purchases made after clicking links on this page.                    Learn More.
[amazon_link asins='B004K6771U,B000WGELMA,B00VF03MUY,B007F1LYWK,B00008W70E,B000FLXBN2′ template='ProductCarousel' store='homeatcedarsp-20′ marketplace='US' link_id='37eb1260-1192-11e8-ba4a-c90cf9c14cb0′]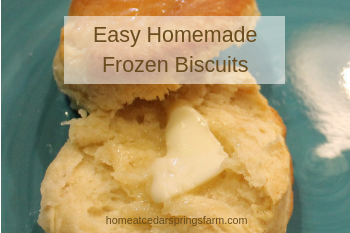 Easy Homemade Frozen Biscuits
These Easy Homemade Frozen Biscuits are perfect for any day of the week.
Ingredients
4

cups

all purpose flour

2

tablespoons

baking powder

1

teaspoon

Salt

1

cup

shortening

1 3/4

cup

milk
Instructions
Preheat oven to 450 degrees.

Mix dry ingredients together.

Add in shortening and mix until crumbly.

Add in milk and mix until a ball forms.

Turn out dough onto a well floured surface. Dust more flour over the top of the dough to keep it from sticking while rolling out.

Roll out to 1" thickness. Cut biscuits. Place biscuits on a lightly greased baking sheet.

If baking now---place baking sheet in the oven and bake 12-15 minutes until golden brown.

If freezing---place cut biscuits on a baking sheet and place in the freezer for 1-2 hours. After they are frozen, remove the frozen biscuits from the baking sheet and place in a zip top bag. Label bag and place back into the freezer.

To bake frozen biscuits--- place the biscuits on a baking sheet. You can let them thaw for 30 minutes and then bake 12-15 minutes until golden brown OR you can bake them frozen 15-25 minutes depending on the size you made your biscuits.
Notes
I use King Arthur Flour in all of my recipes where flour is needed. It has never failed me and my recipes always turn out great.
The times suggested above are the times I use in my oven. Your times may need to be adjusted according to the thickness of your biscuits.