Blueberry Cheesecake Bars
My family loves cheesecake. Over the years I have made several kinds of easy cheesecakes; including strawberry cheesecake bars. But, blueberry bars always get the vote for the best one.
Graham cracker crust with a creamy cheesecake center and topped with blueberry pie filling. YUM!! What's not to love?
Today I am going to share with you an EASY dessert to make for any day of the week or for any special occasion.
Ingredients Needed:
Graham Crackers
Butter
Sugar
Cream Cheese
Confectioners Sugar
Whipped Topping
Vanilla
Blueberry Pie Filling
How to Make this Easy Dessert
This is an easy cheesecake to make. The crust is simple– graham crackers, butter, and sugar, mixed together and then baked for about 10 minutes. Then it is topped with a no-bake cheesecake mixture and finished off with blueberry pie filling. This couldn't be any easier.
Now this next part takes a little (or a lot) of willpower, but I have faith in you. The cheesecake is then popped into the refrigerator overnight to chill. See, A LOT of willpower here! If you can't wait for it to chill overnight, give it at least 6 hours in the refrigerator. Hey, I am right there with you—who can wait overnight for cheesecake?
Creamy, smooth and delicious! Blueberry cheesecake makes for the perfect ending after a long day or the best beginning for any day!
My husband loves blueberries. For his birthday, he asked for this blueberry cheesecake. And….it was delicious!!
This recipe makes enough to serve a crowd. It is an easy and delicious dessert to make for a weeknight surprise, birthdays, or holiday gatherings.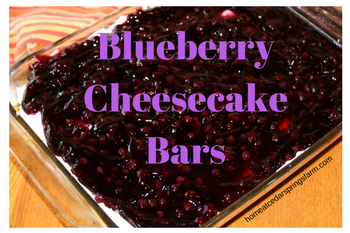 The Best Blueberry Cheesecake Bars
A delicious graham cracker crust, layered with a smooth and creamy cream cheese filling, and topped with blueberry pie filling. Enjoy!
Ingredients
2

Sleeves

graham crackers, finely crushed

1/2

cup

butter, melted

1/3

cup

sugar

2

8 ounce packages

cream cheese, softened

1 1/2

cups

confectioners sugar

12

ounces

frozen whipped topping, thawed

2

teaspoons

vanilla

2

cans

blueberry pie filling
Instructions
Preheat oven to 350 degrees.

For the Crust: Combine the graham cracker crumbs, melted butter, and sugar in a bowl and mix well.

Transfer to a 13" X 9" baking dish and press down firmly to form the crust.

Bake 10-15 minutes until lightly brown. Set aside to cool completely.

For the Cheesecake: Using a mixer, beat together the cream cheese, confectioners sugar, and vanilla.

Fold in the whipped topping and mix until well combined.

Carefully spread the cream cheese mixture over the crust. Be careful to not disturb the crust too much.

Spoon the blueberry topping over the filling. Spread evenly. I like a thick coating of blueberry pie filling on my cheesecake. You decide If you want to use all of the pie filling on your cheesecake.

Cover and refrigerate for at least 6 hours or overnight. Slice into squares. Enjoy!
Notes
The time does not include cooling the crust or refrigeration time.
This dessert needs to made ahead of time and refrigerated at least 6 hours or overnight.
I like a thick coating of blueberry topping on my cheesecake. You decide if you want to use both cans of pie filling on your cheesecake.
Feel free to use homemade blueberry topping.