Slow Cooker BBQ Ribs
These Slow Cooker BBQ Ribs are easy to prepare and cook. They are "fall off the bone" good! They are tender, juicy, and sticky sweet! So break out the paper towels and bring your appetite!!
These Slow Cooker BBQ Ribs truly melt in your mouth and scream deliciousness! By using your slow cooker, you can make these ribs any time of the year. They cook on low for 8 hours and your house will smell amazing!
We raise our own pork; therefore, our freezer is full of pork most of the year. This is a good thing, but having to come up with different ways to prepare the pork can be a challenge. This is where my slow cooker comes into action. I LOVE my slow cooker and I let it work for me.
Let Your Slow Cooker Do The Work For You
Let your slow cooker do all of the work for you and come home to amazing fall off of the bone ribs. These ribs cook all day in the slow cooker and then quickly finish off in the oven under the broiler. I promise you–your ribs will fall off of the bone while trying to get them out of the slow cooker. In fact, I had to piece my ribs back together to even get a picture.
These ribs will get a generous rub of spices and a coating of sauce before they go into the slow cooker.
Make sure you use your favorite sauce on the ribs. I like to use a thick sauce that sticks to the ribs and doesn't run off easily.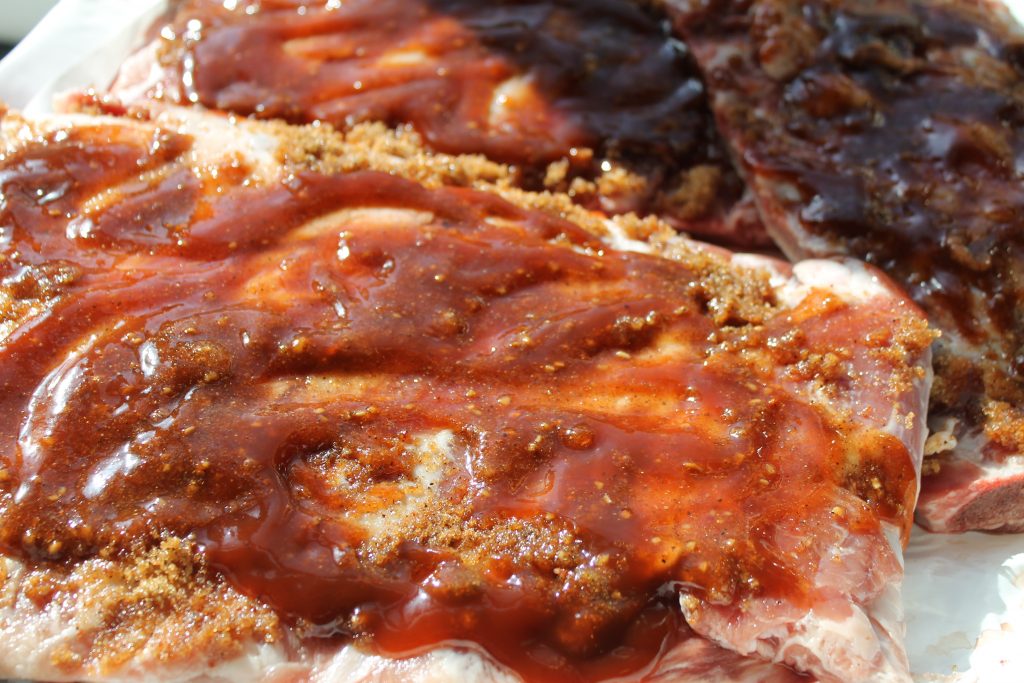 I stand my ribs up while they cook so they are not stacked on top of each other and they are not cooking in fat drippings all day. This allows for the sauce to set on the ribs while they cook.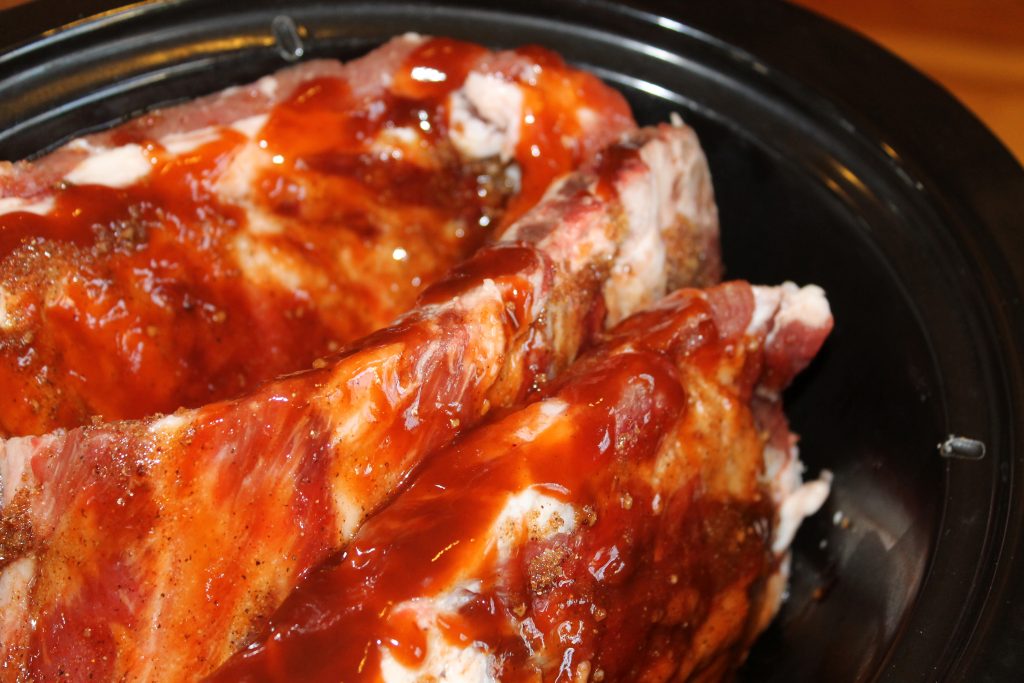 They will get another coating of sauce before they go into the oven. It only takes about 10-15 minutes under the broiler for the sauce to caramelize. They will come out sticky and finger licking good!
Barbecue Rib Recipe:
For the spices:
Brown Sugar
Cayenne Pepper
Salt & Pepper
Garlic
Creole Seasoning
Mix all ingredients together and rub over the meat. Covering completely.
These ribs are seasoned and then covered in bbq sauce. They are cooked low and slow for hours. Then they are placed under the broiler to set the sauce and slightly caramelize the ribs. You will end up with the most delicious fall off the bone ribs that are amazing.
How to Cook Ribs in the Slow Cooker
*Mix the spices and rub over the meat
*Cover with half of the barbecue sauce
*Transfer your ribs to the slow cooker. Stand them on their ends. This will keep them from cooking in their fat and juices all day.
*Cook on low for 8 hours or until ribs are falling off the bone.
*Transfer the ribs to a baking sheet and place under the broiler for about 15 minutes (watch closely) or until caramelized.
*Enjoy!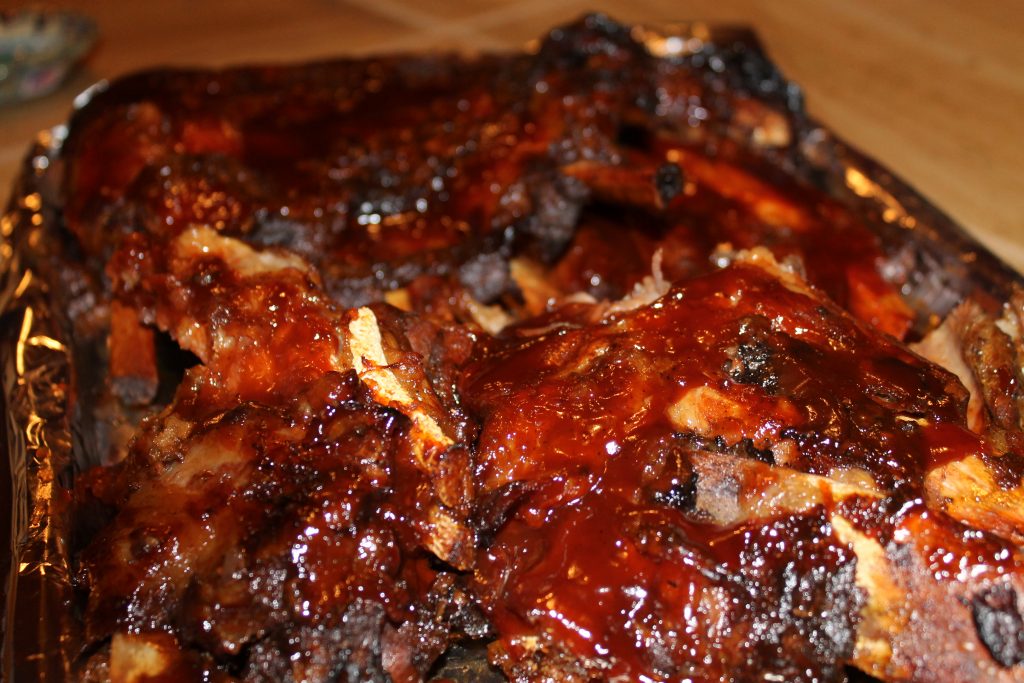 So grab a roll of paper towels and dig in!
Perfect Sides to Go with Ribs
Try this Yellow Rice and Corn Casserole as a side dish. It comes together easily and is quite tasty. Also, baked beans, crispy fried okra, corn on the cob, and au gratin potatoes are awesome sides with these bbq ribs.
Some of the links on this page are affiliate links. Home at Cedar Springs Farm may earn a small commission for purchases made after clicking links on this page. Learn More.
Slow Cooker BBQ Ribs
These pork ribs are coated in a spice rub, covered with a thick bbq sauce, and cooked in the slow cooker. They are finished off in the oven under the broiler. They are sweet, sticky and absolutely delicious!!
Ingredients
4-5

pounds

Ribs of your choice

1/2

cup

Brown Sugar

1/2

teaspoon

Cayenne Pepper

1

teaspoon

Salt

1

teaspoon

Minced Garlic

1/2

teaspoon

Black Pepper

1

teaspoon

Creole Seasoning

I use Zatarain Creole Seasoning

1

bottle

BBQ Sauce

Your favorite flavor and brand
Instructions
To make the Spice Rub: Stir together all spices and set aside.

Rub the Spice Rub evenly over the meat.

Use about 1/2 bottle of BBQ sauce to cover the top of the ribs and spices. Rub gently to work the sauce into the spices.

Spray your slow cooker with nonstick cooking spray.

Transfer the ribs to your slow cooker. Stand them up-if your slow cooker is large enough.

Cover and cook on low for about 8 hours or High for about 5 hours OR until ribs are fall apart tender.

After the ribs have finished cooking in the slow cooker, transfer them to a foil lined baking sheet. They will fall apart!! Cover the ribs with the rest of the BBQ sauce.

Turn on the broiler in your oven. I set my oven to Broil 400 degrees. Place pan in the oven and broil for about 10-15 minutes OR until the sauce has set on the ribs and caramelized. Watch ribs the whole time they are in the oven. They will burn if your are not careful!!!

Remove the pan from the oven. ENJOY!!!