Easy Southern (No Bake) Banana Pudding Recipe
Easy Southern (No Bake) Banana Pudding Recipe is a family favorite recipe. It's rich and creamy and comes together fast using an instant pudding mix. It is not only easy but the best banana pudding recipe around.
Today I am sharing with you a family favorite–Banana Pudding. Yes, this recipe is a favorite in my house. As a matter of fact, I made this twice last week.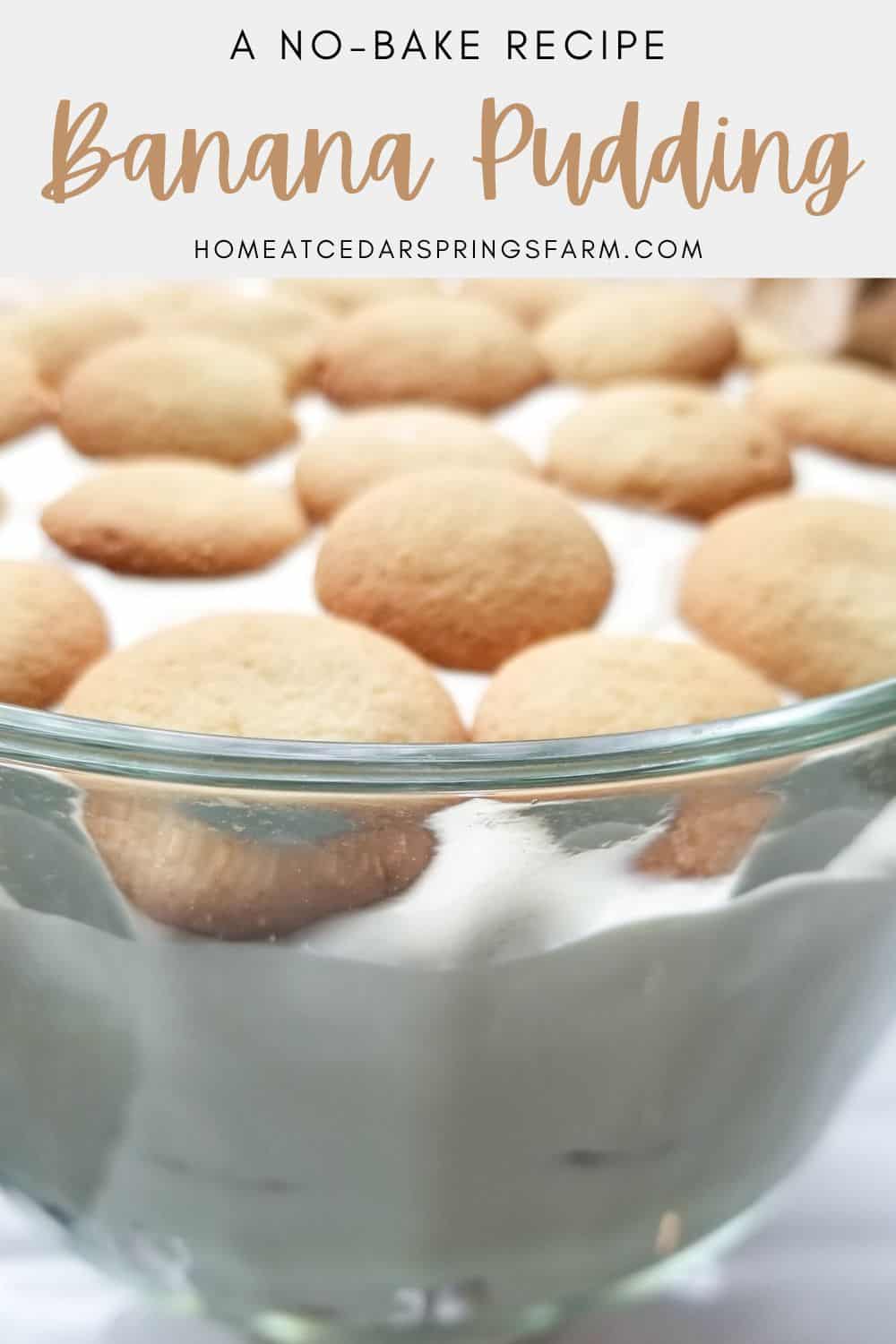 A simple no-bake recipe made with pudding, sweetened condensed milk,
cool whip, cream cheese, bananas, milk, and vanilla wafers. This southern dessert usually shows up at family gatherings..
It's no secret I love No Bake Desserts. A few of my family favorites are No Bake Chocolate Oatmeal Cookies and No Bake Pumpkin Pie.
There are times when you can't seem to get enough of something. Well, this was one of those times. I made banana pudding on Saturday, and by Wednesday, my family was asking for more!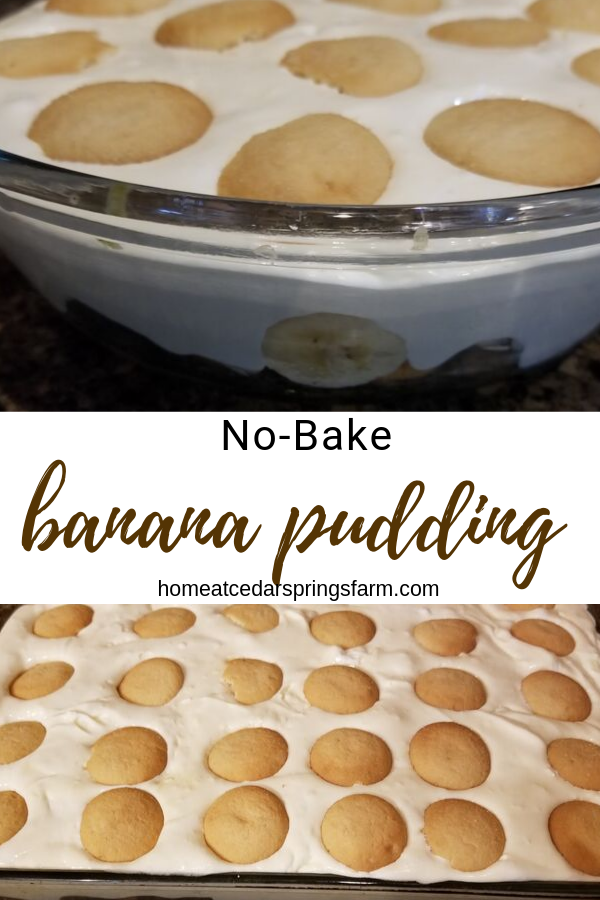 Why Should I Make This Recipe?
Fresh bananas, creamy pudding, and vanilla wafers come together to make a no-bake dessert guaranteed to please a crowd. This comes together fast–20 minutes. The hardest part is letting it chill before eating. Sure, you could eat it as soon as it is prepared, but it is so much better when it is cold. This recipe really does make the best banana pudding I have ever tasted.
Easy– This easy banana pudding recipe only takes minutes to prepare. Chill time is needed for the pudding to set up.
Rich Flavor– This southern banana pudding recipe is full of rich and creamy vanilla pudding, slices of banana, and topped with a nice layer of vanilla wafers. It's hands down a delicious banana pudding dessert.
Perfect Dessert– This banana dessert is perfect for the whole family and a fast dessert for special occasions.
Simple Ingredients– All of the ingredients for this recipe can easily be found in your refrigerator, pantry, or local grocery store.
No Bake– A no bake banana pudding recipe using a boxed pudding mix.
A Make-Ahead Dessert– An easy dessert recipe you can make ahead of time. This dessert can be made a day ahead of time, and it will still be fabulous when you serve it.
Get the Kids in the Kitchen– This is a great recipe to get the kids in the kitchen. They can layer the vanilla wafers and banana slices; if they are old enough, they can mix the pudding. This might even become one of their favorite desserts.
Where Should I Serve this Homemade Banana Pudding?
Make this for a church social, family reunion, weekend treat, barbeque, potluck, or just because you want banana pudding. You will be so glad you did!
Make an Extra Bowl to Give Away
If you are serving this in a baking dish, you will have enough pudding mixture left over to make a smaller round casserole dish full of banana pudding. This will allow you one to keep and one to give away.
Another delicious dessert is my Lemon Pudding Pie. It uses instant pudding mix and a sweet treat for dessert lovers.
Ingredients Needed for Creamy Banana Pudding
For a complete list of ingredients, see the printable recipe card below.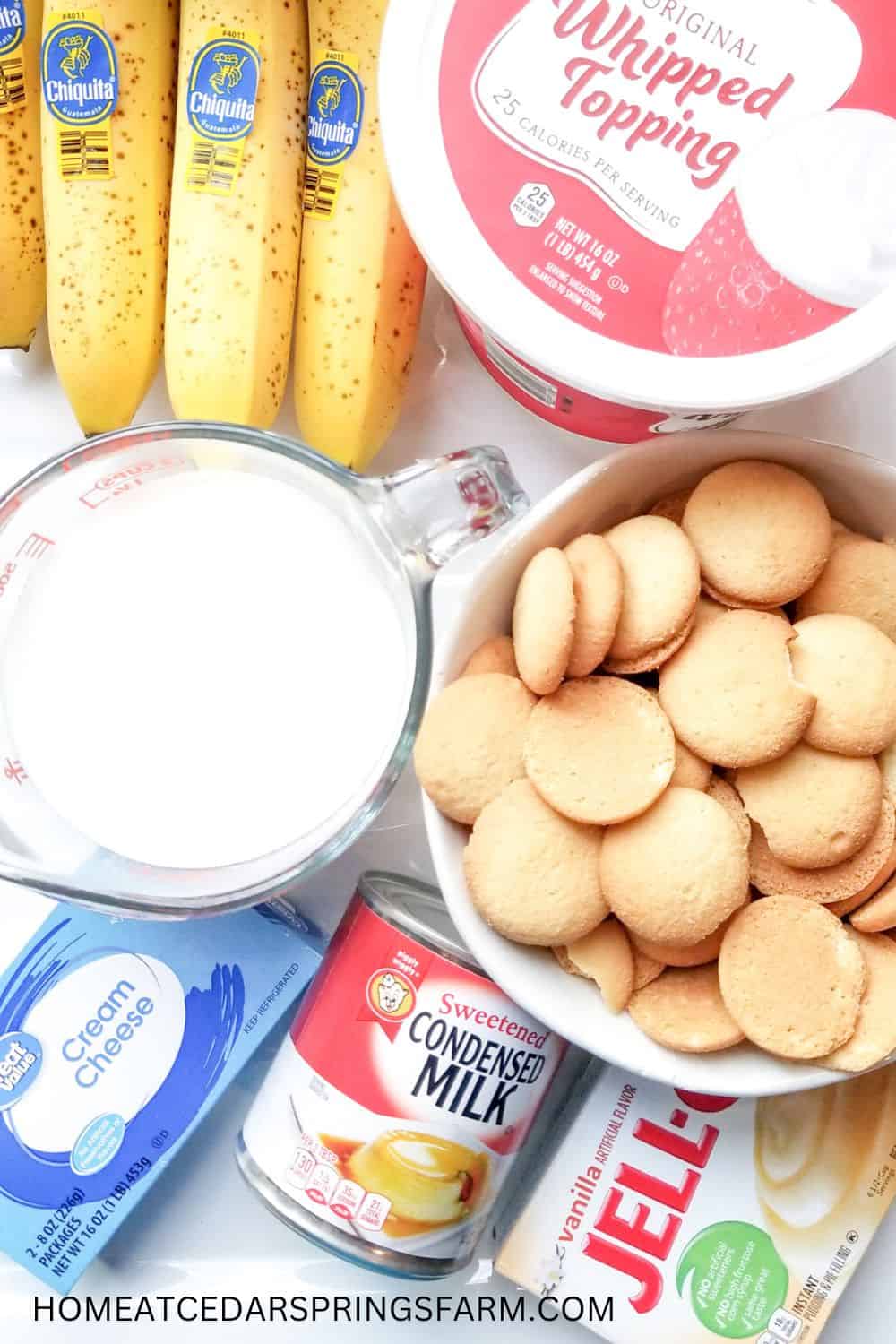 Vanilla Wafers-– Layers of vanilla wafers make this a great dessert. Use your favorite brand.
Instant Pudding– Instant pudding sets up fast in this recipe. I like to use Jello Instant Vanilla Pudding Mix. Use your favorite brand. The vanilla pudding layer is rich and creamy.
Cream Cheese- One block of softened cream cheese is all you will need for this recipe. Make sure the cream cheese is very soft before trying to mix.
Sweetened Condensed Milk- This is just pure sweetened goodness in a small can. I like to use a can in my Banana Pudding. The taste is amazing.
Cool Whip- Cool Whip just seems to make everything a little better. I like to keep a container in my refrigerator for those times I need just a little extra for my desserts.
Milk- This is needed to make the Pudding. I always use whole milk. This yields the best results for me.
Bananas- You want to use ripe bananas but not mushy bananas. Try to find ripe and firm bananas for this recipe. Save the mushy bananas for Banana Nut Bread. YUM!
How to Make Classic Southern Banana Pudding
For step-by-step instructions, see the recipe card below.
**When making banana pudding in a trifle bowl, I usually make 3 layers. Divide the ingredients into thirds when layering.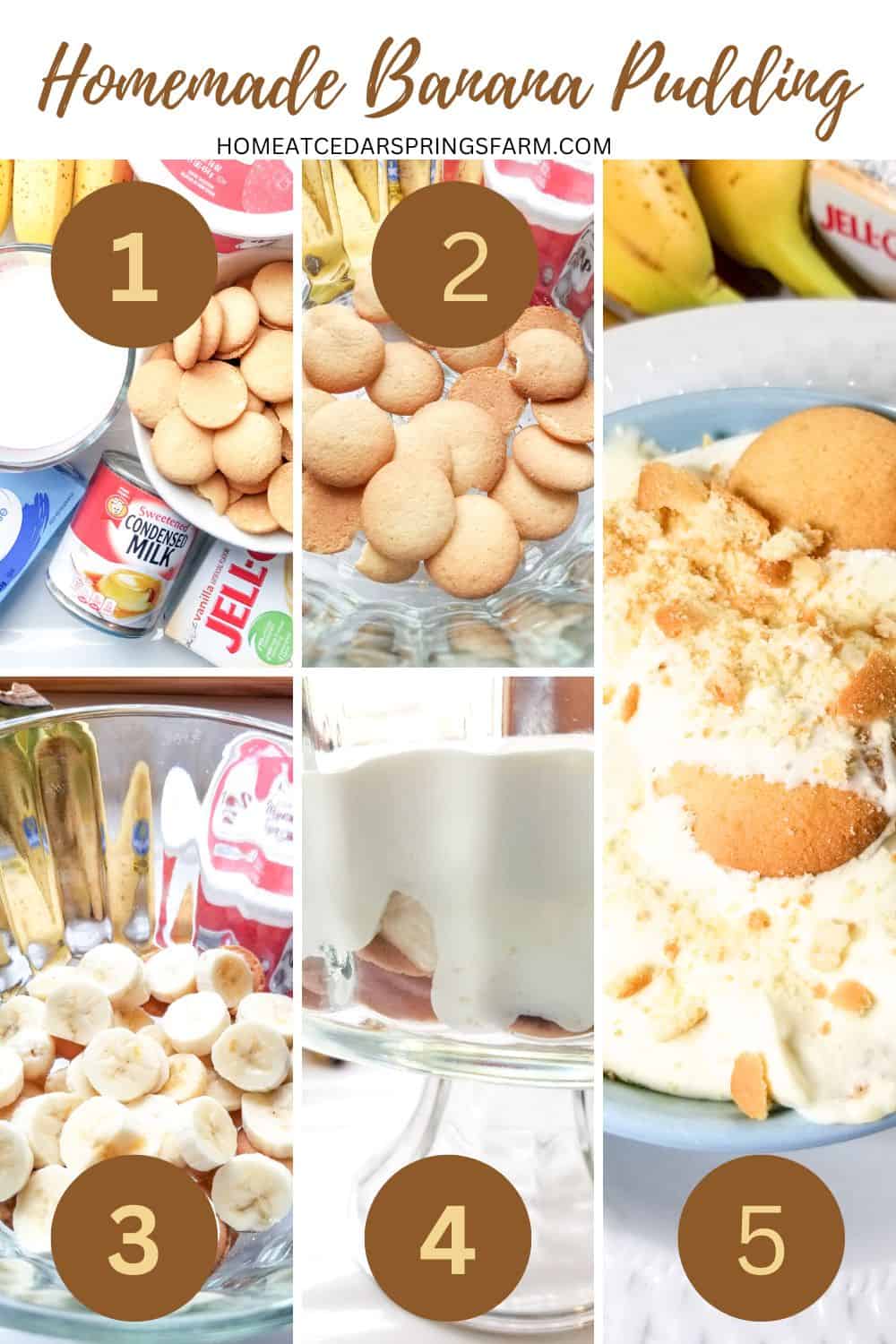 What Kind of Dish is Best for Old Fashioned Banana Pudding?
This recipe will make a FULL 13 x 9-inch casserole dish– and a smaller round casserole dish as well. I like to make enough to keep one and then give one away. This is perfect when going to a cookout or social. You can take one to the event and leave one at home for later. Unless you just want to put the leftover pudding mixture in a bowl to eat as a midnight snack. Hmmm–I really wouldn't know anything about that.
If you have a trifle dish, that works best for this recipe. I typically use a trifle dish. A trifle dish will hold all the layers well with no pudding mixture leftover.
I like to use a glass bowl for banana pudding. The layers make a pretty presentation when serving.
What Is A Trifle Bowl?
A trifle bowl or dish is a large bowl perfect for layered desserts. Trifle bowls are usually on a pedestal with straight sides extending up. This allows for your desserts to be beautifully displayed. Some bowls are smaller at the bottom and gradually increase as they go up. Trifle bowls are mostly used for layered desserts consisting of fruits, whipped cream, or pudding. Some layered salads are also placed in a trifle bowl to display the different layers. They make an excellent presentation on a table.
I used a trifle bowl for this classic banana pudding.
For another Classic Southern Dessert, try my Southern Buttermilk Pie Recipe. It's another homemade recipe that will impress your guests.
Can You Freeze Banana Pudding?
I do not recommend freezing Banana Pudding. The cool whip, bananas, and pudding will not taste well after being frozen.
How to Store Quick and Easy Banana Pudding
Store wrapped in plastic wrap or in an airtight container in the refrigerator.. This will usually last at least three to four days in the refrigerator.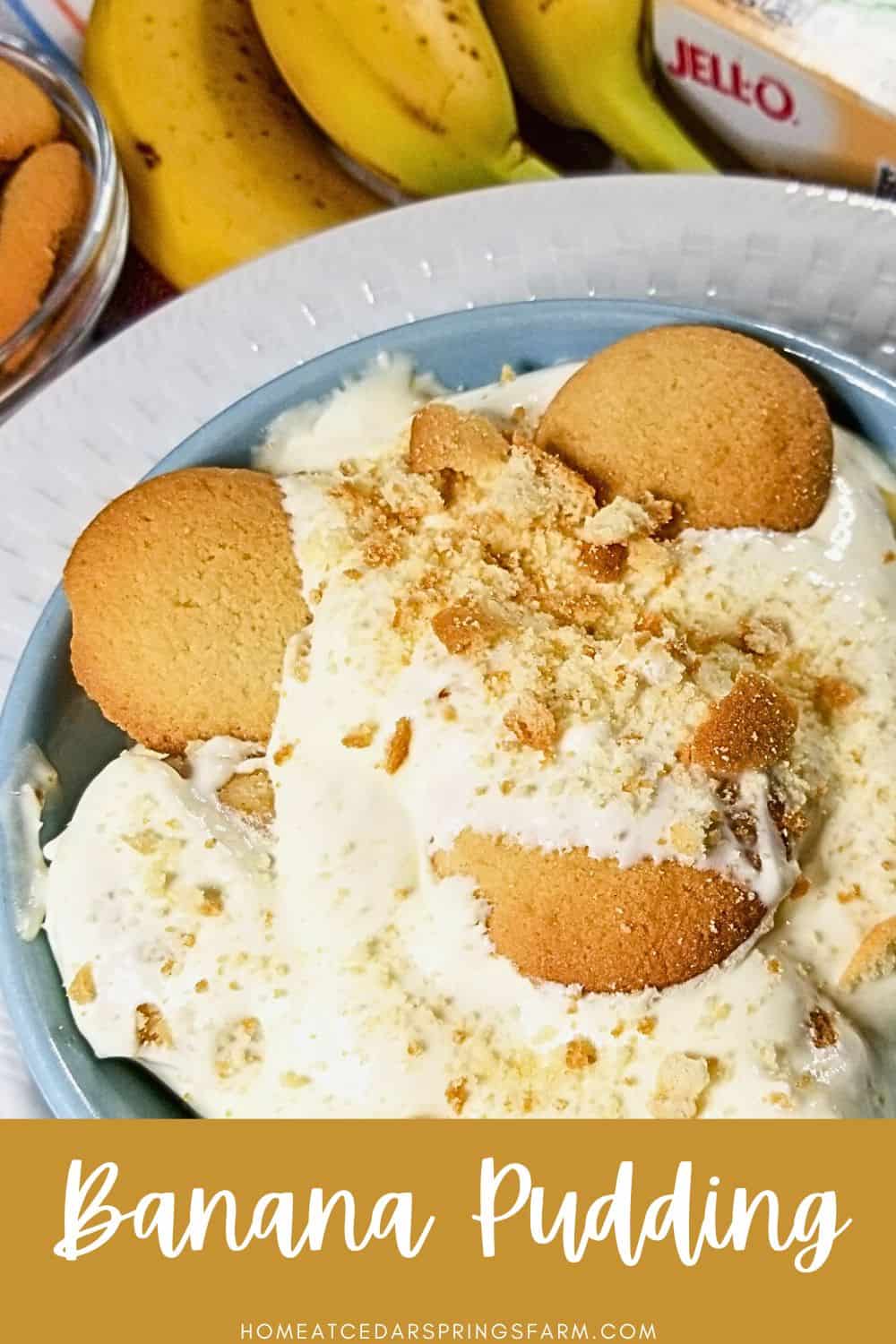 Recipe Tips and Variations
This easy homemade banana pudding recipe comes together fast and is so tasty.
I like to take advantage of really good shortcuts as long as they help to make delicious tasting food.
Feel free to make homemade pudding if desired.
Substitute the pudding with sugar-free pudding
Use sugar-free or low-calorie cool whip
Use firm ripe bananas–not mushy or brown.
Use more bananas and add additional banana slices
Add whipped cream to the top of each serving.
Swap out the vanilla wafers with thin butter cookies or graham crackers
If you don't have a trifle bowl, use a baking dish.
Cover with plastic wrap and refrigerate for several hours before serving. The pudding will need time to set.
Some of the links on this page are affiliate links. Home at Cedar Springs Farm may earn a small commission for purchases made after clicking links on this page. Learn More.
Recipe FAQ's
For More Classic Southern Desserts:
Try Homemade Strawberry Cobbler and Lemon Blueberry Bundt Cake. For a big bowl full of true comfort food, try these Easy Apple Dumplings.
Banana Nut Bread– Another fantastic way to use ripe bananas. This is the only recipe you will need for Banana Nut Bread. It's that good. So easy to make and tastes amazing! Sugar, shortening, eggs, bananas, flour, baking soda, baking powder, salt, and pecans.
Southern Caramel Cake– This delicious Southern Burnt Caramel Cake is a basic homemade butter cake topped with a cooked caramel frosting. The cake and frosting are made with simple ingredients easily found in most pantries—a true southern delight.
Southern Sweet Potato Pie– Simply Southern Sweet Potato Pie is a favorite in our house. It's made with basic ingredients and turns out perfect every time. Try it with a dollop of whipped cream for an added touch.
Southern Peach Cobbler– This is The Best Southern Peach Cobbler you will ever eat! It's loaded with fresh peaches, brown sugar, and cinnamon and is topped with a crunchy delightful crust.
Easy Banana Pudding
Fresh bananas, creamy pudding, and vanilla wafers come together to make a no-bake dessert guaranteed to please a crowd.
Ingredients
1

(5.3 ounce) box

vanilla instant pudding

2

cups

milk

1

(8 ounce) package

cream cheese

1

(14 ounce) can

Sweetened Condensed Milk

1

(16 ounce)

Cool Whip

thawed

1

(12 ounce) package

vanilla wafers

5-6

bananas

sliced
Instructions
In a large mixing bowl of your electric stand mixer ( or with a hand mixer), combine the pudding mix and cold milk and beat on low until the pudding has thickened.

In another bowl, mix the cream cheese and condensed milk together. Mix until smooth. Pour into the pudding mixture and beat on low for several minutes.

Fold in the Cool Whip and stir until evenly combined.

Line the bottom of a Trifle bowl (see notes) or a 13" x 9" inch casserole dish with vanilla wafers. They don't have to be perfect, just pour them in and arrange in a single layer.

Slice bananas and arrange on top of the vanilla wafers.

Spoon Cool Whip/Pudding mixture over the top of the bananas. Repeat if using a trifle dish.

Place remaining cookies on top of the pudding. Cover and refrigerate for at least 4 hours before serving.
Notes
**When making banana pudding in a trifle bowl, I usually make 3 layers. Divide the ingredients into thirds when layering.
If not using a trifle bowl and you have leftovers:

*** Store extra pudding mixture in the refrigerator to eat as a snack or make a smaller banana pudding with the leftover filling.