The Best Banana Nut Bread
This is the only recipe you will need for Banana Nut Bread. It's that good. So easy to make and tastes amazing! Sugar, shortening, eggs, bananas, flour, baking soda, baking powder, salt, and pecans.
I've had a taste for banana nut bread lately. I bought bananas last week at the grocery store and waited–what seemed like forever– for them to get good and ripe.
Waiting For The Bananas To Get Ripe
Finally, after 4 days, the bananas were ready for me to make Banana Nut Bread. This recipe was super easy to mix up and came together really fast. The only hard part was waiting an hour for it to bake. 🙂
Ingredients Needed for Banana Nut Bread
*sugar
*shortening
*eggs
*bananas
*flour
*baking soda
*baking powder
*salt
*pecans
Baking Tips for Making The Best Banana Nut Bread
Bananas: –Use ripe bananas. I like to use those bananas that have brown spots and are a little mushy. As a tip–I like to buy bananas that are already getting ripe. This seems to speed up the process at least by a day or two.
Flour: –Sift the flour to ensure no clumps or lumps are going into the mixture.
Nuts: –Use fresh pecans. Nuts can go rancid rather quickly if just sitting in the pantry or on your counter for a time. I usually buy my nuts in large bags and freeze them until I am ready to use them in recipes. Feel free to swap out pecans for walnuts in this recipe if you choose to do so.
Mixing: — Fold the dry ingredients into the wet. Mix only until moistened. You do not want to over mix.
Loaf Pan: — Use a well-greased and floured loaf pan.
Baking: This bread usually takes about an hour to bake. Of course, all ovens vary in temperatures and cooking times, so adjust where needed. If your bread is browning too much to your liking, create a tent out of aluminum foil. Place over the top of your bread to complete the baking time.
Seriously, this recipe is as easy as can be, and it will come out perfect every time. It's moist, flavorful, and will just melt in your mouth.
Use the Right Pan
Make sure you choose a loaf pan for this recipe—my pan measures 9″ x 5″ with a non-stick coating. Be sure to grease and flour the pan to ensure there is no sticking. Even though my pan is non-stick, I still grease and flour to ensure I don't have any of that delicious bread sticking to the pan.
Variations or Add-Ins
Any of these variations or add-ins would work fine with this recipe.
Walnuts
Pecans
Chocolate Chips
How to Store Banana Nut Bread
To Store: Cover tightly with plastic wrap and refrigerate for up to a week. My banana bread never lasts that long. I also find the flavor is better with each passing day.
To Freeze: Wrap in plastic wrap and then aluminum foil—place in a freezer storage bag in the freezer. Freeze up to 3 months.
Great for breakfast, an afternoon snack, or dessert. Really good for any time of the day.
Need a Gift
A pan of Banana Nut Bread would make any new mom, neighbor, teacher, preacher, or anyone for that matter–SMILE! After the bread has cooled, just wrap it up, attach a card and deliver it. I am sure NO, I promise, it will brighten someone's day.
Your house will smell truly amazing and your family will thank you for this delicious treat!
The bread is super moist and all of the ingredients are easy to find–probably in your pantry right now. Go check! 🙂
Be sure to check out my Apple Dumpling recipe and Lemon Blueberry Bundt Cake for more delicious treats. Easy Strawberry Cheesecake Bars have never disappointed my family or guest.
Some of the links on this page are affiliate links. Home at Cedar Springs Farm may earn a small commission for purchases made after clicking links on this page. Learn More.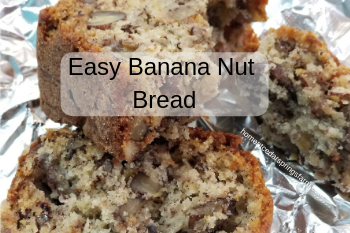 The Best Banana Nut Bread
The only Banana Nut Bread recipe you will need! Easy to make and Delicious to eat!
Ingredients
1

cup

sugar

1/2

cup

shortening

2

Eggs

3

bananas

well ripened

1 3/4

cup

all purpose flour

1

teaspoon

Baking Soda

1/2

teaspoon

baking powder

Pinch of salt

1

cup

pecans

chopped
Instructions
Combine sugar, shortening, and eggs until creamy.

Mash and add bananas.

Sift together the flour, baking soda, baking powder, and salt. Add nuts.

Fold the dry ingredients into the wet ingredients and mix only until well moistened.

Pour into a well greased and floured loaf pan.

Bake at 350 degrees until well browned--about 1 hour.

Let cool slightly before slicing.