Sights and Sounds of the Sunbelt Ag Expo 2019
This week I was able to attend the Sunbelt Ag Expo in Moultrie, Georgia. Wow, what a sight to see! Tractors, Trucks, Plows, Rakes, Mowers, Sprayers, ATV's, Forestry, Lawn, Garden, Livestock, Feed, and so much more. Many exhibitors take part in this Expo to share, show, demonstrate, and educate all people interested in their products and equipment. If it had anything to do with agriculture, it was there.
The Sunbelt Ag Expo is an agricultural trade show held in Moultrie, Georgia. The Expo takes place in a huge field that has both outdoor and indoor exhibits and is adjoined to a 600-acre farm. This was my first trip to attend the Expo –This was their 42nd show. To say I was overwhelmed is an understatement. My husband and I walked and looked for 5 hours, and we still did not see everything there was to see at the show.
We looked at hay rakes and tractors, hay balers, and fluffers. We toured the livestock barn and saw cows and bulls, talked with feed sales representatives, and enjoyed homemade ice cream and live music.
The Stock Dog Trials was a sight to see. Working Border Collie dogs were herding, sorting, and penning sheep in the field. People were enjoying watching the dogs, and their handlers work the sheep. Plus, this was a nice place to take a quick break and enjoy a shady area to watch the trials.
My husband is a hay farmer, so hay equipment was on the top of our list of things to see. I lost count of how many bailers, rakes, tractors, and hay mowers we inspected throughout the day. Seriously, I lost count. There were that many to see. 🙂
Many FFA students attended the Expo and have attended this event for past years. The Expo is an excellent opportunity for students to get a first-hand look at all of the equipment that a farm could ever need to operate. Students were invited to take part in events and engage in the Expo challenges. Students were able to learn about the latest technology and equipment on the market today.
Subscribe to my e-mail and never miss a post!
The Sunbelt Ag Expo did not disappoint and lived up to everything I had heard about it. It was a full day of walking, looking, and learning. I plan to return next year and take in more of the Sights and Sounds of the 43rd Sunbelt Ag Expo. If you are involved in agriculture in any way, then this Expo should already be on your calendar to attend next year. It is a show that is unique, and dealers are ready to show off their equipment and goods.
Here are just a few of the Sights and Sounds I captured during my visit to the Sunbelt Ag Expo.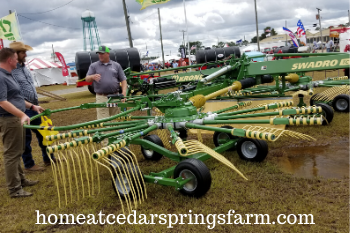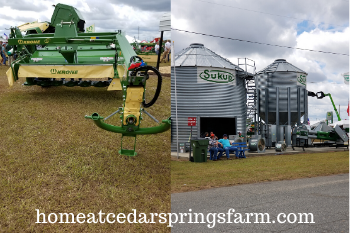 Be sure to mark your calendars for next year. The show is scheduled to run October 20 -22, 2020. This is an event you don't want to miss.
Be sure to subscribe to my e-mail and never miss a post.

Check out my Farm Day Friday post on pictures of our cows on the farm. 🙂
With the temperatures starting to get a little cooler, it time for some soups and stews. Check out my Beef Stew recipe for a tasty dinner one night and my Easy Banana Pudding for dessert.
Some of the links on this page are affiliate links. Home at Cedar Springs Farm may earn a small commission for purchases made after clicking links on this page. Learn More.