I love this time of year. The days are getting shorter, the air is cooler, and it's time for more family gatherings.
Thanksgiving is just a few short weeks away, and I love Thanksgiving! I LOVE everything about Thanksgiving–cooking the turkey, watching the parade, gathering with family, talking, laughing, searching the paper for black Friday sales, and taking a nap.
Hosting Thanksgiving dinner can be a little stressful, but with some plan ahead tips you should be able to enjoy the day with little to no stress. I've hosted Thanksgiving dinner for the past 27 years, and I have had little stress.  I have a big family, and when we all get together there are about 30 of us!
The star of the day is the turkey. I am in charge of cooking the turkey–no pressure here! I do it the easy way. On Wednesday, I wash and prep the turkey, stuff it in a turkey size baking bag, and put it back into the refrigerator. I let it hang out there until I am ready to cook it. I try to purchase at least a 20 pound turkey every year. Remember, I have a big family–plus–turkey sandwiches for the next few days! YUM!!!!
I came up with a list of tips/hacks to make your day a little less hectic and enjoyable. I hope this helps to make your Thanksgiving wonderful!
Pin for Later!
MAKE A LIST
Make a list to help keep you organized and sane. I usually have several list going…
Menu–Make a list of who is bringing side dishes or desserts. Also include the dishes you will be making as well. This will give you a visual to make sure you don't have 6 sweet potato pies or 3 green bean casseroles.  🙂
Grocery List– This will be a big help when you are at the grocery store. I usually forget an item or two when I don't have a list and I do a terrible job trying to buy groceries from memory.
Prep Work List–This is where you will list things that need to be done before Thanksgiving. This list might include when to start your pies, put out decorations, make and freeze the gravy, or set the table.
EACH FAMILY BRING A DISH
Have each family sign up for a side dish or dessert or both. This will take a lot of pressure off of the host and also save you time and money.
Early Prep
Prep as much as you can the day or days before. Pies, casseroles, gravy, and desserts can be made up to a day or two ahead of time. Some things can be made and frozen a week or so before the holiday. Set the table and pull out your serving dishes the day before. The more you can do in advance, the better.
Thaw Your Turkey
I know you are thinking I am crazy and how could anyone forget about thawing a turkey, but with all of the planning and setting up, the turkey is sometimes forgotten. Yes, I am guilty of this!! I usually take my turkey out of the freezer on Sunday and start thawing it in the refrigerator. Remember, I try to buy a 20 pound turkey!!!
Set up Buffet Style Serving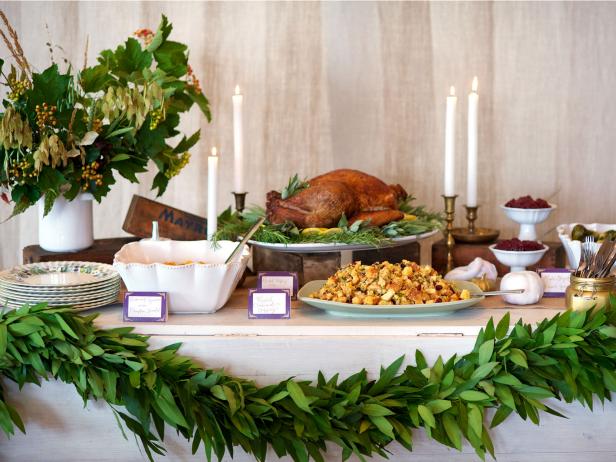 Stress-Less Holiday Entertaining: Set Up a Thanksgiving Buffet | HGTV
If you have a large family or group for Thanksgiving, consider serving dinner buffet style. Have plates set up so your guest can walk down a line with ease.  This will help everyone get their food faster instead of passing around bowls and platters at the dinner table.
Use Slow Cookers
Use slow cookers to keep your gravy, mashed potatoes, or other food items warm. Also, consider making casseroles in the slow cooker to free up your oven.
Use Several Smaller Containers
Use several smaller containers for gravy, cranberry sauce, butter, and other condiments. Set these containers around the table or in the middle of the buffet line and again at the end of the line.  There is nothing like getting to the end of the line and realizing you forgot the cranberry sauce!
Have To-Go Containers Ready
Most of your guest are going to want to carry some left-overs with them.  Hello Turkey Sandwich!!! Have containers and zip top bags ready for your guest to pack a to-go bag.
Ask For Help
Don't be afraid to ask family and friends for help getting ready for the big day. You don't have to do it all by yourself. When your guest arrive–and they ask if they can help you with anything–assign them a job or task –setting up chairs, slicing the turkey, making the cranberry sauce.  Have jobs already written on sticky notes or cards, then when your guest come into the kitchen and ask what they can do to help, tell them to grab a card or sticky note.
Smile, Relax, and Be Thankful
Smile, Relax, and Enjoy the day.  This is a day to enjoy and focus on  being with your family and friends and to Be Thankful. Enjoy your guest and be happy they chose to spend the day with you at your house.
I hope these tip/hacks help you to have an enjoyable and less stressful Thanksgiving Day!
What are some ways you prepare for a less stressful holiday season?
Check out 11 Thanksgiving Side Dishes for recipes and ideas for the big day.
My Carrot Cake is awesome! Try it for Thanksgiving dessert.
Some of the links on this page are affiliate links. Home at Cedar Springs Farm may earn a small commission for purchases made after clicking links on this page. Learn More.