The Best Ever Carrot Cake
The Best Ever Carrot Cake–freshly grated carrots, pineapple, cinnamon, and nuts make for one delicious cake! This cake is topped with a cream cheese and butter frosting that is out of this world. It is requested for all of our family get togethers and there is never a piece left.
In my opinion, this is seriously The Best Ever Carrot Cake. This Carrot Cake is DELICIOUS! It is made with fresh carrots and has the most delicious cream cheese frosting. Once you try it, you will want to bake it for EVERY holiday, birthday, and get together.
I have a big family. There are 30 of us when we all gather together and we try our best to get together for every holiday and every chance in between holidays. So, with that being said, you better get in line for this cake–fast. Usually, there is not a piece of cake left! At times, I am too full from eating a big meal, that I have to hide my piece of cake for later.
This cake is easy to make and super moist. The crushed pineapple and the freshly grated carrots are responsible for the moisture in this cake.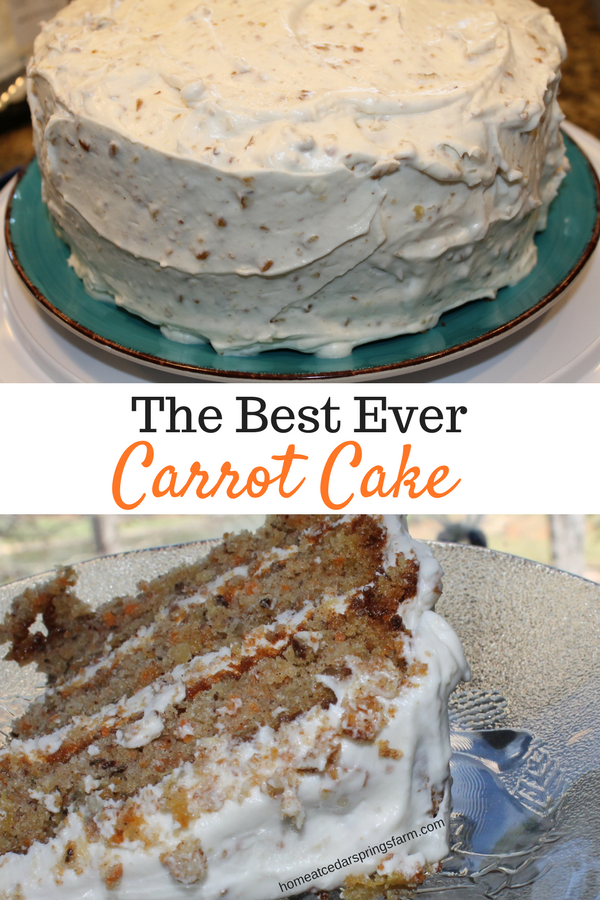 Ingredients Needed for The Best Carrot Cake with Pineapple
Flour– I always use King Arthur Flour. This is my favorite flour to use. I'm sure you also have a favorite so use it.
Cinnamon– I love the taste of cinnamon in this cake. I also love to smell it as it bakes.
Pineapple–If you have never baked a cake with pineapple, don't be shy. You will see and taste the difference immediately. Make sure you are using crushed pineapple.
Oil–keeps the cake nice and moist. This is a needed ingredient for the best-tasting cake.
Eggs– make sure your eggs are at room temperature before using them in the batter. This will help for a more even cake.
Carrots— of course, you need fresh carrots for this recipe. They will make a huge difference in the taste. It really doesn't take too much time to grate fresh carrots. Hand grate or use a food processor for this step.
Salt, Baking Soda, Baking Powder
Sugar
Pecans–I like nuts in my carrot cake frosting. This is optional. If you have a no nut eater, leave them out.
The pineapple and other ingredients will work together to make this cake so moist and delicious and yield an amazing flavor.
I have made this cake many times, and I always get asked to bring this cake to family gatherings and birthday parties. This cake always shows up at holiday events. This recipe is so easy to follow and turns out perfectly every time.
Looking for more delicious desserts? Try this NO-Bake Pumpkin Pie. It's fast, easy and so delicious!
Do I Need Fresh Carrots?
There is no way around it… you have to use freshly grated carrots. DO NOT buy pre-grated carrots thinking this will save you some time and effort… It will make a difference. Don't be tempted!!! It only takes a few extra minutes to grate fresh carrots, especially if you have some sort of food grater. But, if you don't have a food grater —no problem— do it by hand. Look at this way–you will be getting in a pre-workout and burning a few calories "before" you indulge in this delicious cake!
Baking The Cake
I use 3 round cake pans for this recipe. Divide the batter evenly between the pans. Bake for 30 minutes and allow the cakes to cool completely before frosting.
Carrot Cake Frosting
This Cream Cheese Frosting is incredible. Soft butter cream cheese frosting is my favorite frosting of all times. Not only is this cake delicious–the frosting is The Icing On The Cake! It's beyond delicious. You'll want to eat it by the spoonful. Make sure you add thick gobs of frosting between all of the layers and on top. In my opinion, more frosting is always better! This is truly out of this world!
Tips and Variations for the Best Carrot Cake
Toasting pecans— if desired– can add extra flavor to the frosting.
Grate your carrots. Do not buy pre-grated carrots. Taking the time to grate fresh carrots will make a huge difference in the taste.
Use parchment paper to line your cake pans. This will ensure your cakes will release from the pans after being baked.
Remove air bubbles from the cake by dropping the filled cake pans on the counter several times before baking.
How to Store Carrot Cake
My favorite place to store my cake is in the refrigerator. Yes, I like my cake cold. The cream cheese frosting will get soft if it is not refrigerated.
If I am transporting the cake, I usually store my cake in a cake carrier. This makes it easier to remove from the refrigerator and go to my destination. If I am making this cake for an event at home, I usually wrap the cake in plastic wrap and sometimes add foil to the top of the plastic wrap to ensure an air tight wrap for added freshness.

This cake will keep well for 5-7 days in the refrigerator. If it lasts that long. Mine never does!
I hope you and your family will enjoy this cake as much as my family and friends do. Maybe this cake will be requested at your next holiday gathering. Enjoy!!!
Recipe Questions
More Delicious Desserts
Lemon Blueberry Bundt Cake--Lemon Blueberry Bundt Cake is a perfectly moist, lemony cake with sweet juicy blueberries. This cake is topped with a sweet cream cheese frosting that sets it apart from other cakes. It is a beautiful dessert for any occasion.
Easy Strawberry Cheesecake Bars–Easy Strawberry Cheesecake Bars will be a pleasing dessert for your next family gathering or summertime cookout. Made with a graham cracker crust, a creamy center, and topped with homemade strawberry pie filling. What's not to love?
Easy Banana Pudding--Fresh bananas, creamy pudding, and vanilla wafers come together to make a no-bake dessert guaranteed to please a crowd. This comes together fast–20 minutes. The hardest part is letting it chill before eating.
The Best Ever Carrot Cake
The Best Ever Carrot Cake–freshly grated carrots, pineapple, cinnamon, and nuts make for one delicious cake! This cake is topped with a cream cheese and butter frosting that is out of this world.
Ingredients
Carrot Cake Ingredients:
2

cups

all purpose flour

1

teaspoon

Salt

1 1/2

teaspoons

Baking Soda

2

teaspoons

baking powder

2

teaspoons

Cinnamon

1 1/2

cups

Cooking Oil

vegetable oil or canola oil

2

cups

sugar

4

Eggs

2

cups

carrots

grated, fresh

1

can

crushed pineapple

small can, add juice

3/4

cup

pecans

chopped
Frosting Ingredients:
2

8 ounce

cream cheese, softened

2

sticks

butter

room temperature

1 1/2

boxes

confectioners sugar

sifted

3

teaspoons

vanilla

1

cup

pecans

chopped
Instructions
Carrot Cake
Preheat oven to 350 degrees.

Grease and flour 3 8″ round cake pans. I like to line my pans with parchment paper. (optional)

Sift all dry ingredients. Set aside.

In the bowl of a stand mixer, mix together oil, sugar, eggs-beaten after each addition until smooth and combined.

Add the dry ingredients to the wet mixture a little at a time, beating on medium speed, until well combined. Scrape down the sides of the bowl to make sure everything is combined well.

Add carrots, pineapple, and nuts. Beat on medium until just combined. You can also fold this in by hand if you like. Mix well.

Pour the batter evenly into the prepared cake pans and bake for 30-35 minutes or until a toothpick inserted in the middle comes out clean. Start checking after 30 minutes.

Remove the pans from the oven and cool on a wire rack until they have cooled completely. Level the tops of the cakes if you like. Frost.
Frosting
Using a stand mixer, on medium speed, cream together cream cheese and butter until smooth.

Slowly add in the confectioners sugar until all has been added. Lower the speed on the mixer while pouring in the confectioners sugar.

Mix in the vanilla and pecans.

Frost the cake. I like a lot of frosting in between my layers and on top. It's completely up to you. Refrigerate any left over frosting and enjoy as a late night snack.