Chocolate Pecan Pie
Chocolate Pecan Pie is a beloved and cherished variation of the classic pecan pie. It's a dessert that embodies comfort and indulgence. The combination of the crust, pecans, and rich chocolate filling will warm your heart and delight your guests. Whether you enjoy it during the holidays, on special occasions, or to satisfy a craving, this decadent dessert is full of Southern charm and chocolate sophistication.
This easy Chocolate Pecan Pie will be a family favorite for years to come. This is the easiest pie to throw together; your family and friends will think you spent hours on it!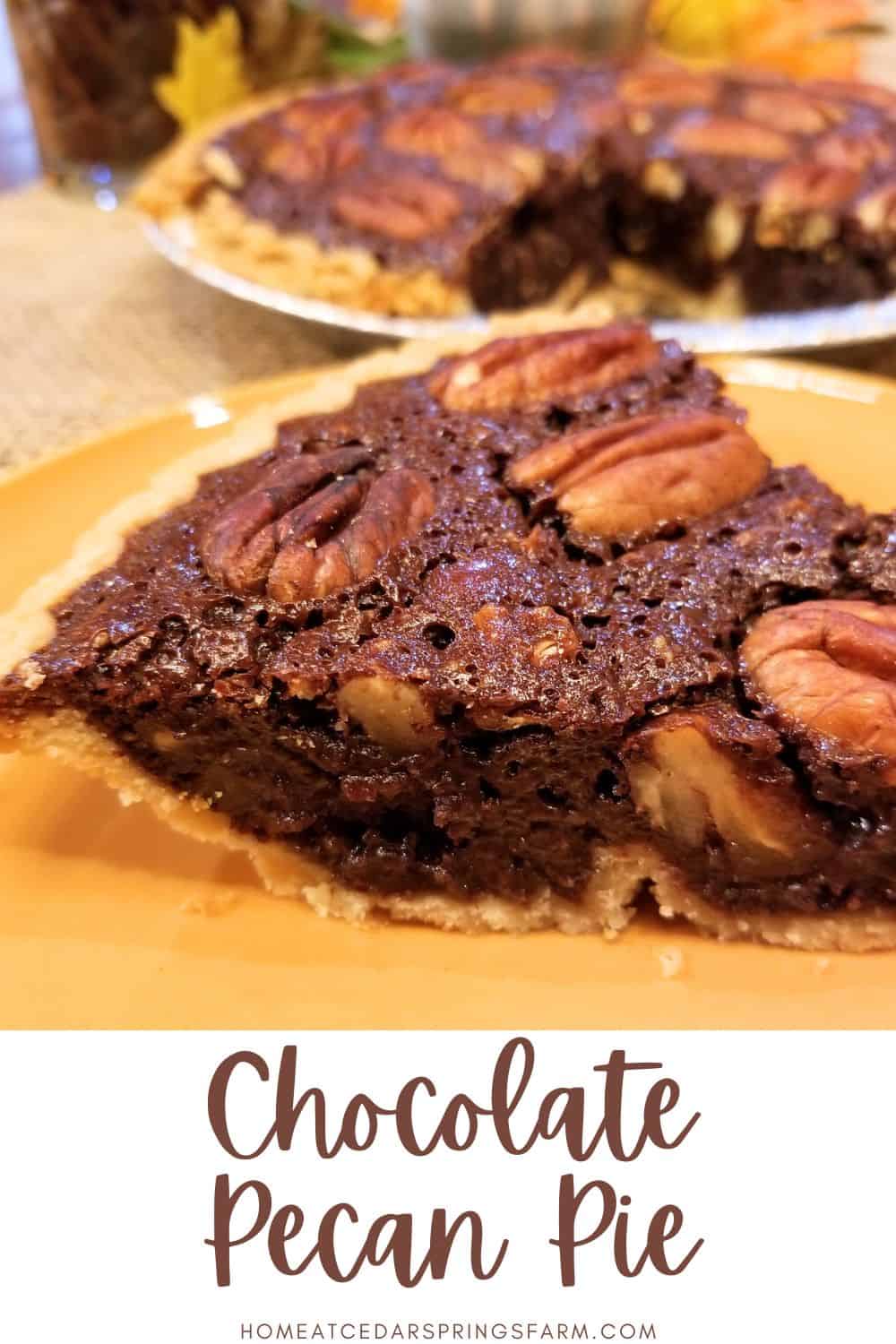 Why You Should Try This Easy Chocolate Pecan Pie Recipe
The combination of taste and texture makes this dessert stand out for several reasons. It's a dessert that celebrates a tradition that never goes out of style. The next time you are looking for the perfect pecan pie, add this dessert to your Thanksgiving table and impress everyone- especially chocolate lovers.
Rich Chocolate: Chocolate pecan pie elevates the classic pecan pie recipe with cocoa powder that mixes with the other ingredients to form a dark chocolate and gooey filling. The melted chocolate takes this pie to a new level.
Sweet and Nutty: The addition of chocolate works beautifully with the crunch of the nuts.
Simple Ingredients: This easy recipe uses simple ingredients to form a depth of decadence to satisfy any sweet tooth.
Southern Tradition: Although you might find this pie mostly during the holiday season, it's easy enough to make year round. Pecan Pie has long been a symbol of comfort and hospitality in the South and is served at celebrations and gatherings.
Holiday Classic: This pie is a staple at most Thanksgiving dinners. The gooey, sweet, and nutty filling creates a rich and indulgent dessert. Pecan pie is popular during the holidays, making it the perfect complement to the savory dishes often served at a holiday meal.
Chocolate Pecan Pie is perfect for any holiday table or special occasion. Just add a scoop of vanilla ice cream, and you have entirely pushed it over the top! Chocolate and pecans–could it get any better?
Pin Me for Later!
Chocolate Pecan Pie is very rich; you will want to slice it into smaller pieces. This just means it will last longer. Right? The first bite always reminds me of some dark fudge I had while traveling to Gatlinburg a few years ago- chocolatey, nutty, and creamy. It's a little slice of heaven, and it goes a long way.
Ingredients Needed for The Best Chocolate Pecan Pie
See the printable recipe card below for a complete list of ingredients and amounts.
The ingredients are simple. They can be easily found in your local grocery store.
Pie Shell: A premade pie shell is the foundation of this pie. This shell is the right size to hold the gooey chocolate pecan pie. Feel free to make a homemade pie crust. I use a regular pie, not a deep dish pie crust.
Butter: Butter adds richness and indulgent taste and binds ingredients together.
Baking Cocoa: Cocoa adds a deep, intense, chocolatey flavor without being sweet. Make sure you get baking cocoa and not hot cocoa mix.
Corn Syrup: Light corn syrup is an important ingredient gives this pie a gooey texture and sweetness. I have used dark corn syrup before in a pinch, and it worked fine.
Sugar: Granulated sugar is used to enhance the sweetness.
Salt: Salt is important to help balance the sweetness in this pie.
Pecans: Pecans are the star of the show with their crunchy texture. You will need chopped pecans and pecan halves. Use a food processor to help chop the nuts with ease.
Eggs: Eggs act as a binder and help set and hold the pie together.
How to Make Chocolate Pecan Pie
For complete step-by-step instructions, see the printable recipe card below.
This decadent chocolate pecan pie is for chocolate lovers. This classic Southern treat combines the rich, gooey pie filling of a traditional pecan pie with the addition of chocolate and makes a mouthwatering pie perfection.
Melt butter in a saucepan over low heat. Add Cocoa. Stir constantly until the cocoa has melted. Remove from heat and cool slightly. Add sugar, corn syrup, salt, and eggs. Mix well. Stir in chopped pecans. Mix well. Pour into pie shell. (This filled my pie shell to the very top.) Top with Pecan Halves. Bake at 375 for 40 minutes. Cool Completely. Add vanilla ice cream if desired. –I desired!
Tip** Always place your pie on a baking sheet in case it boils over. Its a lot easier to clean a baking sheet instead of your oven.
How Do I Know When My Chocolate Pecan Pie is Done?
This is a tough one to answer. As a rule, if the center is set, then take it out of the oven. It will still be a little jiggly but will continue to set as it cools. Tap the center of the pie if it springs back; it's ready.
How to Top a Baked Pecan Pie
The toppings for a baked pecan pie are endless. Eating the pie with or without toppings is entirely a personal preference. Here are a few suggestions for toppings to add to a slice of chocolate pie before serving.
A drizzle of maple syrup.
Add a dollop of homemade whipped cream.
Drizzle warm caramel sauce over the top of the cooked pie for an added layer of sweetness.
Do I Need to Refrigerate My Pecan Pie?
Yes, I would definitely refrigerate this pie. This pie has eggs in it, so it's best to keep it cold. This pie should keep well up to 4 days in the refrigerator.
Only leaving this pie at room temperature for about 2 hours is best. This should be plenty of time for your guests to eat dinner and have dessert. If you believe it will take longer for dessert to be served, remove the pie from the fridge at a later time.
Can I Use Pie Dough?
You sure can! You can make one from scratch or use a frozen store-bought crust. I usually keep several pie crusts in the freezer. This also makes this pie come together faster. And during the holidays, it's always nice to take a shortcut or two.
Help! My Pie Crust is Browning Too Fast!
No problem. It is common for a pie crust to brown before the pie has finished baking. This is an easy problem to fix. You will need to make a pie shield. Simply wrap foil around the outside edge of your pie, covering the crust. Fold down the edges of the foil to hold it in place.
Be sure to check out this link for more directions on making a pie shield for your pie.
Be sure to check out my No-Bake Pumpkin Pie. It is super easy and the taste is amazing! It comes together fast and will be on your table in no time.
Can I Freeze Chocolate Pecan Pie?
Making this pie ahead of time for the holidays is a great idea.
To Freeze: Wrap the cooled and baked Chocolate Pecan Pie in plastic wrap and then cover in foil. At this point, it will be fine in the freezer, but for added measure, I usually place it in a zip-top bag.
This pie will keep in the freezer for three months.
To Reheat: Remove from the freezer and thaw in the refrigerator overnight. You may decide to slice and eat at this time or reheat in a warm oven if desired. If heating in an oven, unwrap the pie and heat for 20 minutes in a 350-degree oven or until warm.
Tips and Variations
The key to the perfect chocolate pecan pie is finding the right balance of tastes and textures. Experiment and make this pie your own. The next time you are looking for a dessert for Thanksgiving dinner, serve up this holiday treat.
How to Store Leftover Pecan Pie
Wrap the cooled pie with aluminum foil or plastic wrap, or store it in an airtight container in the refrigerator. This pie will keep well for about 4 days in the fridge.
FAQs
What Is Chocolate Pecan Pie?
Chocolate pecan pie is a classic American dessert that takes the traditional pecan pie and adds chocolate. It's filled with butter, sugar, chocolate, and pecans. This is sure to become a favorite pie for your family and holds a special place at the dessert table.

Can I Make Chocolate Pecan Pie in Advance?
You can prepare this pie in advance and store it in the refrigerator. It's a great pie for special occasions.
Interesting Information About Chocolate Pecan Pie
How Do People Pronounce Pecan? This is always interesting, and it depends on where you are from. Some pronounce it "PEE can," while others say puh-KAHN."
Pecans are typically harvested in the fall, making this the perfect pecan pie for the holiday season.
Pecans are a versatile nut and can be used in other dishes such as salads, desserts, snacks, candies, and toppings.
Pecan pie is a holiday classic in the United States. It's typically served during Thanksgiving and Christmas but easy enough to be served year-round.
Favorite Thanksgiving Desserts
9 Southern Desserts for Thanksgiving
More Chocolate Desserts
Looking for another chocolate dessert? Be sure to try Milk and Cookies Oreo Dessert. So easy to make for those last minute parties. Texas Sheet Cake Cookies and Ultimate Double Fudge Brownies will not disappoint and will cure those chocolate cravings. More Desserts? Try: Chocolate Cake with Peanut Butter Frosting, No Bake Chocolate Peanut Butter Oatmeal Cookies, Chocolate Dipped Brownie Bites, Salted Caramel Chocolate Fudge, Chocolate Covered Peanut Butter Balls.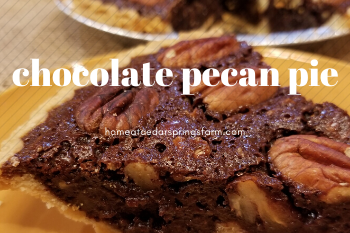 Chocolate Pecan Pie
The best and easiest Chocolate Pecan Pie you will ever make. Perfect for any holiday table.
Ingredients
1

9 inch

pie shell

unbaked

1/3

cup

butter

1/2

cup

baking cocoa

2/3

cup

sugar

1/4

teaspoon

Salt

3

Eggs

beaten

3/4

cup

corn syrup

light

1

cup

pecans

chopped

1

cup

pecan halves
Instructions
Melt butter in a saucepan over low heat. Add Cocoa. Stir constantly until cocoa has melted. Remove from heat and cool slightly.

Add sugar, corn syrup, salt, and eggs. Mix well.

Stir in chopped pecans. Mix well.

Pour into pie shell. (This filled my pie shell to the very top) Top with Pecan Halves.

Bake at 375 for 40 minutes. Cool Completely.

Top with vanilla ice cream if desired.