Cream Cheese Buffalo Chicken Crescent Rolls
Cream Cheese Buffalo Chicken Crescent Rolls- chicken, cream cheese, buffalo wing sauce, onion, mushrooms, crescent rolls. These will be your go-to recipe for an easy weeknight dinner.
These crescent rolls are stuffed full of chicken and will be very satisfying. Serve them as an appetizer or for dinner. Just add a side dish, and you will be set. They are very tasty and will fill a hungry belly.
I've had this recipe for a long time in my file-(a drawer in my kitchen that is stuffed full of my handwritten recipes). 🙂 My sister introduced me to this recipe during football season many years ago. I used to make this as a dip for tailgating and football parties, and it is fabulous served with crackers.
But, just by accident, I took some of the leftover buffalo chicken dip and stuffed it inside a crescent roll. And voila!! Cream cheese and Buffalo Chicken Crescent Rolls were born!
Crescent rolls are quite delicious on their own, and I don't know about your family, but mine can go through some crescent rolls–especially hot out of the oven. And–when I stuff these with Cream Cheese Buffalo Chicken–well–there are very few leftovers when dinner is over.
As a busy wife, mom, and full-time worker, I am always looking for something fast and delicious to serve for dinner. I am usually asked the same question Every. Single. Day.—"What's for dinner?" By the end of the workday, my brain and body are tired, and the last thing I want to do is to spend hours in the kitchen cooking and cleaning.
I love to make these chicken crescent rolls. They are quick, easy, and loaded with flavors. The buffalo wing sauce gives it an added punch and seems to spice it up just a bit. And if you buy a rotisserie chicken, they are even easier to prepare. 🙂
Can I use a Rotisserie Chicken, Boiled Chicken, or Canned Chicken for this Recipe?
Most of the time, I usually boil some boneless chicken tenders. It only takes about 30 minutes to boil and shred the chicken. I have actually cheated before and bought canned chicken when I was really rushed for dinner. It worked–but–it's not quite as tasty or flavorful.
Ingredients Needed for Chicken Crescent Rolls
Chicken— This can be a rotisserie, boiled, grilled, left-over, or canned chicken. Cube or shred the chicken into small pieces.
Cream Cheese–Make sure the cream cheese is room temperature and soft before trying to mix with the other ingredients.
Onion— Dice the onion into small pieces. You don't want a big chunk inside your crescent roll. 🙂
Mushrooms— This is totally up to you if you want to add mushrooms to your crescent rolls. My family likes them, so I add them. You can certainly leave them out. The taste will certainly be the same.
Buffalo Wing Sauce— This is a spicy sauce but adds so much flavor. I use 2-3 tablespoons in this recipe. My children grew up eating spicy food, so this wasn't a big deal for them. If you have little ones eating this–use sparingly. I find it next to the hot sauces in the grocery store.
Crescent Rolls–The star of the show! Unroll, stuff, and roll back up. Crescent Rolls are always in my refrigerator. They can be used in so many ways–like for my Ham and Cheese Pinwheels.
Seasonings-– Totally up to you. My favorites are garlic powder and seasoning salt. They always work well in this recipe. A little goes a long way.
You can customize this recipe to fit the tastes of your family. If you don't like onions–leave them out. If you don't like mushrooms–don't use them. If you like ranch–add some dry mix to the chicken.
Add a little of this and some of that to fit the tastes of your family. Really, just stuff it in a crescent roll and bake. I promise your family will love these. Even the smaller children can handle these well in their cute chubby hands. 🙂 Serve them with a little ranch dressing. (In my opinion–EVERYTHING tastes great with ranch).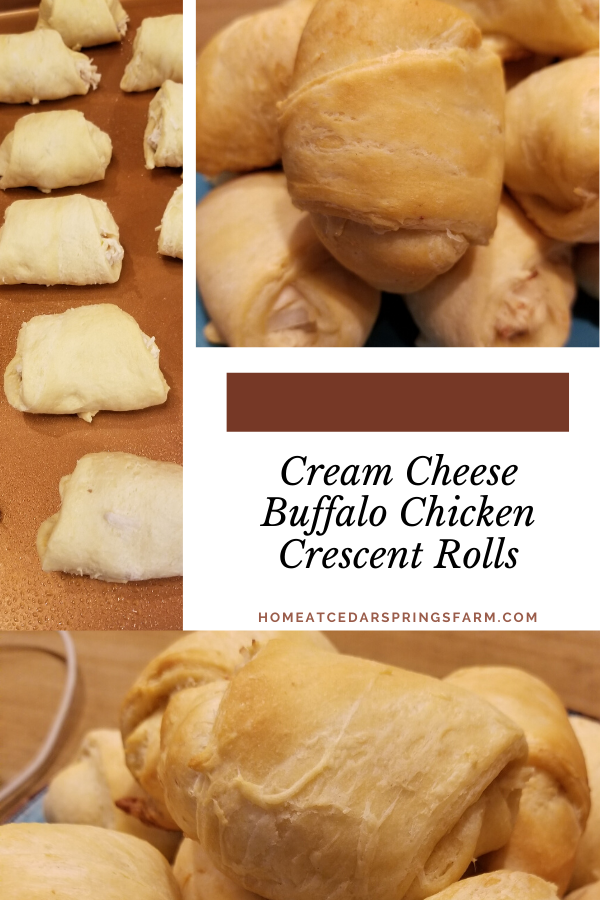 Can I Prep Chicken Crescent Rolls in Advance?
Yes, you can prepare the chicken by chopping or shredding in advance. Store in a air-tight container in the refrigerator until ready for use. You can also mix all of the ingredients together and store in the refrigerator until you are ready to assemble the crescent rolls. I have done this in advance several times and it has worked well and saved me a little bit of time.
This recipe is a keeper, and you will want to keep this on hand for those busy weeks and those nights when you get asked that same ole question—" What's for dinner?"
If you are a fan of Buffalo Sauce– Be sure to check out my Grilled Buffalo Chicken Tenders. The sauce is a little different but the taste is delicious!
If you like chicken, be sure to check out my Chicken Salad recipe and Chicken Stir-Fry. They are both tasty and easy to make. For another weeknight meal, this Chicken and Rice casserole is also an easy option.
Some of the links on this page are affiliate links. Home at Cedar Springs Farm may earn a small commission for purchases made after clicking links on this page. Learn More.
Cream Cheese Buffalo Chicken Crescent Rolls
Cream Cheese Buffalo Chicken Crescent Rolls- chicken, cream cheese, buffalo wing sauce, onion, mushrooms, crescent rolls. These will be your go-to recipe for an easy weeknight dinner.
Ingredients
2

pounds

chicken

cooked and cubed or shredded

1

8 ounce block

cream cheese

softened

1

cup

onion

diced

1

6 ounce can

mushroom

drained and chopped

2-3

tablespoons

Buffalo Wing Sauce

2

cans

crescent rolls

1/4

teaspoon

garlic powder and seasoning salt
Instructions
Preheat oven to 350 degrees. Spray a sheet pan with non-stick spray. Set aside.

Prepare your chicken. Boil, chop into small bite sized pieces or shred. Put into a bowl.

Add cream cheese, onion, mushrooms, and wing sauce. Mix well until everything is coated.

Roll out crescents and place a heaping spoonful on the wide end of the crescent in the center. Roll up starting with the wide end-tucking in the edges as you go. This will keep all of the good "stuff" from escaping during cooking.

Place on a large sheet pan and bake at 350 degrees for about 20 minutes or until browned. Serve warm. Serve with Ranch if desired.