Winter Clothing Hacks
Winter has finally arrived and it's time to pull out your sweaters and cozy clothes. I am very cold-natured, so I always try my best to dress warm. You remember your parents and grandparents telling you to dress warmly before going out to play; now we have to dress warmly before going out to work. ( It was a lot more fun to go out and play than it is to go and work).
There are several hacks you need to try this winter to keep you warm and looking amazing.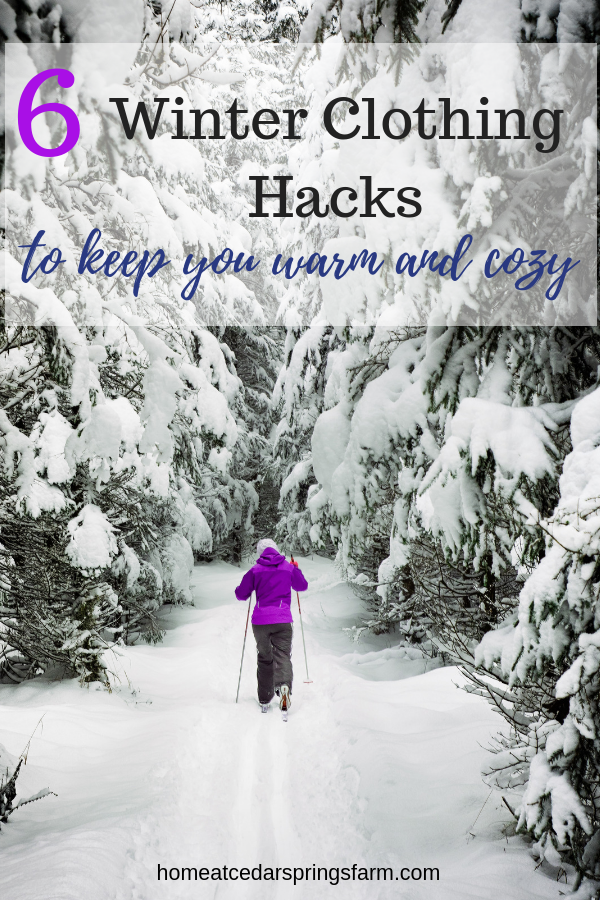 Some of the links on this page are affiliate links. Home at Cedar Springs Farm may earn a small commission for purchases made after clicking links on this page. Learn More.
MAKE RECYCLED SWEATER MITTENS
My hands are always cold, so I am a firm believer in wearing gloves or mittens.   I've found a really cute way for you to use those old sweaters that are just sitting in your closet collecting dust–Mittens! You will only need a few supplies to get started and you may possibly have these items already on hand. The colors are endless! Now, you can have a pair of Mittens for every outfit.
You can also purchase a pair of mittens if you are not into making them.
USE A CHEAP RAZOR TO GET RID OF CLOTHING PILLS
I love to put on a warm and cozy hoodie during the winter, but I hate those little pills that seem to multiply after every wash.  I have found that a cheap razor will do the trick to remove all of those pills.
WEAR A SCARF
Just about every clothing store sells scarves. I am a sucker for a cute scarf and so is my daughter. I can automatically feel the warmth when I wrap a fuzzy scarf around my neck before heading outside.  Plus, there are so many cute colors and patterns to choose from. You can wear a different scarf everyday to match every outfit and be warmer as well.  If you are looking for tips and tricks on different ways to tie a scarf, then check out this site for some inspiration.
These scarves from Amazon are super cute and warm.
WEAR WOOL SOCKS
A good pair of wool socks are soft, strong, and naturally moisture-wicking. My feet stay cold during the winter; therefore,  I always have on a pair of socks.  I have about a dozen pair of wool socks and I wear a pair every day during the winter. I am serious!  A good pair of wool socks will bring you a lot of comfort on some of the coldest days of winter.
STOPPING Static Cling
Sweaters and hoodies are popular in the winter and so is the not so popular static cling. Static cling is common in clothing during the winter. It can be very annoying to have a sweater or dress stick to you or your tights especially when you are heading out the door.
Here are few ideas to stop static:
*spray a fine mist of aerosol hairspray over your clothing
*hang clothes to dry instead of putting them in the dryer
*use wool dryer balls
**check out these tips on how to get rid of static cling naturally**
Get Rid Of Static Cling Naturally With This Simple Trick
LEG WARMERS
I know you are thinking that leg warmers were a hot item in the 80's but not now. Well….they are! You can even make your own leg warmers to wear with your leggings and boots. Just cut the arms off of a sweater, hem the cut edge, and wear! Yes, it's that easy. These will look cute with a pair of boots or even to wear over your yoga pants.
I like winter time; I just don't like to get cold.  I hope you find these hacks helpful and they help to keep you warm and cozy so you may have a more enjoyable winter.
Gina
Check out these other sites for more Winter Clothing Hacks.
Cold Weather Hacks to Keep You Cozy This Winter
35 Cold Weather Hacks To Keep You Safe And Cozy This Winter