36 Goal Ideas for 2019
Since we have entered a brand new year, I have decided to challenge myself with a few goals. If you love personal goals, then this is for you as well.
I have found that most people either love setting goals and crushing them OR they hate setting goals because it's so overwhelming.
If you fall into the second category, I am right there with you! I tend to overthink everything and trying to decide on a goal to crush for that day or week can be a struggle. A BIG struggle.
But–You've got this!
Reaching your goal(s) is a journey, and to achieve your goals, they need to be actionable. Developing unrealistic goals sets you up for failure. By taking baby steps, you can accomplish anything.
I once read this quote by Ralph Waldo Emerson–"You don't have to be great to get started, but you have to get started to be great."
Here are just a few of my goals I plan to work on this year. Hopefully, I will be able to add more as the year goes on and also cross off most of these goals by the end of 2019.
Feel free to print off my list and add to it–or take away from it.
Let's just make 2019 the best year ever!
Click on the link to print or Pin for later!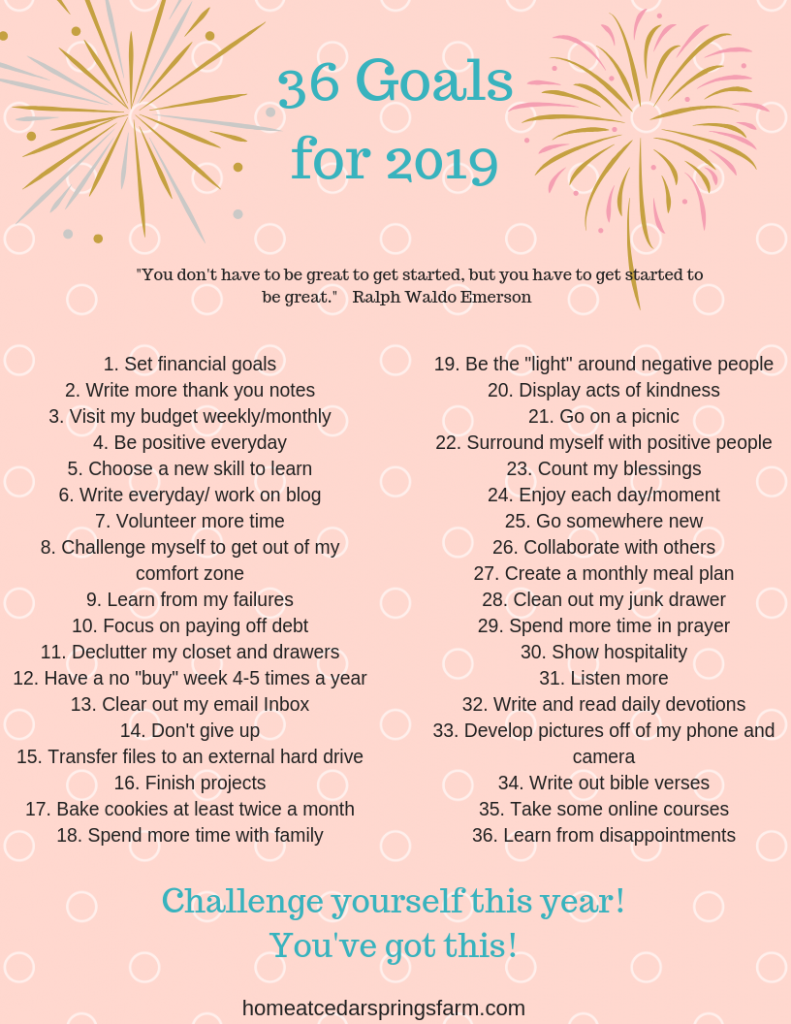 Be sure to check out Tips on Creating a Budget and Sticking to it.
Some of the links on this page are affiliate links. Home at Cedar Springs Farm may earn a small commission for purchases made after clicking links on this page. Learn More.