Being A Proverbs 31 Woman
I am a wife and a mom and recently I started comparing the Proverbs 31 Woman to me.
Proverbs 31 is a beautiful chapter and many things can be learned from reading and studying this chapter. This woman is an example of the woman I would like to be.
God describes a woman who is righteous. A Woman of character. A virtuous woman. A Godly woman. A wife. A mom.
Although I try hard every day to do the right things as a wife and mom, I still fall short of being the Proverbs 31 Woman.
Yes, the Proverbs 31 woman intimidates me! She sets an example of how God would like for me and all women to be. God is talking about ALL women.
Many women think her traits are unattainable or those things just don't apply to today's world. But, they do apply to today and our families today. Being a Proverbs 31 woman is quite attainable if you take just one or two traits at a time.
It is so easy to get caught up in the daily task of carpools, shopping, sporting events, after-school practices, volunteering at bake sales, parties, running here and running there. I am certainly speaking to myself here! I have been there and done that. It's hard to slow down and it's hard to say "NO."
Why do we create so many lists, so many appointments, so many commitments?
Why do we put so much stress on ourselves?
Why do we feel our anxiety level rising?
Why?
We do this to ourselves–every day!
By the end of the day, we are tired and we are exhausted. But we can't stop. We now have homework to complete, clothes to wash, supper to cook, bills to pay and the list goes on.
This is actually the time we need to be at our best even though we are tired. Our family is home. This should be a relaxed time of the day. Conversations should be taking place. We should be eating supper together and we should be enjoying our family.
I believe I can set the mood for my family every day. Even when I am not feeling my best, I still try to do and give my best. I believe my family feeds off of my mood. I have seen it and lived it. When momma is happy, we are all happy!
I have found over the years that it is okay to say "No" to things. You don't have to do EVERYTHING-everyday. It's okay to take time for yourself. It's okay to take time for your family. And, at times, when I forget my purpose, all I have to do is read Proverbs 31.
I have listed some of the characteristics in the verses of Proverbs 31. These are still applicable to what it is like in TODAY's world. This is just my point of view and the verses I chose to break down. Feel free to study and add what applies to you and your life. Hopefully, it will be useful to you as well.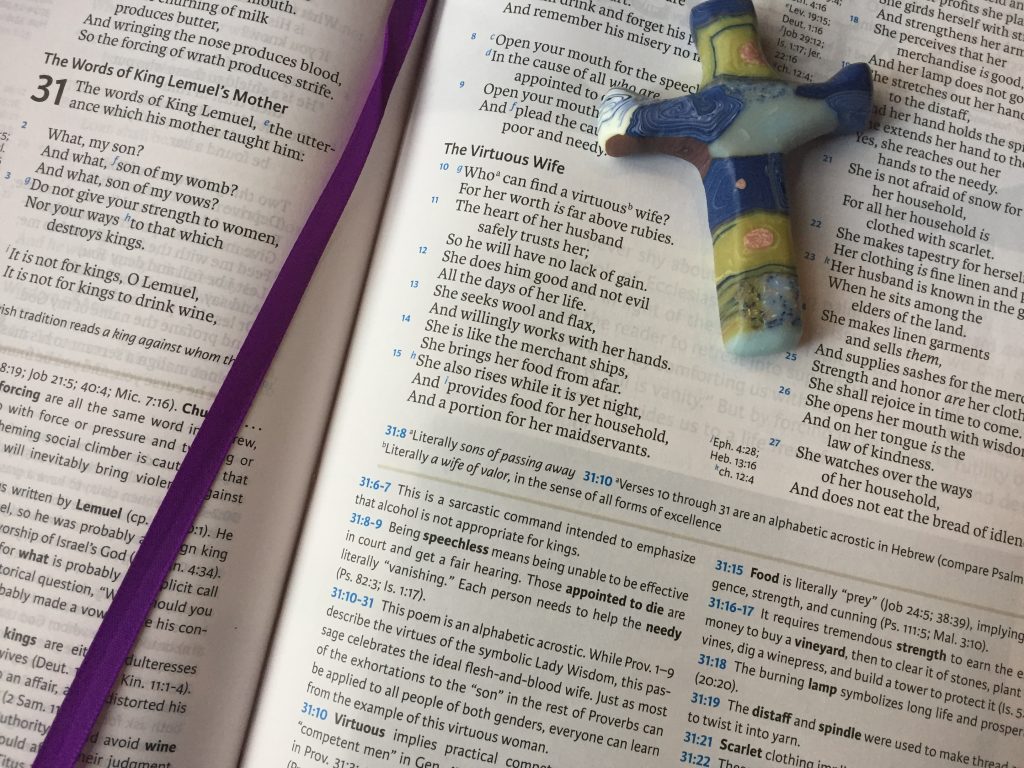 Characteristics of a Proverbs 31 Woman:

verse 10–virtuous
verse 11–trust worthy
verse 12–supportive
verse 13–industrious
verse 14 & 15–diligence
verse 16–hard working
verse 17–strength
verse 18–prosperity
verse 19–skillful
verse 20–compassionate
verse 21–prepared
verse 22–skilled/well dressed
verse 23–respected
verse 24–Good business woman
verse 25–strength and honor
verse 26–wisdom and kindness
verse 27–oversees household
verse 28–blessed/praiseworthy
verse 29–excels
verse 30– God fearing
verse 31–Fruit bearing
Proverbs 31 puts ME in my place.
It is important to stay focused on family values and what it means to be a woman. It is very easy to lose sight of our role as a wife and a mom. We all need to remember as long as we keep our focus on the Lord, He will direct our paths. And no matter what paths we are walking, He is there with us every second of every day.
Have a BLESSED day!
Gina