The Easiest Farmhouse Candlesticks You Can Make…Seriously!
I love to use candlesticks in my home. I use them on the mantle, in the bathroom, bedroom, and well.. just everywhere. Candles have always been something I enjoyed mainly for the smell, and that little flicker of light makes me smile. 🙂
Candles are like magnets, and I am drawn to them wherever I go. I find myself standing at flea markets or stores sniffing all of the many scents–and there are MANY to choose from. I usually end up buying several. 🙂 I have no willpower when it comes to candles. Do you?
Chunky candles are my favorite. They seem to fit best with my candlesticks. The shorter and fatter, the better.
Today, I am sharing with you the candlesticks I made for my home. These are so easy to make, and if you have scrap wood or table legs in your woodpile, then these will be very inexpensive for you to make.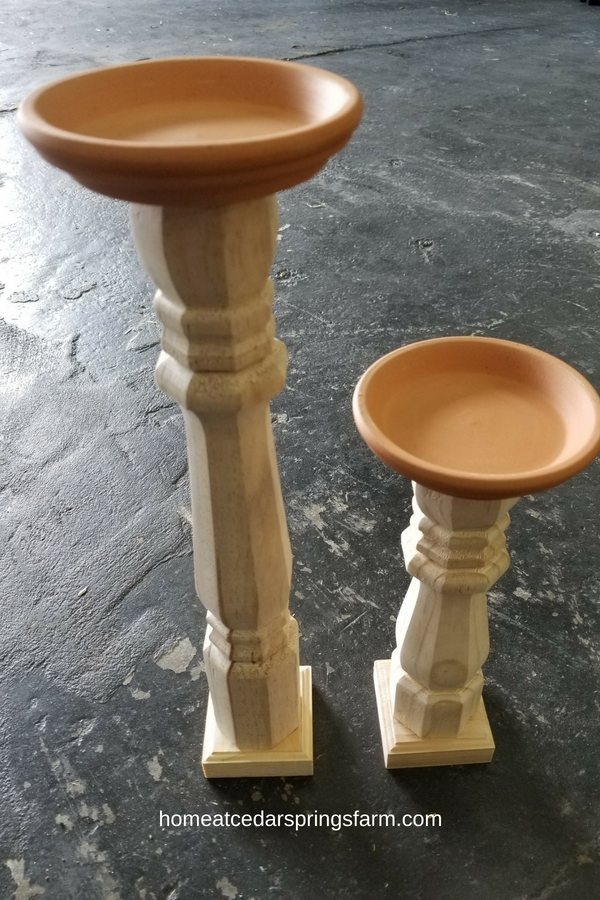 I found the directions and materials for these candlesticks here. I did change up the bottom of the candlesticks. I didn't like the saucer on the bottom, so I used a square block of wood. They seem more stable and also have the look I was going for in my home. I also used Gorilla Glue instead of Gorilla Epoxy. The reason..I had Gorilla Glue on hand, and I didn't see any need in buying anything else.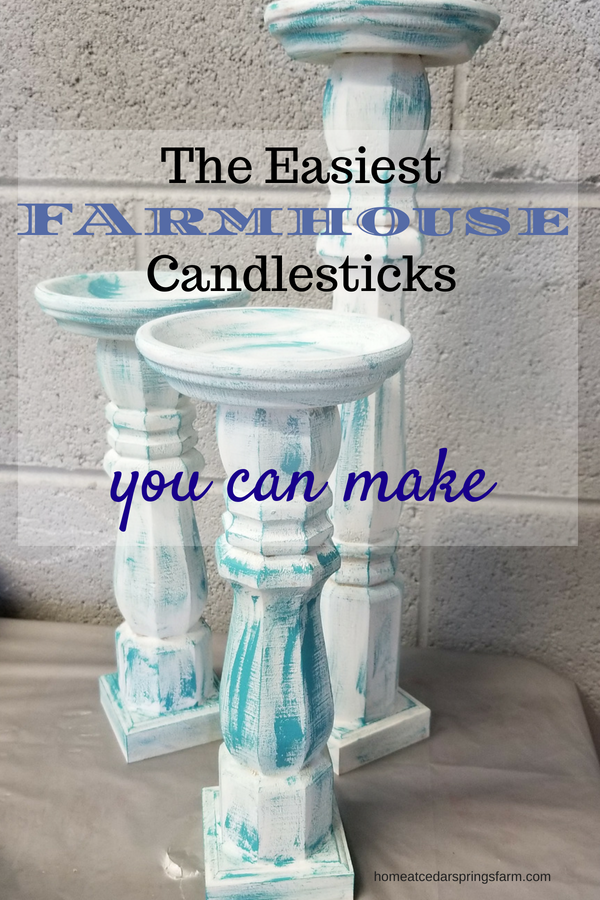 This is a two-day project because the glue needs to dry for 24 hours. After the glue is dry, paint as desired.
Check out the supply list and directions here. I found all of my materials at our local Home Depot.
Have Fun!
Some of the links on this page are affiliate links. Home at Cedar Springs Farm may earn a commission for purchases made after clicking links on this page. Learn More.
I found my table legs at Home Depot. You can also order them here.
Gorilla Glue