Double Chocolate Brownies
Ultimate Double Chocolate Brownies are for the serious chocolate lover. They are rich and chocolaty and will be the only brownies you will bake from now on.
I have been on a sweet kick lately, and I want to eat sweets! Maybe its because I'm on a diet and I want to eat everything in sight!!! I started out on my diet with the mindset that I would not eat any sweets. Well… that worked for about the first week and then – well– here we are discussing Ultimate Double Chocolate Brownies.
I've had this recipe in the drawer in my kitchen for several years. I got this recipe from a friend, and I have used it many times. This is the best brownie recipe by far, and they always turn out fantastic. This recipe gets a gold star, and the brownies are requested for holidays and get togethers.
Is Chocolate Good for You?
I'm sure this topic can be debatable. But, in my opinion, IT IS! There have been a growing number of studies to suggest that it can be a heart–healthy choice and that is enough for me to complete my own scientific study. 🙂
Chocolate shows up at my house probably more than it should. My family seems to like chocolate as much as I do, and this Chocolate Brownie Trifle will certainly impress your guest and family. This is a true Chocolate lovers dream dessert.
Ultimate Double Chocolate Brownies
These brownies are simply to die for. They are moist, delicious, chocolaty and they are super easy to make. I made these one Saturday afternoon, and they were all gone by Sunday afternoon. And, no, I did not eat all of them by myself. But, I could have!! Don't judge!! 🙂
These Chocolate Brownies are made with a jar of Hershey's Chocolate. Yes, the whole jar! Can you see now why these brownies are the best?
Ingredients Needed for Double Chocolate Brownies
Hershey's Chocolate Topping
Eggs
Flour
Sugar
Butter
Milk
Chocolate Chips
How To Make Ultimate Brownies with Hershey's Chocolate Topping
First: Mix all brownie ingredients together in a large bowl. Mix well.
Next: Pour the brownie mixture into a well-greased pan and bake for 35 minutes.
Then: Bake and test. Bake for 35 minutes in 350-degree oven. Don't over bake- The toothpick inserted will be a little wet after 35 minutes.
Finally: Make the frosting. This is total yumminess! If you are a serious chocolate fan- you will love this frosting. The frosting is boiled for a few minutes and then poured over warm brownies.
Allow the brownies to cool before slicing. I know–what? Let cool? Yes, let the brownies and frosting have time to sit and chill before slicing. You will be able to slice them without crumbling. Or–go ahead and have one warm from the oven. I usually do! 🙂
Do you want to talk about willpower? Try waiting for these brownies to cool before you eat them! And yes, you can slide them into the refrigerator to speed up the cooling process. 🙂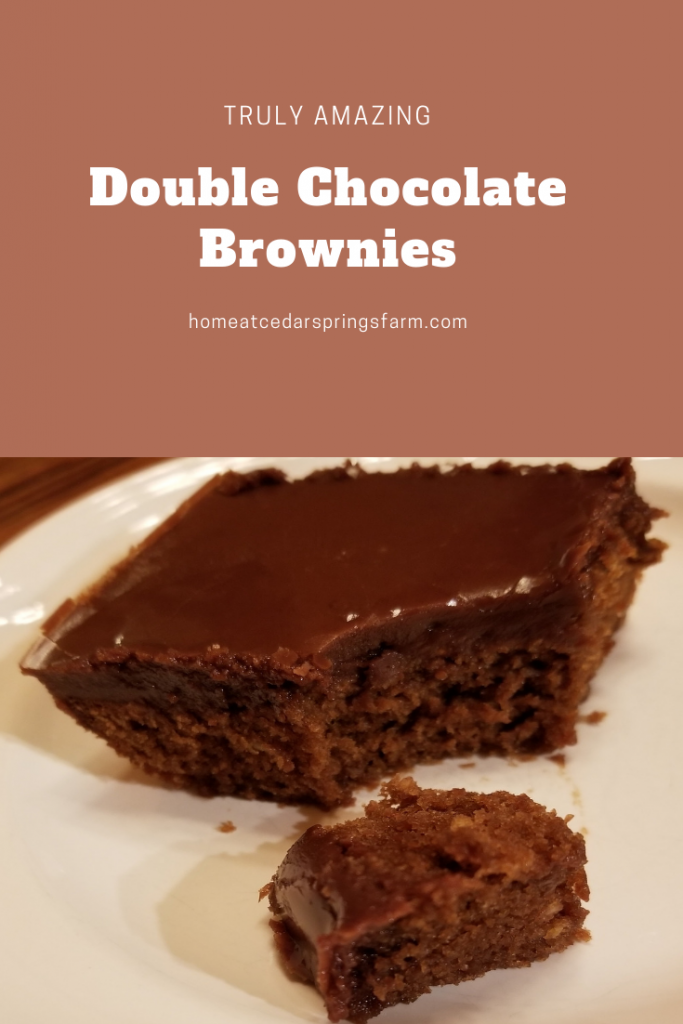 Tips for Making Hershey's Double Chocolate Brownies from Scratch
Grab some milk. This is a must-needed beverage when eating these brownies. They are rich a luscious.
Choose good quality ingredients. One of the best tips for making brownies is to use good quality chocolate chips. There are several good brands of chocolate on the shelves; choose your favorite.
Mix ingredients well.
Don't bake too long. It is always better to pull the brownies out of the oven early than to bake too long—test brownies with a toothpick. Bake until a toothpick inserted comes out with just a few crumbs attached. If you are not sure if they are completely done, go ahead and take them out of the oven. They will firm up as they cool! (Honestly, I prefer an undercooked brownie) Do you?
Allow chilling time before slicing. This is hard to do! We all like warm brownies from the oven. But letting them cool makes them firm up a bit, and the chocolate seems to stick to your teeth better. 🙂 Trust me, they are worth the wait.
These Brownies have been tested over and over again, and I can say (with 100% certainty) they are fabulous! They are so rich and chocolaty; you will be delighted with your first bite. Try some today.
Enjoy!
For more delicious desserts, check out:
Chocolate Lush–-This is a fast and easy recipe. You will need some will power in letting this chill for a few hours before serving.
No Bake Chocolate Peanut Butter Balls–-This is, by far, the most delicious mix of peanut butter and chocolate. So addicting!
Chocolate Marble Cake–-It starts with a cake mix and ends with cream cheese and butter yumminess! Enjoying a rich and chocolatey cake has never been easier.
Chocolate Pecan Pie–This is the easiest pie to throw together, and your family and friends will think you spent hours on it!
Chocolate Brownie Trifle–– A true chocolate lovers dessert. You family will love you for this dessert.
This recipe was featured on Edible Arrangements (dot) com. For more chocolate desserts, check out the post on their blog for 24 more chocolate recipes.
Some of the links on this page are affiliate links. Home at Cedar Springs Farm may earn a small commission for purchases made after clicking links on this page at no cost to you! Learn More.
Double Chocolate Brownies
Ultimate Double Chocolate Brownies are for the serious chocolate lover. They are rich and chocolatey and will be the only brownies you will bake from now on.
Ingredients
Brownie Batter
1

12.8 oz. jar

Hershey's Chocolate Topping

I used Hot Fudge Topping

4

Eggs

1

cup

self-rising flour

1

cup

sugar

1

stick butter, melted

plus 2 Tablespoons more to grease pan
Frosting
1 1/3

cups

sugar

6

Tablespoons

butter

6

Tablespoons

milk

3/4

cup

chocolate chips
Instructions
Brownies
Preheat oven to 350 degrees.

Grease a casserole pan with 2 Tablespoons butter.

Mix all brownie batter ingredients together.

Pour into greased casserole pan and bake at 350 degrees for about 35 minutes. Do not overcook. Toothpick inserted will be a little wet after 35 minutes.
Frosting
Boil together sugar, butter, and milk for 3 minutes.

Add chocolate chips and stir until melted.

Pour over warm brownies. Let cool.

I like to keep these in the refrigerator so the icing won't get soft. Plus, I like them cold.