10 Genius Ideas for Organizing a Small Laundry Room
I have a small laundry room and trying to keep it organized, and neat can be a task. I want/need to maximize the space I have available. It can become a mess fast — baskets with clothes, laundry detergent, dryer sheets, hangers, and missing socks. Where do you start, and how do you keep it organized?
I've found 10 Genius Ideas for Organizing a Small Laundry Room. Check them out and let me know if you have any more ideas or suggestions that might help others.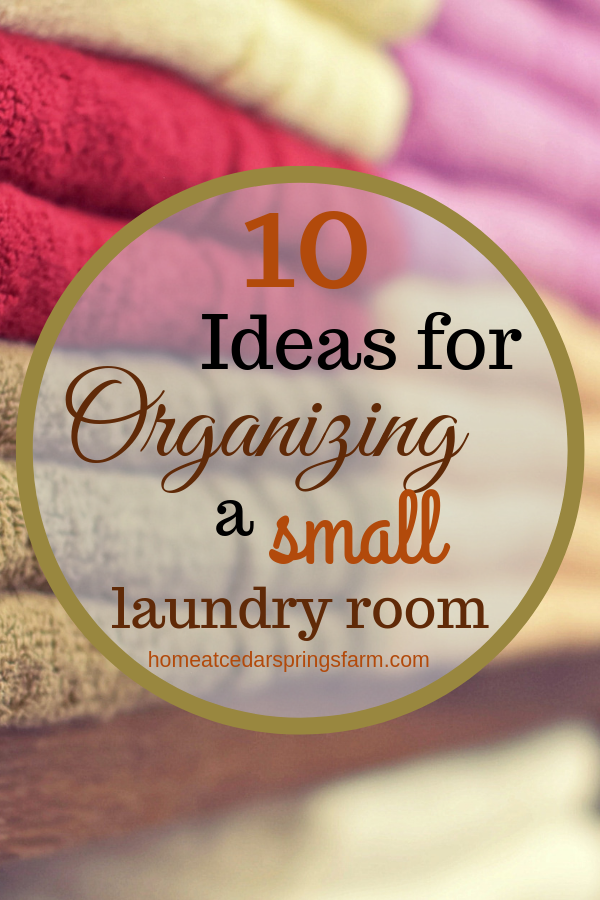 DIY Wooden Shelves
Check out this step by step tutorial on DIY Wooden Shelves. These will give you a lot of storage room and needed shelf space for storage. Baskets and jars will hold many laundry supplies.
via: How to Nest for Less
Laundry Basket Organization
This may be one of my favorite DIY projects. Make it & Love It has a tutorial for this project on their blog. I am definitely going to do this when I redo my laundry room. Great way to organize laundry. Not only could you label the baskets dark, whites, or colors, you could put names of each family member on each basket.
Baskets, Baskets, Baskets
Having a small space should not discourage you from having a nice and functional laundry room. Jessica Welling Interiors turned her small laundry room into a nice and inviting area to do laundry. The shelves could also hold folded laundry or baskets with supplies.
DIY Flooring
Jenna Kate at Home has turned a small area into a beautiful laundry room. She has maximized the space perfectly. She even has a tutorial for the flooring. Adding a cabinet over the washer and dryer will give you more storage for laundry items.
Rolling Cart for More Storage
Adding a rolling cart between your washer and dryer can add more storage to your area. At Infarrantly Creative you will find instructions on how to build a DIY rolling cart.
via: Infarrantly Creative
Lint Can For The Wall
Add a cute lint can to your wall. This will keep a trash can off of the floor and your lint can within easy reach. This was found at Hometalk.
Giving the Laundry Room Some Love!
Catch That Change
A catch-all for the change you find in the washer and dryer. Here is an easy DIY sign to make and hang in your laundry room. Find at Tried & True.
Don't Drip
Keep those drips from making a mess. This set of 2 Laundry Room Cups will catch those drips and keep from wasting detergent.
Set of 2 Laundry Room Tidy-Cups™
Use a Drink Dispenser for Detergent
Display your laundry detergent in a fun way. Those heavy clunky bottles can be hard to handle and just seem to get in the way. Label the jar with a cute chalkboard sticker.
Source: Your Little Birdie
Drying Rack
Crib spring drying rack makes it easy for hanging clothes to dry. I hang a lot of clothes to dry when I do the laundry. This is a pretty awesome project and a way to repurpose a crib spring.
Source: A Diamond in the Stuff
Check out my post on 5 Laundry Tips to Help You Conquer the Chaos .
Some of the links on this page are affiliate links. Home at Cedar Springs Farm may earn a small commission for purchases made after clicking links on this page. Learn More.