How To Freeze Peaches Without Sugar
This easy method will allow you to enjoy frozen peaches, with a freshly picked taste, all year long.
How To Freeze Peaches Without Sugar—This summer I have been lucky enough to have a nice man bring me peaches every Monday. My husband and I own a retail store, and this fellow gets up early on Monday mornings, picks peaches and then drops them off at our business. Isn't that a great way to start off the week? 🙂
After a few weeks, I began to have more peaches than my family could eat. I could not let these little babies go to waste, so I began to freeze them.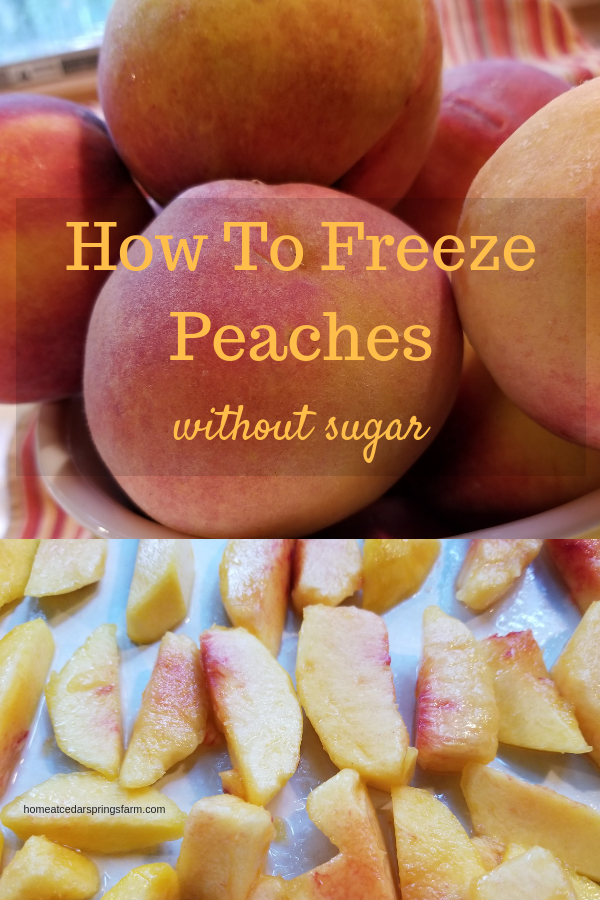 Frozen peaches, if done correctly, can taste just like fresh peaches when you are ready to use them. I prefer to use them in peach cobbler, but they are also great in smoothies and homemade ice cream.
Yes, you can buy frozen peaches in the store, but they just don't taste the same. I'm going to share with you How To Freeze Peaches Without Sugar– so that you can enjoy them throughout the winter months. Plus, they will taste as if they have just been freshly picked. 🙂
Make sure to try this Peach Cobbler. It is absolutely delicious and so easy to make!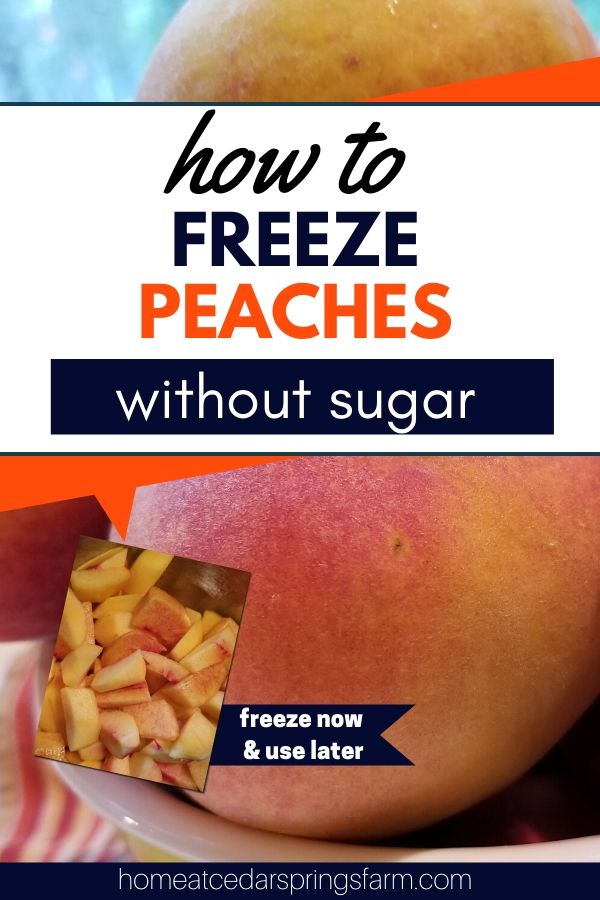 How to Freeze Peaches
1/3 Cup fresh lemon juice
1 cup water
Fresh Peaches
Juice lemons to equal 1/3 cup of juice.
Pour lemon juice and water into a bowl.
Peel and slice peaches and add them to the bowl. Toss to coat well with the liquid.
Drain liquid and place peaches on a baking sheet lined with freezer paper. Make sure the peaches are not touching.
Place in the freezer and freeze for an hour or two or until frozen.
Once frozen, place in a zip top bag, label, place back in the freezer until ready to use.
Some of the links on this page are affiliate links. Home at Cedar Springs Farm may earn a small commission for purchases made after clicking links on this page.
For more frozen fruit recipes, be sure to try: