Southern Style Cheese Grits
Cheese Grits are a southern favorite. They are great for breakfast, in a casserole, as a snack, or side dish. Southern Style Cheese Grits are loaded with cream cheese, shredded cheese, and butter. If you have never tried grits before, then you are in for a real treat.
Many people in the south grew up eating grits for breakfast with eggs, bacon, and biscuits. Grits were considered a staple in many houses. I began eating grits at an early age. A bowl of grits with butter, salt, and pepper was a great way to start the day.
My family fell in love with Rotel and grits many years ago during the holiday season. We took leftover Rotel dip from a party and topped our breakfast grits on a whim. If you are a fan of Rotel and grits, check out Cheesy Rotel Grits recipe. It feeds a crowd and is Amazing! 
Grits are fantastic when used as a base for a meal, such as shrimp and grits. Tomato Gravy is fantastic served over a big bowl of grits. You can't go wrong with a good cheese grits recipe.
What are Grits?
What Are Grits? Short version– grits are basically ground corn cooked in a liquid such as milk, chicken broth, or water. They are popular in the south and easy to find in grocery stores. They are mostly served for breakfast but can be found on dinner menus as well.
Types of Grits:
Instant Grits–The fastest way to cook grits is to use Instant Grits. These usually take about a minute to cook. They are good when in a rush and are fine for a quick breakfast or snack.
Quick Grits— I like Quick Grits. They usually cook for about 5-7 minutes. However, they require more liquid than instant grits.
Stone Ground Grits— Stone Ground Grits are harder to find in the grocery store. They require more time to cook. Stone Ground Grits usually need at least 30 minutes to cook.
How to Make the Best Creamy Cheese Grits
Most of the time, I use quick grits. This is because they cook fast, and they are good.
For this Cheese Grits recipe, I used milk and chicken broth as my liquids. In my opinion, grits don't have any flavor; therefore, I add flavor by boiling the grits in milk and chicken broth and adding cheese at the end.
Once I add my grits to the boiling liquid, I whisk them to ensure they aren't lumpy. I then add a lid to the pot and reduce the heat. I allow the grits to cook for 5-7 minutes on a simmer.
After the grits have cooked, I add my cheeses.
These are some seriously delicious grits.
They are very filling and can undoubtedly be served alone or as a side dish. Be sure to add lots of butter, salt, and pepper for some incredible eating.
What Should Grits Look Like When Cooked?
Cooked grits are thick and smooth. Many people add salt, pepper, and butter to their grits. I added cream cheese and shredded cheese to this recipe, making this dish creamy, smooth, and tasty.
Where Do I Buy Grits?
Most grocery stores in the south sell grits. However, if you do not have grits in your grocery store or at your market, you can certainly order them online. They are sold in bags or boxes. They are very inexpensive and usually cost under $5 for a package.
Tips, Tricks, and Variations for Making Grits
Use milk and chicken broth for your boiling liquid. This will give the grits some flavor.
As soon as you add your grits to the pot, whisk. This will ensure you don't have lumps in your grits. No one likes lumpy grits.
Follow package instructions on making grits.
Add your favorite cheeses to the grits.
Watch closely, so you do not burn or overcook your grits.
Grits will pop when cooking. Make sure you add a lid to your pot and carefully remove it to stir. Cook on a low simmer.
How to Store Leftover Grits
Store any leftovers in the refrigerator in an air-tight container. Grits will last in the fridge for 3-4 days. Then, reheat when ready to eat again.
How to Reheat Leftover Grits
Leftover grits tend to get a little stiff. To reheat grits, add a little milk, water, or chicken broth to the grits, stir, and then reheat in the microwave or on the stove. Add enough liquid to make the grits creamy and smooth.
What Should I Serve with Cheese Grits?
Cheese grits are great on their own with a bit of butter, salt, and pepper. But they are also served alongside homemade biscuits and tomato gravy. I personally like to serve them as a side dish to many foods. Some of my favorites are:
For more Grits Topping ideas, be sure to check out this link. It has great suggestions for setting up a grits bar.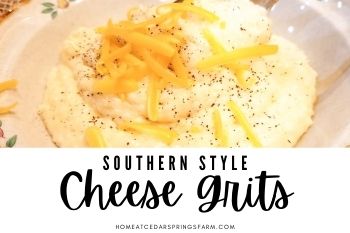 Southern Style Cheese Grits
Southern Style Cheese Grits are loaded with cream cheese, shredded cheese, and butter. They are great for breakfast, in a casserole, as a snack, or side dish.
Ingredients
2 1/2

cups

milk

1 1/2

cups

chicken broth

1/2

teaspoon

salt

1

cup

Quick 5 Minute Grits

3

tablespoons

butter

1/2

block

cream cheese

(4oz) cut into small pieces, room temp

1

cup

sharp cheddar cheese

shredded

1

cup

Monterey Jack Cheese

shredded
Instructions
In a medium saucepan, combine milk, broth, and salt and bring to a boil.

Whisk in grits. Stir to mix well and cover with a lid. Reduce heat to a low simmer—Cook grits for 5 minutes or until thickened, stirring occasionally. Follow package instructions. Turn off heat and remove.

Stir in butter, cream cheese, and shredded cheese. Mix well. Serve warm.