Crockpot Turnip Green Soup
An easy and delicious Crockpot Turnip Green Soup that is a southern favorite. This soup is loaded with greens, beans, and smoked sausage. Perfect for winter meals and busy weekdays.
This recipe was handed down to me by a family member. She made this recipe for her family, and they loved it. After enjoying a bowl she cooked one Sunday, I was hooked. I did make a few changes to the recipe using different beans and seasonings—the outcome- was delicious. You will have to try it for yourself.
This recipe comes together super fast. As long as you can dice an onion, slice some sausage, and open some cans- you can make this recipe in no time.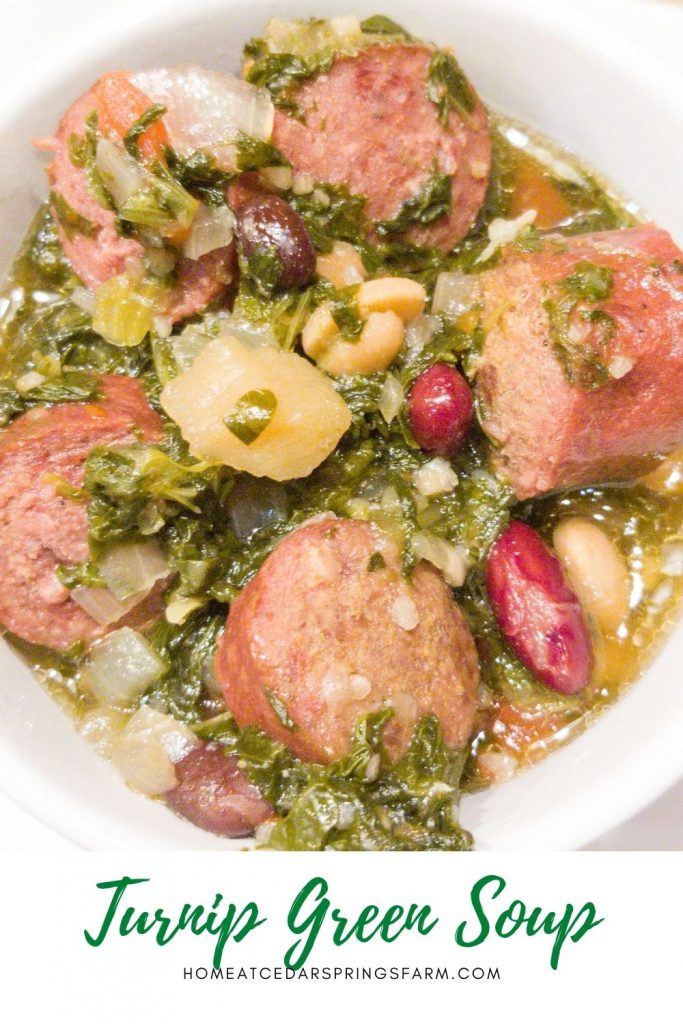 Why Should I Make This Recipe?
Tasty and Easy: Everything is dumped into the crockpot in the morning, turned on low, and ready and waiting on you in the evening. It's warm, filling, and very tasty.
Unique: Not too many people get overly excited about turnip greens- you either like them or you don't. But, once you taste this soup- you may very well become a turnip green fan.
Comforting: This soup is nourishing, tasty, filling, and warming. It's perfect for the colder months, and it's a meal in one. Just add a slice of cornbread to complete the meal.
What Ingredients Do I Need To Make This Recipe?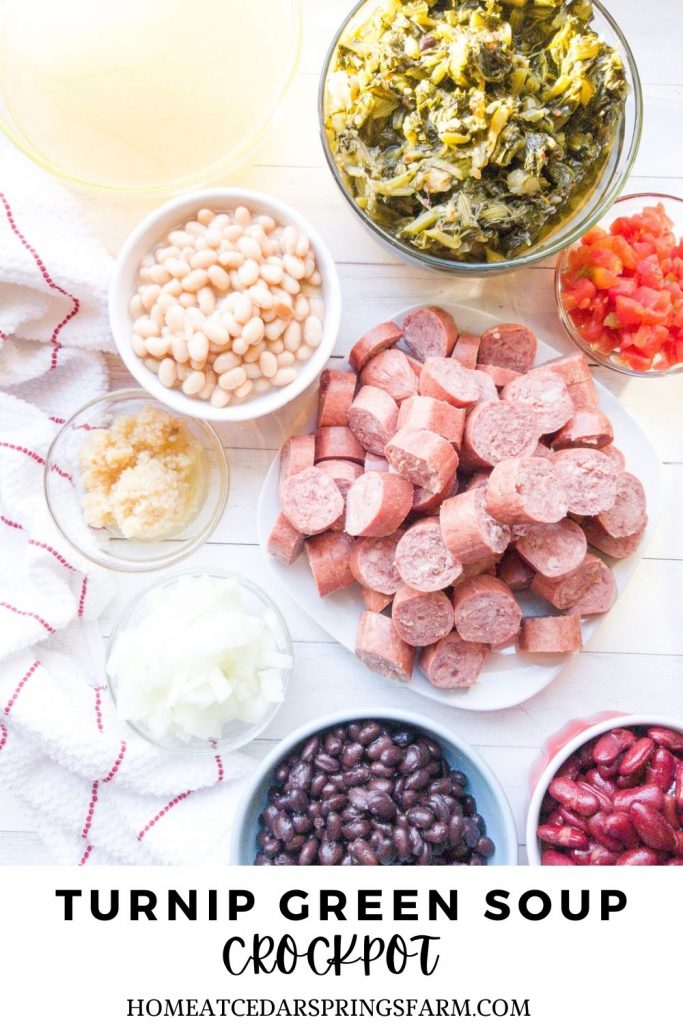 Seasoned Turnip Greens: It couldn't get any easier than to open a can of seasoned turnip greens for this soup. Of course, you could use fresh, but this is so much easier.
Chicken Broth: A large container of chicken broth is all of the liquid needed for this soup. Feel free to pull some out of your freezer if you have some on hand.
Diced Tomatoes with Green Chilies: This gives the soup a little heat and flavor.
Black Beans, Navy Beans, and Kidney Beans: The beans give the soup a lot of flavors. Feel free to swap out the beans to your desire.
Onion: One diced onion. If you don't like onion, leave it out. No harm done.
Garlic: I keep minced garlic in a jar in the refrigerator. This is all of the seasonings I add to the soup.
Smoked Sausage: The choice is yours. Choose your favorite link sausage for the soup—Conecuh, Polish, Pork, Beef, Italian Sausage, ham, Smoked sausage.
How to Make This Easy Crockpot Turnip Green Soup
The only prep work required for this recipe is to dice the onion and slice the sausage. The rest of the work only requires you to open some cans and measure some garlic. That's it– really! You can have this in the crockpot and on low in a matter of minutes.
Tools Needed
Crockpot: I used a 6-quart crockpot for this recipe, and it filled it up. This made enough for my family for dinner, lunch the next day, and a lunch box meal on Monday.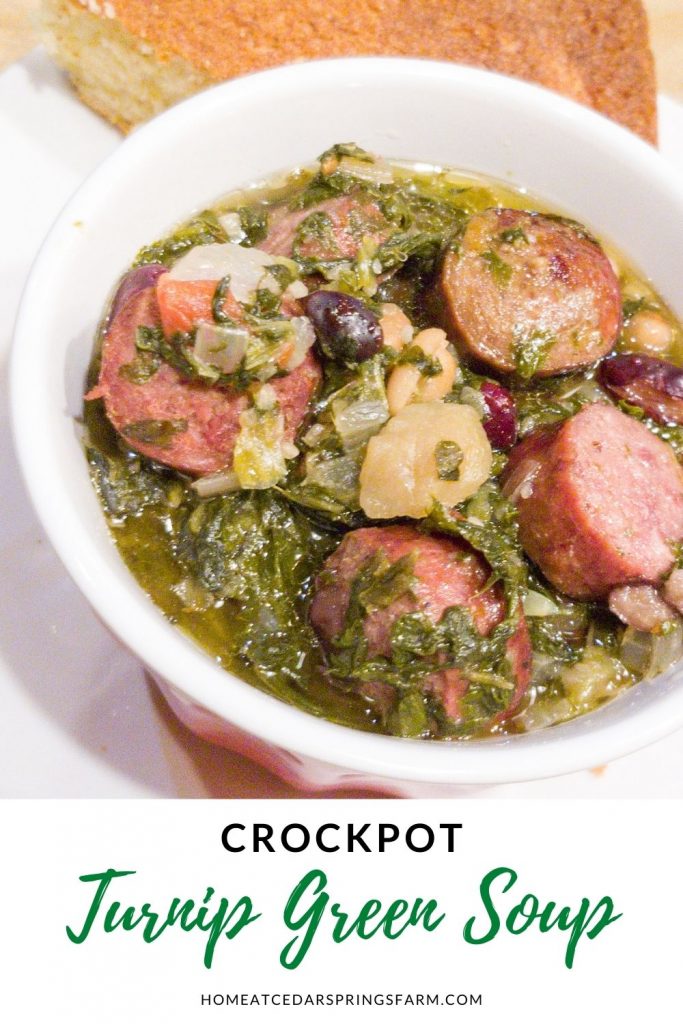 Expert Tips and Variations
*Use different sausages such as beef, pork, turkey, Polish sausage, ham, or even Italian sausage.
*Change the beans to suit your taste.
*The night before- Slice the sausage and dice the onion (keep in the refrigerator) to make morning prep work easier.
*Feel free to add collard greens, kale, and spinach to the crockpot.
*For more texture- add some cooked pasta noodles to the pot just before serving.
* I grew up eating turnip greens and rice– mixed together– for many meals. Therefore I like to serve this soup over a big spoonful of rice.
*Add some pepper sauce (vinegar-based) to the soup before eating. This will kick it up a notch. I do this mostly for flavor and not so much for heat.
Recipe FAQ's
For More Fantastic Soups, be sure to check out these delightful and warming dishes.
Ham and Bean Soup is a big pot of hearty and warming goodness. Chunks of ham and beans will have you coming back for more.
Crockpot Cream Cheese Chicken Chili is made with simple ingredients and comes together in about 10 minutes.
Loaded Potato Soup is pure comfort food and perfect for a chilly night.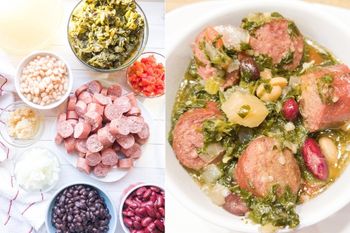 Crockpot Turnip Green Soup
An easy and delicious Turnip Green Soup that is a southern favorite. This soup is loaded with greens, beans, and smoked sausage. Perfect for winter meals and busy weekdays.
Ingredients
1

27oz. can

Margaret Holmes Seasoned Turnip Greens

1

32 oz.

Chicken Broth

1

10 oz. can

Diced Tomatoes and Green Chilies

1

15 oz. can

Black Beans

drained and rinsed

1

15 oz. can

Navy Beans

drained

1

15 oz. can

Kidney Beans

drained

1

onion

diced

3

tablespoons

minced garlic

1 1/2

pounds

Smoked Sausage

sliced
Instructions
Add all ingredients to a large crockpot. Turn on low. Allow to cook for 7-8 hours. If desired, serve with cornbread, crackers, or over rice. Store all leftovers in the refrigerator or freeze to enjoy later.