White Chocolate Peppermint Fudge
Indulge in the festive flavors of the season with White Chocolate Peppermint Fudge. This recipe comes together fast with just a few ingredients—a delightful treat with a creamy richness of white chocolate and an incredible burst of peppermint. A sweet touch of holiday magic makes it a lovely addition to a holiday celebration and a reminder that the most wonderful time of year has arrived.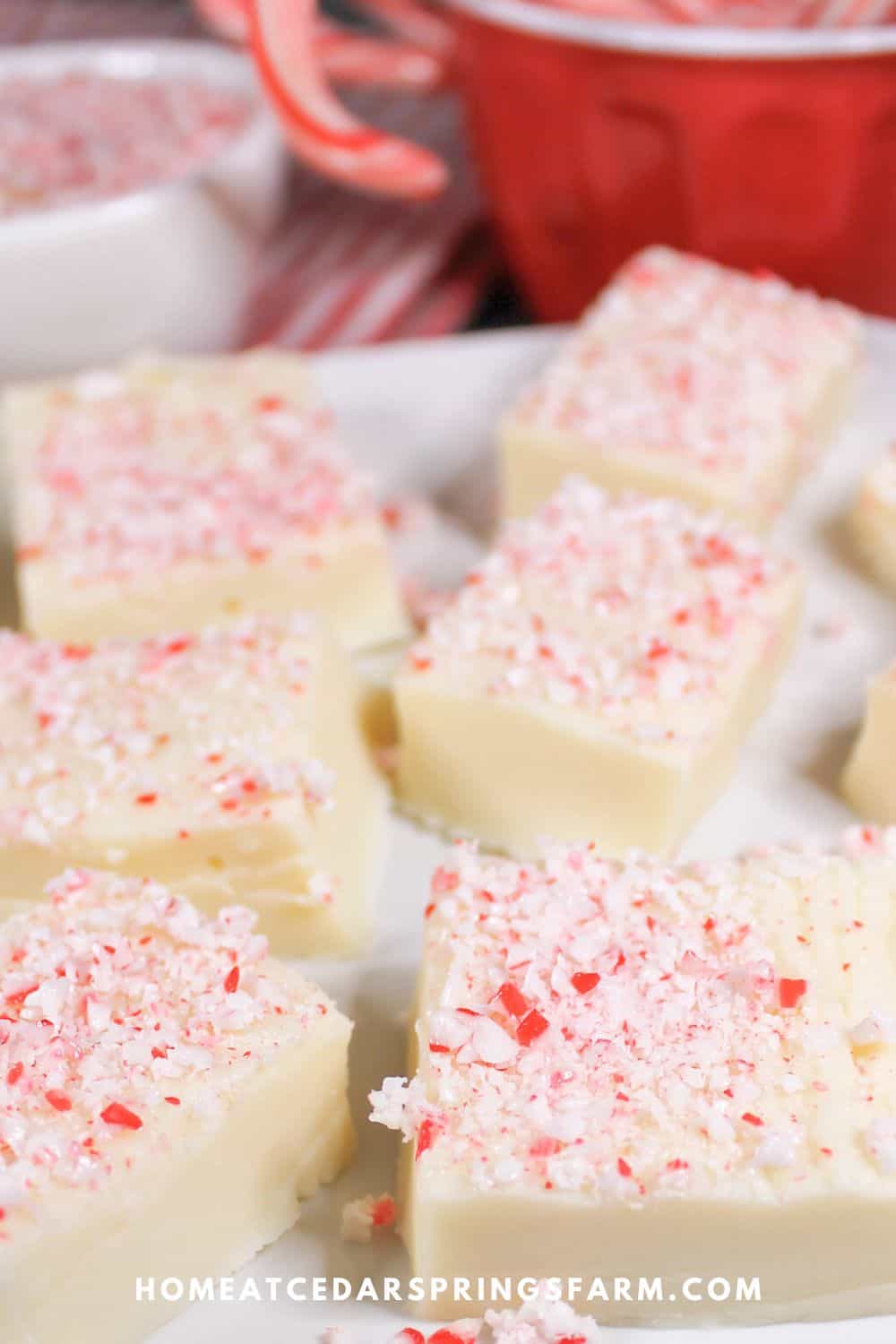 White Chocolate Peppermint Fudge screams the holiday season with its flavors and traditions. I seem to overdo it with the candy canes at Christmas time and with all things peppermint, and when the holidays are over, I have a bowlful of striped candies. My mind races with ideas to use them in delicious recipes, and this is where this recipe came about a few years ago. This is one of my favorite holiday recipes.
Why This Easy Recipe Is Fantastic
This white chocolate fudge is perfect for spreading holiday cheer with its velvety texture and irresistible taste. This will indeed become a loved holiday treat for your family or gatherings—a simple and delightful recipe to elevate your holidays. Plus, it's a great way to use leftover candy canes.
Easy to Make: This recipe only requires a handful of ingredients and minimal effort. You can quickly whip up a batch to share with others or add to your holiday dessert table.
Perfect Combination: White chocolate and peppermint complement each other with creamy white chocolate and minty notes of peppermint flavor.
Festive: The charming appearance and the vibrant colors make it not only delicious but also visually appealing to the overall holiday celebration.
Versatility: White Chocolate Peppermint Fudge is a versatile dessert. It can be an excellent addition to your holiday dessert table, a treat by the fireplace, a snack while watching movies, or a homemade gift.
No Candy Thermometer: This recipe comes together super fast, and no candy thermometer is needed. This is one of the easiest fudge recipes around.
Ingredients Needed For This Easy Peppermint Fudge Recipe
These simple ingredients are straightforward and easily found in most grocery stores. See the printable recipe card below for amounts.
Combined, these ingredients create a nice blend of sweet, creamy, and minty, resulting in a delightful holiday treat. The pop of color provides a nice contrast to the creamy texture and makes a visually appealing dessert.
White Chocolate Chips – These are the show's star and provide a creamy, smooth, rich, and sweet base for the fudge.
Butter – Butter adds more richness and a silky texture to the fudge.
Sweetened Condensed Milk – This is the key ingredient; it provides sweetness and contributes to the smooth consistency.
Peppermint Extract – Peppermint extract provides a refreshing, minty flavor to the fudge.
Crushed Candy Canes – Crushed candy canes are used as a topping to the top of the fudge, adding a festive and crunchy element. Crushing them into very small bits will give each bite the perfect balance and crunch.
How To Make This Easy White Chocolate Peppermint Fudge Recipe
This recipe comes together fast, so it's best to have all your ingredients ready before beginning. This is an easy fudge recipe; the hardest part is removing the wrapping from each candy cane.
Melt chocolate.
Pour into a baking dish or prepared pan.
Top with small pieces of crushed peppermint candy canes.
Refrigerate until firm.
How To Store Easy White Chocolate Fudge
Storing white chocolate fudge is important to maintain its freshness, flavor, and texture. Before storing, cut the fudge into small portions or squares, which makes it easier to serve or grab as a snack. Store in an airtight container or wrap in plastic wrap in a cool place on the counter or in the refrigerator. If your kitchen is warm, store it in the refrigerator. Separate layers with parchment paper to prevent sticking. It will last for several weeks at room temperature and even longer in the refrigerator.
Recipe Tips and Variations
Experiment with these tips and variations to create a delightful white chocolate peppermint fudge to your taste preference. This is a festive fudge recipe to be enjoyed by all.
Recipe Tips:
Recipe Variations:
Whether you prefer the classic recipe of this festive white chocolate peppermint fudge or want to experiment with new flavors, this will surely be a hit during the holidays or year-round.
How to Serve
There are several ways to serve White Chocolate Fudge and enjoy this sweet treat. Consider your setting and the occasion, and go for a casual, elegant, or family-style presentation. You can't go wrong with a delicious tray of homemade fudge.
Dessert Tray: Arrange the fudge pieces on a festive dessert tray. This makes it easier to be self-serving at holiday parties.
Individual Servings: Place each fudge square in colorful cupcake liners and serve them on a dessert tray. This makes it easier for guests to grab their own serving.
Christmas Gifts: Package the fudge in small boxes, tins, or cellophane bags with a holiday ribbon or gift tag. White Christmas fudge makes a wonderful gift for friends, family, and coworkers.
Coffee Companion: Serve a piece of fudge with a hot cup of coffee. This pairs nicely with the hot beverage and is nice to start the day.
Recipe FAQs
What is White Chocolate Fudge?
White chocolate fudge is a sweet and creamy dessert. It's often infused with peppermint flavorings, creating a smooth, melt-in-your-mouth texture.
How Do I Prevent My White Chocolate Fudge From Becoming Grainy?
White Chocolate is sensitive, and it's crucial to melt it gently and avoid overheating it. Use a double boiler over medium heat or microwave and stir constantly.
Can I Make White Chocolate Peppermint Fudge in Advance?
Yes, white chocolate fudge can be made in advance and stored for several weeks.
More Easy Dessert Recipes
Soft and Chewy M&M Sugar Cookies
Salted Caramel Chocolate Fudge
No Bake Chocolate Peanut Butter Oatmeal Cookies
White Chocolate Christmas Crack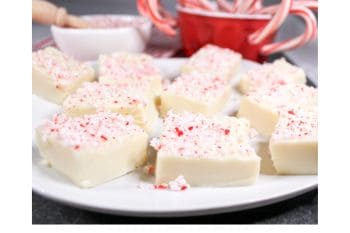 White Chocolate Peppermint Fudge
Indulge in the festive flavors of the season with White Chocolate Peppermint Fudge. This recipe comes together fast with just a few ingredients—a delightful treat with a creamy richness of white chocolate and an incredible burst of peppermint.
Ingredients
3

cups

white chocolate chips

¼

cup

butter

1

(14oz.) can

sweetened condensed milk

1-2

teaspoons

peppermint extract

¼-½

cup

crushed candy canes

you decide how much to add to the top
Instructions
Line a 9"x9" or 8"x8" baking pan with parchment paper. Set aside.

In a microwave-safe bowl, add white chocolate chips, butter, sweetened condensed milk, and peppermint extract.

Microwave for 1-2  minutes (or until white chocolate chips completely melt); stir after 1 minute, 2 minutes, and until melted. Using a rubber spatula, stir well until all ingredients are combined. It's okay if a few bits of white chocolate remain.

Pour into the prepared parchment paper-lined baking pan.

Sprinkle with crushed candy canes, pressing the candies into the fudge.

Refrigerate until firm, about 2 hours. Remove the parchment paper from the pan.

Slice into small squares and serve.