Mixed Berry Galettes
Mixed Berry Galettes are flakey fruit pies made with a simple pie crust. They are filled with your favorite berries and baked until golden brown.
This dessert can be thrown together quickly and makes a delicious, beautiful, and stunning dessert for any night of the week or for a special occasion. This is an extremely simple dessert that looks fancy, is very forgiving, and tastes even better than it looks.
What the Heck is a Galette?
Galette is a term used in French cuisine to describe flat, round or freeform crusty cakes. Some are sweet, and some are savory. These small "pies" are rustic looking and are the perfect size for an individual delicious dessert.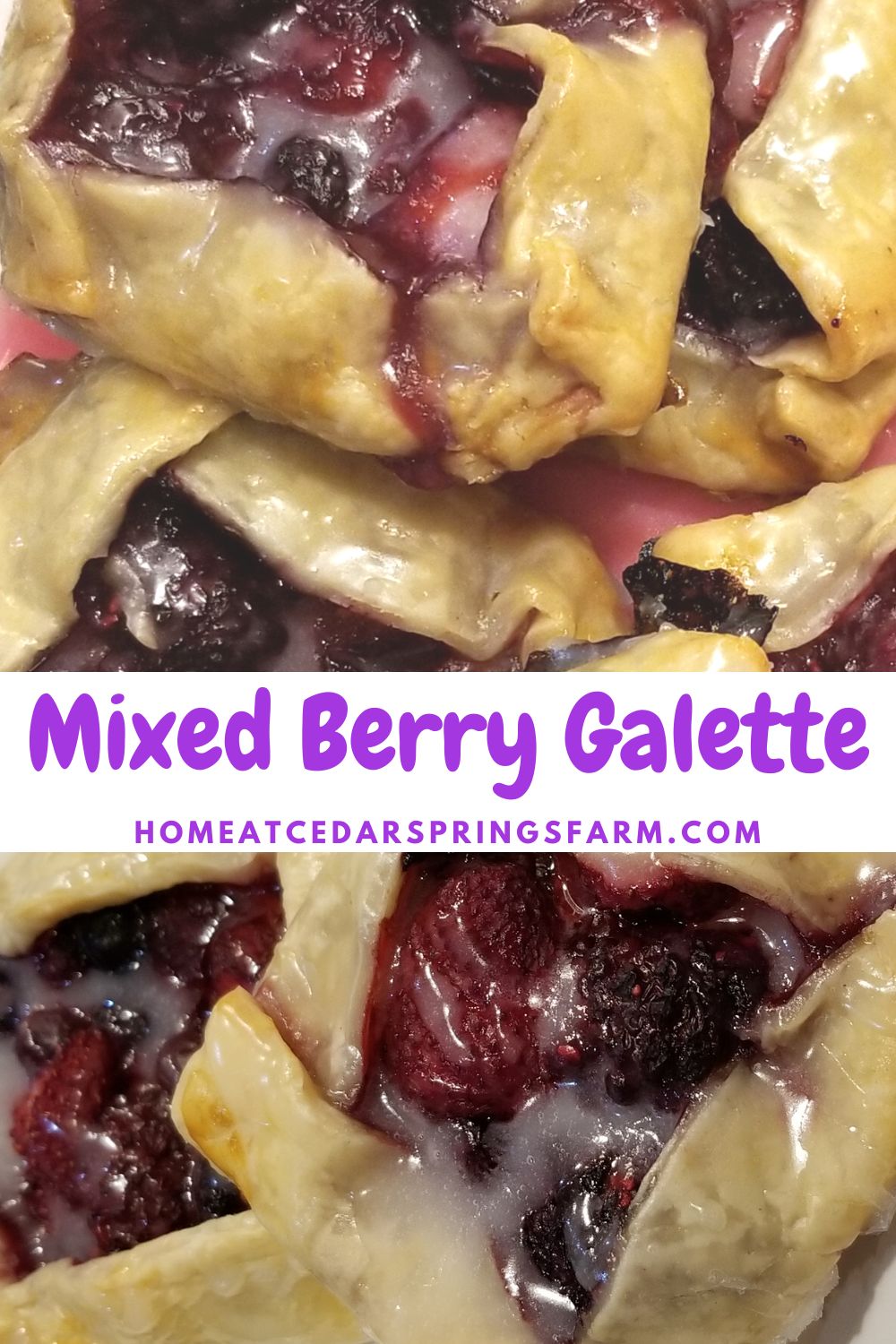 Can You Make Galettes With One Kind of Fruit?
Sure, you can. I have made these in the summer when fresh berries are plentiful–Blueberry, Strawberry, Blackberry, and a combination of all three berries. Whatever you decide, they will be delicious. I decided to use mixed berries for my pies because that is what I had in my freezer at the time, but feel free to use your favorite berries. The choice is yours!
What Kind of Pie Crust Should I Use?
I use a refrigerated Pie Crust for this pie recipe. The dough is already made, and the work has been done for me. Yes, I could make a homemade crust, but I don't. There are some pretty good refrigerated pie crusts at the grocery store, and they make this dessert even easier to prepare.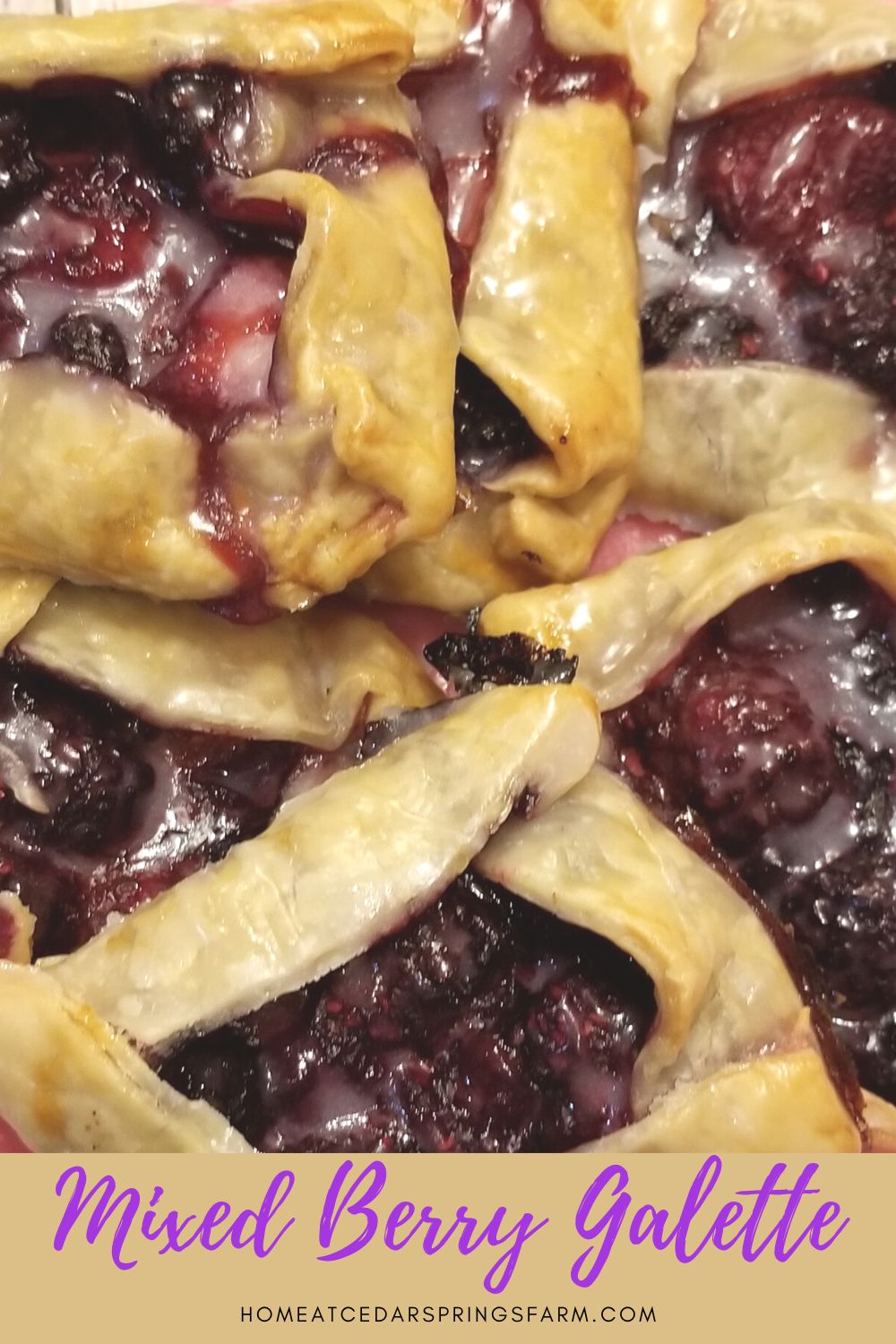 Ingredients Needed for Mixed Berry Galettes
Berry Filling
mixed fruit
lemon juice
sugar
corn starch
refrigerated pie crust
Powdered Sugar Glaze
powdered sugar
vanilla
milk or heavy cream
Egg wash
egg
water
How to Make Mixed Berry Galettes
For complete instructions, see the recipe card below.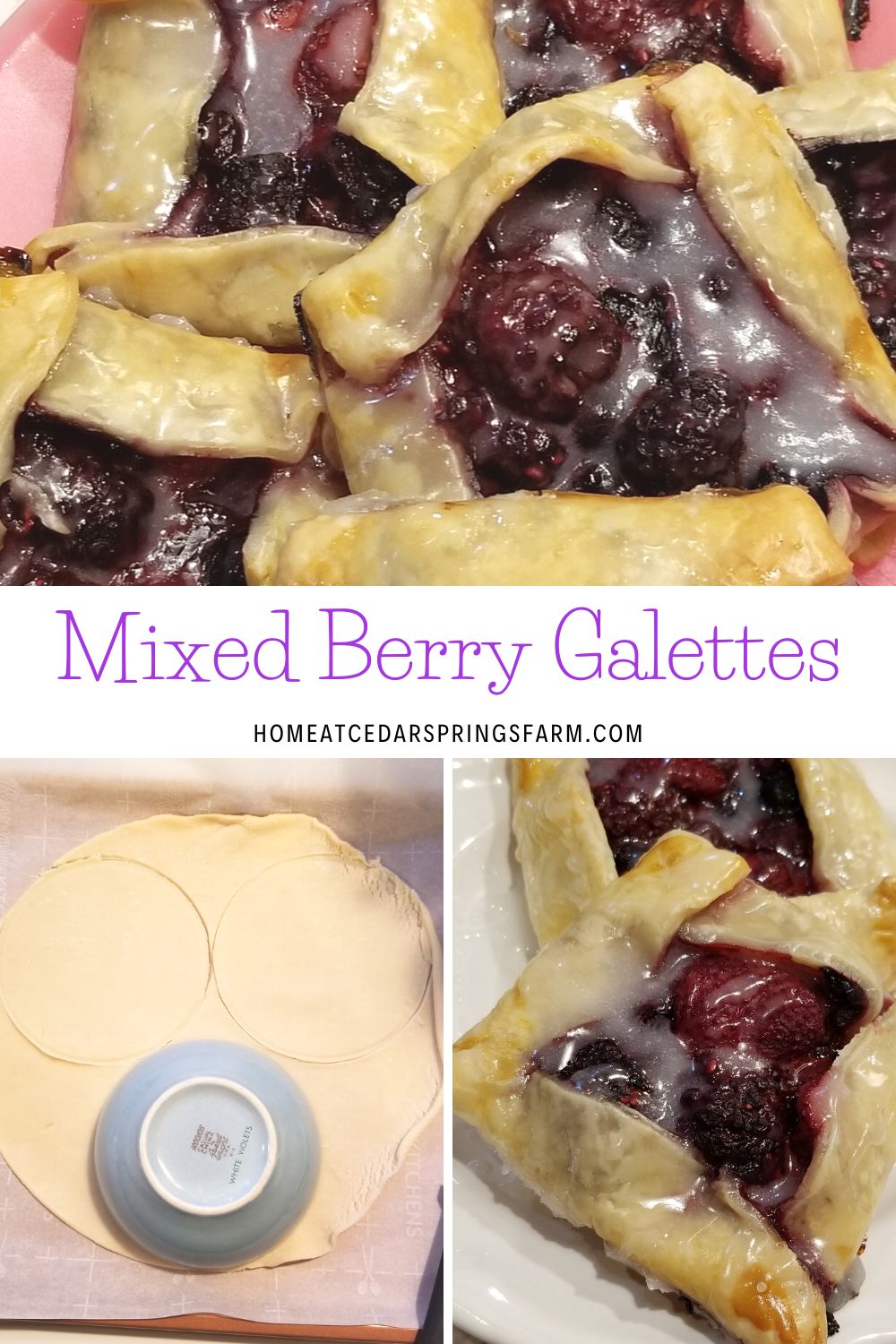 Mix ingredients.
Cut out pie crust.
Assemble and fill galettes.
Brush with egg wash.
Bake.
Glaze.
Tips for Making Mixed Berry Galettes
Roll out refrigerated pie crust and cut into circles.
Leave about an inch around the crust when filling with berries.
Once baked, transfer to a wire cooling rack to cool.
Use the berries of your choice. Mixed berries are great.
Line your pan with parchment paper. It makes for easier cleanup.
Reheat at 350 degrees for about 10 minutes or so.
Freezing Berries
There are times throughout the year when you can catch berries on sale at the grocery store or market. This is the perfect time to stock your freezer for desserts or smoothies for later in the year. They really come in handy during the winter months for cobblers and Galettes. Be sure to check out these awesome desserts-Homemade Peach Cobbler, Strawberry Cheesecake, and Homemade Strawberry Cobbler.
Check out How to Freeze Peaches and How to Freeze Strawberries.
 For More Fruit Desserts, check out these recipes:
Strawberry Rolls with Cream Cheese Glaze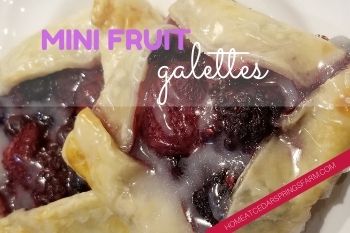 Mixed Berry Galettes
Mixed Berry  Galettes are flakey fruit pies made with a simple pie crust. They are filled with your favorite berries and baked until golden brown.
Ingredients
Berry Filling
2

cups

Mixed fruit OR (1) 12 ounce bag of frozen fruit

1

Tablespoon

fresh lemon juice

2

Tablespoons

sugar

1

Tablespoon

corn starch

1

14 ounce box

refrigerated pie crust

2 crusts
Powdered Sugar Glaze
2

cups

powdered sugar

1

tablespoon

vanilla

6

tablespoons

milk or heavy cream
Egg Wash
1

egg

beaten

1

teaspoon

water
Instructions
Mix together all of the above ingredients to make the Berry Filling. Stir well to coat evenly. If you use frozen fruit, allow the fruit to thaw first before mixing.

Using a medium bowl, turn it upside down to cut out circles from the pie crust.

Place the dough circles on a parchment paper-lined baking sheet. Place about 1/4 cup of fruit mixture in the center of each circle, leaving about an inch all the way around for folding.

Fold the edges of the dough up to cover the fruit slightly overlapping as necessary. It doesn't have to be perfect. Brush the pie crust with egg wash.

Bake at 350 degrees for about 30 minutes or until brown and bubbly. Remove from the oven and cool slightly before adding the glaze.

While the fruit dessert is cooling, mix together the glaze. Drizzle the topping over the top of the fruit pies.

Serve with vanilla ice cream to push it over the top.