Ultimate Double Chocolate Brownies are for the serious chocolate lover. They are rich and chocolatey and will be the only brownies you will bake from now on.
I have been on a sweet kick lately, and I want to eat sweets!  Maybe its because I'm on a diet and I want to eat everything in sight!!! I started out on my diet with the mindset that I would not eat any sweets. Well… that worked for about the first week and then – well– here we are discussing Ultimate Double Chocolate Brownies.
I've had this recipe in the drawer in my kitchen for several years. I got this recipe from a friend, and I have used it many times. This is the best brownie recipe by far, and they always turn out fantastic. This recipe gets a gold star, and the brownies are requested for the annual bake sale we have in our community. My friend makes several pans of  brownies and they always sell out long before the night is over.
Ultimate Double Chocolate Brownies
These brownies are simply to die for. They are moist, delicious, chocolatey and they are super easy to make. I made these one Saturday afternoon, and they were all gone by Sunday afternoon. And, no, I did not eat all of them by myself. But, I could have!! Don't judge!!
These Ultimate Double Chocolate Brownies are made with a jar of Hershey's Chocolate. Yes, the whole jar! Can you see now why these brownies are the best?
The frosting is boiled for a few minutes and then poured over warm brownies. Do you want to talk about willpower? Try waiting for these brownies to cool before you eat them! And yes, you can slide them in the refrigerator to speed up the cooling process. 🙂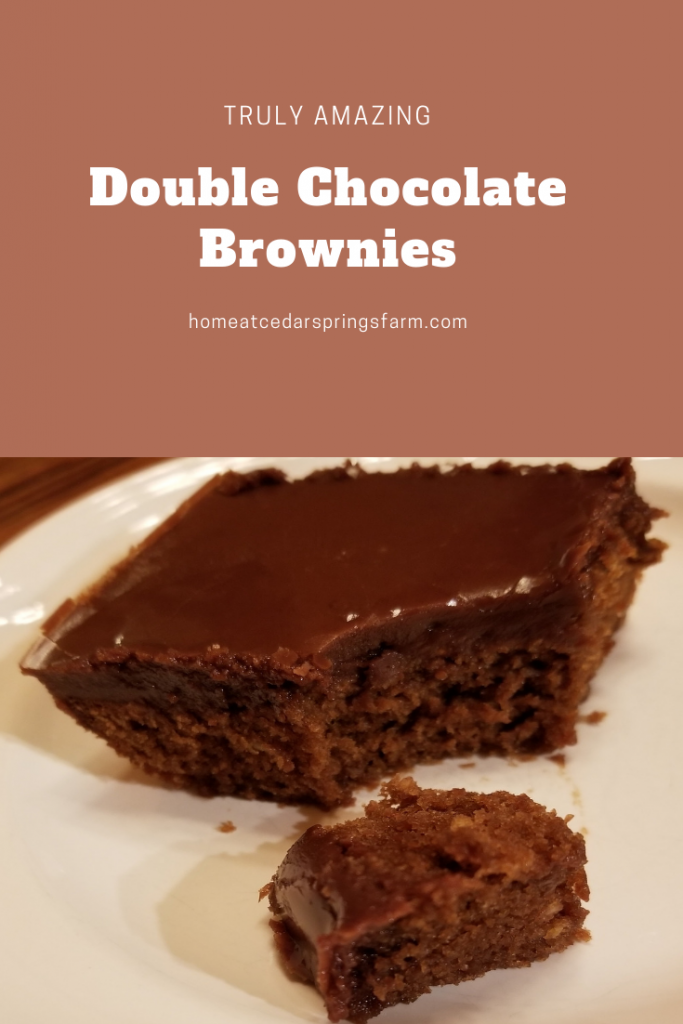 Enjoy!
Some of the links on this page are affiliate links. Home at Cedar Springs Farm may earn a small commission for purchases made after clicking links on this page at no cost to you! Learn More.
| | |
| --- | --- |
| | |
Preheat oven to 350 degrees.

Grease a casserole pan with 2 Tablespoons butter.

Mix all brownie batter ingredients together.

Pour into greased casserole pan and bake at 350 degrees for about 35 minutes. Do not overcook. Toothpick inserted will be a little wet after 35 minutes.
Boil together sugar, butter, and milk for 3 minutes.

Add chocolate chips and stir until melted.

Pour over warm brownies. Let cool.

I like to keep these in the refrigerator so the icing won't get soft. Plus, I like them cold.