This is The Best Southern Peach Cobbler you will ever eat! It's loaded with fresh peaches, brown sugar, and cinnamon and is topped with a crunchy delightful crust.
The Best Southern Peach Cobbler
What do you do with a basket full of fresh peaches? You make a peach cobbler, of course! Living in the south, you expect peach cobbler to be served at just about every restaurant you visit, church social, and family gathering. Many recipes are floating around, but this one is the best! Everyone will be raving about it and asking for more! 🙂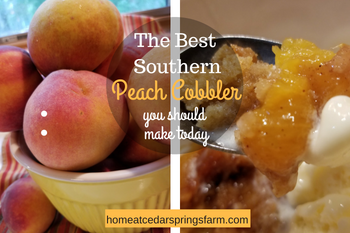 Summertime is the best time to make a peach cobbler. Peaches are fresh, plentiful, juicy, and sweet. They are sitting on your counter just waiting to be turned into a delicious dessert for your family. And I can't think of anything better than a nice bowl of warm cobbler with a big scoop of vanilla ice cream on the top! Sounds great, right?
I actually planned ahead this year and put some peaches in the freezer. I bagged up my peaches according to how many I would need for each peach cobbler. Now, whenever I need a cobbler fix, I'll just pull a bag of peaches out of the freezer, and have a fresh cobbler in no time! (You can easily substitute canned peach slices if you don't have seasonal fruit).
Well, this cobbler is not only loaded with fresh peaches, cinnamon, and brown sugar, it also has the best crunchy topping I have ever tasted.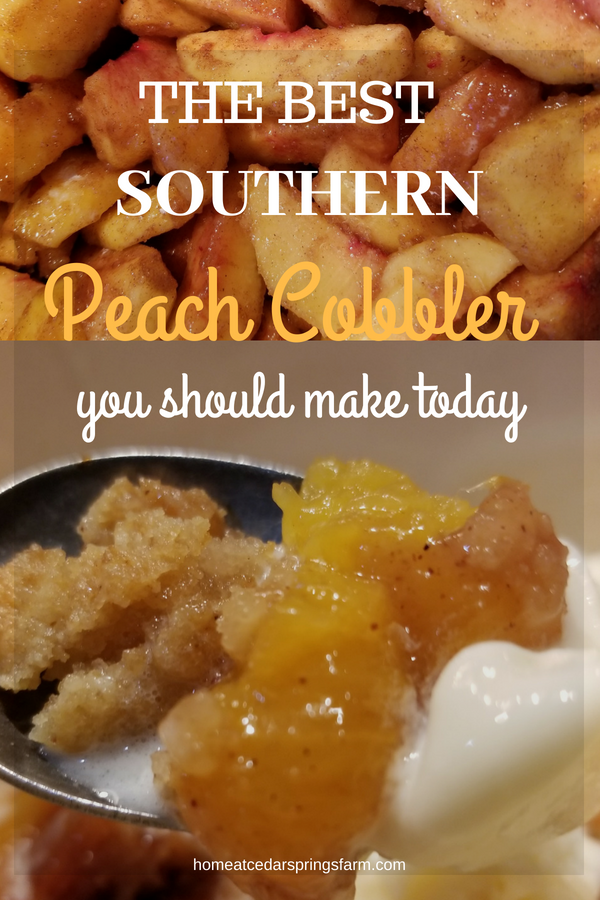 The next time you find yourself with a basket full of fresh peaches, try this recipe. I promise you will not be disappointed.
Some of the links on this page are affiliate links. Home at Cedar Springs Farm may earn a commission for purchases made after clicking links on this page. Learn More.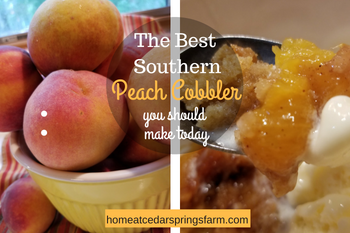 | | |
| --- | --- |
| | |
Preheat oven to 400 degrees.

Place 2 tablespoons butter in a 13" x 9" casserole dish. Place in the oven and melt.

Mix remaining filling ingredients together in a large bowl and pour into the casserole dish on top of the melted butter.

While the filling is baking, mix together the crust. Mix all crust/ topping ingredients together. Mix until it resembles a dough like batter.

Spread mixture on top of peaches. I usually use my fingers and sprinkle it on top. It doesn't have to be perfect. 🙂

Place back in oven and bake about 30-35 minutes or until browned on top.

Let sit for about 10-15 minutes. Enjoy!